Be a part of something big
The clean energy industry is growing fast, led by solar electric (also known as photovoltaic or PV). Demand for qualified solar electric professionals is increasing - you can be part of it with the right skills and training.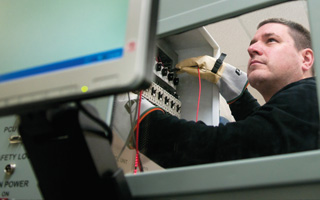 Clean energy comes from sources such as the sun and wind, which are renewable and do not pollute the environment. Workers can train for certifications that lead to clean energy jobs in the fields of energy efficiency, renewable energy, and advanced technologies.
...
MORE
Some examples of clean energy jobs include: conducting energy audits of buildings; installing energy efficient measures (lighting, insulation, heating and air conditioning equipment); installing or repairing wind turbines; designing solar electric systems; or solar thermal heating systems; or inspecting buildings to make sure that they meet energy-related building codes. NYSERDA's partnership with the New York State Department of Labor (NYSDOL) and a statewide network of training providers can help you obtain the skills you need for a future in the clean energy industry. NYSDOL helps people with their job searches and skills assessments, and provides people with information on support services, counseling, and training.
Learn the skills, earn the certifications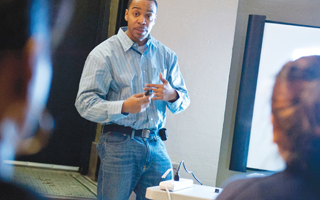 Specialized credentials count in today's challenging job market. Training courses, degree programs, internships, and apprenticeships are available, whether you're an entry-level worker who needs technical skills to move into a new field or a seasoned professional looking to move up the career ladder. Flexible training schedules exist, including some weekend options.
...
MORE
Training opportunities include:
Receive classroom and hands-on training in basic to advanced energy efficiency technologies, or learn to install or maintain renewable energy technologies to generate electricity or heat.
Gain an understanding of interrelated building issues.
Be able to help clients save money with a more comfortable, safe, and energy-efficient home or building.
Connect with internship and apprenticeship programs that combine academic learning with real world, work experiences, and introduce students to employers.
Local governments may need some assistance to help residents and businesses adopt solar energy and increase the efficiency and effectiveness of local policies and approval processes. Trainings are available (some with continuing education credits) for those involved in solar energy permitting, installation, inspection and approval processes including local policymakers, code enforcement officials, inspectors, engineers, architects, and first responders.
New York State's new Energy Code for commercial buildings began on January 1, 2015. Updates to the energy code applicable to residential buildings are likely to be effective in early 2016. For both, the changes are substantial. NYSERDA offers a range of free and low-cost training and other support services to municipal code officials; design professionals; energy professionals; and members of the construction trades, all designed to improve understanding and compliance with the Energy Code
...
MORE
The Energy Conservation Construction Code of New York State (the Energy Code) is a minimum building standard for energy efficiency, applicable to new construction and renovation of commercial and residential buildings. The Energy Code is one of nine building codes in New York State.
The North American Board of Certified Energy Practitioners has helped to build consumer confidence in renewable energy with a portfolio of national credentialing programs for the solar electric, solar thermal, and small wind industries.
Get Advice
Adele Ferranti
Program Manager
518-862-1090 x3206
Related Programs and Services
Research & Technical Reports