Workforce Development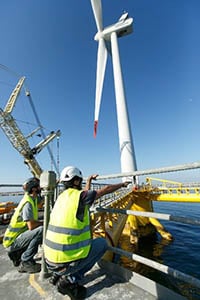 Offshore wind is poised to be the next renewable energy industry to establish roots in New York and drive increasing demand for clean energy workers in the State. With nearly 164,000 New Yorkers already working in the clean energy industry, the State is expected to create more than 10,000 jobs through its commitment to developing 9,000 megawatts of offshore wind energy.
New York's pioneering workforce already possesses most of the skills necessary to attract offshore wind manufacturers and developers. However, the scale and offshore location of the technology necessitates industry-specific training. NYSERDA is coordinating with industry experts, labor organizations, training programs, academic institutions, and other state agencies to ensure that both new and existing workers will be prepared to participate in this industry.
Paired with private investments, New York has unlocked more than $644 million in resilient port facilities and manufacturing, helping to jumpstart project development and drive job growth. In 2022, New York will invest up to an additional $500 million in ports, manufacturing, and supply chain infrastructure needed to advance its offshore wind industry, leveraging private capital to deliver more than $2 billion in economic activity while creating more than 2,000 good-paying green jobs. This investment brings the State's public commitments to a nation-leading $700 million and will ensure that New York has the strongest offshore wind supply chain hub for other projects up and down the east coast. Together with diverse private, federal, and State funding, as well as diverse partnerships that span the industry from academia, trade, environmental justice and community partnerships, New York is poised to deliver more than $77 million in offshore wind workforce training investments in the coming years.
For studies about the macroeconomic impacts and job creation potential of the offshore wind industry, see our Understanding Benefits and Impacts webpage.
Training Opportunities in Offshore Wind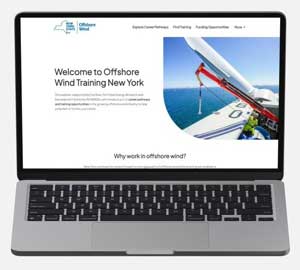 NEW: Check out New York State's Offshore Wind Training website

dedicated to helping individuals find training in offshore wind and advance their careers.
Interested in learning more about jobs within the offshore wind space? Click through the interactive career pathways tool

to learn the average tasks and salaries of the most common offshore wind jobs. Looking for training near you, but unsure where to start? Take a dive into the offshore wind training map

to find out what training exists near you, and ways to contact programs for enrollment.

New York is working diligently to develop the critical offshore wind training infrastructure to support a growing U.S. offshore wind industry. The establishment of a Jobs and Supply Chain Technical Working Group (JSC-TWG) helps scope job and industry needs, develop the research and training framework for job training, and begins identifying new credentials and academic degree programs that will prepare New Yorkers, including low-income and those from Disadvantaged Communities or priority populations, for these emerging high-paying jobs.
These efforts will encourage collaboration on key research initiatives and will be informed by industry experts to ensure all New Yorkers can benefit early from public training programs and educational campaigns that increase awareness about the benefits of offshore wind and where and when they can best participate in this exciting new industry.
New York Offshore Wind Training Institute (OWTI) – In 2020 the $20 million OWTI was launched in collaboration with SUNY's Farmingdale State College and Stony Brook University and NYSERDA, the largest public investment in offshore wind workforce development by any state in the U.S. The training institute aims to advance offshore wind training programs and the educational infrastructure needed to establish a skilled workforce that can support the emerging national offshore wind industry. In cultivating a statewide umbrella of industry, academic, trade and community partnerships, the OWTI will certify and train 2,500 New York workers beginning this year to support both offshore and onshore renewable energy projects.
Live Now: New Opportunity for Offshore Wind Workforce Training Funding – Utilizing $9 million of the OWTI funding, NYSERDA is seeking proposals for training initiatives focused on addressing projected offshore wind (OSW) workforce gaps and preparing workers for high growth jobs. Head to our Clean Energy Workforce Development and Training Page for more information.
NYSERDA issued its first round of competitive awards under the State's $20 million OWTI investment funds. The first two winning proposals will receive a combined $569,618 to support early training and skills development for disadvantaged communities and priority populations – including veterans, individuals with disabilities, low-income individuals, homeless individuals, and single parents – in both the Capital Region and New York City. Awardees include:
Hudson Valley Community College in Troy, NY (HVCC)
To help build a strong pipeline for the Capital Region's offshore wind initiative, HVCC recently began offering a two-year associate degree in welding and fabrication and will focus student recruitment efforts on priority populations in urban and rural disadvantaged communities, providing full or partial scholarships to participants. Foundational welding skills training will be provided by the Capital Region Educational Opportunity Center, a division of HVCC with additional non-credit training and certifications will be provided at the college's main campus. The college will also partner with regional manufacturers building turbine components to provide a skilled workforce pipeline of welders and fabricators, aiming to train 75 individuals, including 65 from priority populations and disadvantaged communities.
LaGuardia Community College in Queens, NY (LAGCC)
LAGCC is partnering with Siemens Gamesa to build an inclusive offshore wind workforce that ensures a robust local talent pipeline for the construction, repair, and maintenance of offshore wind facilities in the New York City metro area. The college will convene employers to detail the skill gaps for both new entrants to the workforce and incumbent workers in the construction trades to help inform and develop a best-in-class custom curriculum. A total of fifty low-income individuals from the Brooklyn-Queens waterfront will be trained to work as offshore wind technicians.
2022 New York State Offshore Wind Workforce Gap Analysis [PDF] — In developing a comprehensive workforce development plan and training ecosystem, it is imperative for New York State to first understand the overall supply and demand for offshore wind jobs. This report, by BW Research Partnership on behalf of NYSERDA, identifies occupational supply gaps and presents an overview of key offshore wind energy-specific training programs in the State. The analysis projects employment growth in New York's offshore wind industry, illustrates job types and distribution across the state to strengthen the Offshore Wind Training Institute's (OWTI) understanding of workforce impacts on offshore wind development in New York. These are critical considerations for the State to achieve its ambitious goal of 9,000 megawatts of offshore wind energy. This document is a valuable resource for planners, lawmakers, educational institutions, and other workforce development organizations seeking to increase their understanding of what types of jobs will be required to grow and develop our local offshore wind supply chain.
National Offshore Wind Training Center (NOWTC) – The developers of New York's Sunrise Wind project have invested $10 million in a National Offshore Wind Training Center

in Brentwood on Long Island. The NOWTC will be housed within a community-centered space that expands access to family-sustaining job opportunities and educational advancement, particularly for high school and college-age New Yorkers entering the workforce. The site, which includes a 22-year license agreement with Suffolk County was created in partnership with the Long Island Federation of Labor-AFLCIO, the Nassau and Suffolk Building and Construction Trades, Suffolk County Community College, International Brotherhood of Electric Workers, the Utility Workers Union of America, BlueGreen Alliance and Minority Millennials. The NOWTC is expected to train and certify hundreds, if not thousands, of workers under Global Wind Organization (GWO) training standards for offshore wind. In addition, NOWTC will offer curriculum and support services for entryways into pre-apprenticeship training for the construction industry as well as manufacturing certifications that will benefit regional employment.
Center of Excellence for Offshore Energy

at SUNY Maritime College – Launched with a grant from New York State, the Center is working to develop classroom and online training programs.
Other Resources
Job Opportunities in Offshore Wind
NYSERDA manages an Offshore Wind Supply Chain Database to increase the visibility of New York businesses interested in participating in the offshore wind supply chain. Additionally, project developers and industry associations maintain company registries and job boards to recruit New Yorkers for careers in offshore wind.