Saratoga Technology + Energy Park (STEP®)
Saratoga Technology + Energy Park (STEP®) is a knowledge community with significant resources for companies in the clean-energy field looking to expand in New York's Tech Valley. STEP®, a 280-acre site, located in Malta, New York
, is approved for 1.25 million square feet of office, research and development, and light manufacturing space while maintaining 77% green space. By creating a foundation for innovation clean-energy companies to collaborate, STEP® is playing a pivotal role in the remarkable growth of the clean-energy economy in New York State, and its shovel-ready sites provide companies with an opportunity to streamline site assessment and relocation plans.
STEP® is owned and managed by the New York State Energy Research and Development Authority (NYSERDA),a public benefit corporation of the State of New York. NYSERDA is at the heart of the clean technology market in New York, providing key services to clean-energy businesses and bringing together like-minded groups and organizations.
The Vision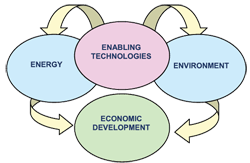 STEP® and the Capital Region of New York State are becoming internationally known as a knowledge community centered on expertise in clean-energy and environmental technologies. By becoming known as one of the few business destinations-of-choice in the world for growing companies and products in these industries, STEP® is instrumental in furthering NYSERDA's economic development mission for New York State and the Capital Region.
The Goals
Within this vision, there are four important broad goals STEP® pursues:
Help STEP® Companies Succeed. Directly and materially advance the success and growth of companies located in STEP®.
Collaborate with STEP® Partners. Focus on advanced energy projects and energy applications of nanotechnologies, thus aiding the growth and success of College of Nanoscale Science and Engineering . Support additional partners, including the Saratoga Economic Development Corporation in economic development and its development of Luther Forest Technology Campus.
Capital Region and Tech Valley. Be one important component in the broader growth of clean energy and environmental industries in the Capital Region
New York State. Contribute directly and indirectly to overall growth and success of clean energy and environmental industry segments throughout New York State
The Broader Picture
STEP® is one of many major factors contributing to the emergence of the Capital Region's Tech Valley as a strong, growth economy in this decade. STEP® is part of a bigger plan that is coupled with other technology-focused initiatives in the Capital Region and the direct activities and development projects of NYSERDA's partners. In addition, STEP® is an instrumental part of the larger strategy to focus global attention on the Capital Region and New York State as the best destination in the United States or in the world, for alternative energy technologies, research, development and commercialization.
The development of STEP® not only supports NYSERDA's own mission, but more broadly supports the State's clean energy initiatives which are designed to attract to New York companies that manufacture renewable technologies such as wind energy and photovoltaics.