Take your cleantech ideas from concept to market in New York State
Access the necessary infrastructure and support to grow your innovation across all stages of technology and business development.
Grow your business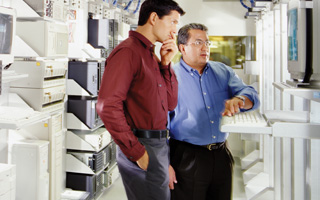 Access to key resources provides the support you need to move from early phase development through bringing your cleantech product or process to market.
...
MORE
Resources include:
Funding
Skilled workforce
Identified target customers
Technology needed to improve and upgrade products to meet customer needs
Production facilities
Connections to others in the cleantech ecosystem
The right innovation infrastructure can ease your journey on the path to market. New York State provides the foundation you need to grow and develop your business.
Leverage resources across the innovation ecosystem
Developing your business capabilities at the same pace as your technology increases your chances of success. With one of the most vibrant cleantech ecosystems in the nation, New York State provides access to a wealth of networks, infrastructure and programs that support you through essential growth stages in business and technology development.
Get Advice
For general inquiries, contact:
1-866-NYSERDA
Research & Technical Reports