Get ahead of the energy efficiency curve
$3.4 billion annually. That is how much the multifamily building sector could save on energy costs if they participated in quality energy efficiency planning.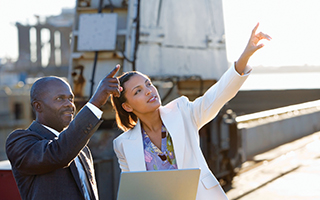 Building managers and owners can access guidance and support from a network who will work hand in hand with multifamily building owners to find ways to use energy more efficiently in your building. NYSERDA's Multifamily Building Solutions Network serves as energy advisors who listen to your priorities and concerns to incorporate energy efficiency on a scale that makes sense for you. They understand the inherent complexities of energy efficiency projects, with the knowledge and experience to design and oversee energy efficiency upgrades to meet your needs.
Home builders, developers, and architects can set themselves apart by building new single-family homes, townhomes, and patio homes to energy efficiency standards above the New York State Building Code. All of these properties offer comfort, energy savings, healthy indoor air quality, as well as help the community to be more environmentally responsible for future generations.
To attract the increasing population of energy savvy tenants, mid- and high-rise multifamily developers are adopting the latest in building science practices. NYSERDA programs offer technical and financial support for new construction and gut rehab projects, helping builders and developers meet the demands of today's marketplace.
See It in Action
Guy Demascole purchased this Pulaski, NY apartment complex in total disrepair. After launching into a comprehensive overhaul including energy efficiency upgrades, tenants now enjoy low energy costs and a high quality of living.
Regulation Notice
Local Law 87 of New York City's Greener, Greater Buildings Plan requires all buildings over 50,000 square feet to file an Energy Efficiency Report (EER) with the Department of Buildings once every 10 years. The EER consists of an ASHRAE Level II energy audit and retro-commissioning study of base building systems.

Local Law 84 requires owners of large buildings to annually measure their energy consumption through benchmarking. This provides building owners and potential buyers with a better understanding of a building's energy and water consumption, eventually shifting the market toward increasingly efficient, high-performing buildings.
Get Advice
Multifamily
Program
1-866-NYSERDA
Related Programs and Services