NYSERDA Supports Business and Technology Growth Essentials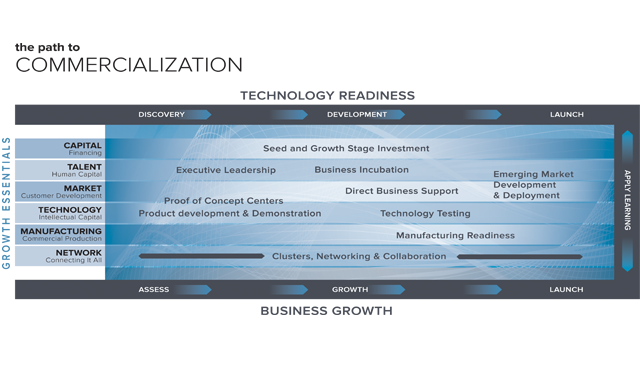 There are four Growth Essentials on the Path to Commercialization, Capital; Talent; Market, Technology and Manufacturing; and Network. Each is critical to your success in clean energy innovation. And each is supported by specific NYSERDA program offerings.
Download: Innovation Resources Fact Sheet [PDF]
Growth Essential: Capital
We support programs that help you navigate the funding challenge, learn to identify funding sources appropriate to each stage in your company's growth and find out what you need to do to secure financial backing.
You can always explore the NYSERDA Funding Opportunities currently available.
Climate technology companies may also apply for investments under the New York Climate Progress Program

.
Growth Essential: Talent
The Cleantech Executives program creates a transition path aimed at introducing experienced executives and entrepreneurs to opportunities in the clean energy industry in New York State. Program graduates get connected to early-stage clean energy technology companies or business opportunities, fostering statewide cleantech growth in jobs and revenue.
Executed by New York University School of Professional Studies, ACRE's Clean Start Program is the first of its kind in NYC for professionals who want to transition to the clean energy sector. View the Clean Start Program Flyer [PDF]
Entrepreneurs in Residence Program
Seasoned executives share experience, skills and acquired knowledge with early-stage companies. EIRs guide early-stage companies through specific projects and issues, such as staffing for growth, budget management, resource planning, strategic partnering and board management. An EIR has a strong background in executive-level management at technology-based companies.
The EIR program is facilitated and managed by Columbia Technology Ventures for companies receiving NYSERDA funding or participating in other NYSERDA programs. Columbia Technology Ventures works with each company to understand its specific needs and provides a pool of qualified EIRs who can help.
Clean Energy Incubators
Incubators strategically located across the State can help you with a wide range of services to help you achieve key milestones and accelerate your time to market. Read more
Growth Essentials: Market, Technology and Manufacturing
NYSERDA has a core capability in technology and product development across energy sectors. Through a variety of program offerings, NYSERDA can help you develop your technology from bench scale through commercialization. We support the industry-led New York Battery and Energy Storage Technology Consortium (NY-BEST™), the New York State Smart Grid Consortium, the Lighting Research Center, Proof-of-Concept Centers, Technology Testing Centers for photovoltaics and small wind turbine blades, and five Energy Frontier Research Centers. We can also help you access the resources of New York's Economic and Regional Development Centers (REDC's).
Technology Testing Centers
Rigorous, real-life testing scenarios that measure safety, performance, reliability, durability, and longevity of clean energy products are essential to bringing innovative products to market. Intertek created two such centers to provide these services in New York State—they are among the first facilities of their kind in the nation. These centers provide buyers of wind and solar products with reliable, third-party safety and performance verification for small wind and PV systems. At the same time, sellers of renewable energy products can demonstrate compliance to regulatory requirements and incentive program requirements. NYSERDA supported Intertek and a consortium of partners to establish the first photovoltaic solar testing lab

on the East Coast in Cortland, NY and a one-of-a-kind wind turbine blade test facility

in Potsdam, NY at Clarkson University.
Scale for ClimateTech
Scale for ClimateTech aims to help cleantech startups overcome manufacturing obstacles keeping their products from fulfilling untapped market demands. To do so, the Scale for ClimateTech program will help New York entrepreneurs partner with manufacturers and scale up locally made products that enable cleaner, more efficient, and less costly energy use.
New York State Economic and Regional Development Centers (REDC's)
New York State Economic and Regional Development Centers

are public-private partnerships made up of local experts and stakeholders from business, academia, local government, and non-governmental organizations. REDC's provide strategic assistance to companies in the areas of entrepreneurship, technology commercialization, product development and high-tech business incubator management. Two other organizations ready to help New York State clean energy businesses succeed are Empire State Development and New York First.
Growth Essential: Network
NYSERDA supports cleantech business development and networking events, throughout the year, across the State. Through these formal and informal networks, you become a vital part of New York State's vibrant cleantech innovation community and engage opportunities for funding, partnerships and acquisitions, market development and more.