Put your building on an energy diet
Office buildings account for 22% of greenhouse gas emissions in New York State. You can make a difference. Investing in clean energy increases the value of your building and cuts down your operating costs. It can also increase tenant comfort levels and attract new tenants.
Solar electric systems, also known as photovoltaic or PV, convert energy from the sun into electricity even on cold or cloudy days. Solar electric systems can reduce your out-of-pocket expenses. Electricity generated by solar electric systems creates no noise, air, or water pollution. Solar electric systems can generate enough power to run some commercial operations including energy-intensive manufacturing processes.
See It in Action
Vornado maximizes energy efficiency in iconic NYC buildings
(00:01:42)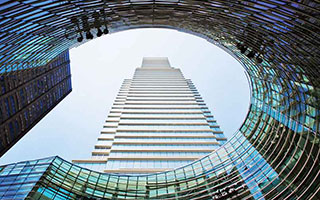 Watch Now
Vornado's New York City asset portfolio includes well-known addresses. After growing its relationship with NYSERDA over many years, Vornado is now a leader in comprehensive energy-efficiency strategies.
Regulation Notice
The City of New York passed the Greener, Greater Buildings Plan legislation, which mandates benchmarking, auditing, and retrocommissioning of buildings over 50,000 square feet.
Get Advice
For general inquiries, contact:
1-866-NYSERDA
Related Programs and Services