Renewable Energy
Leading New York's Clean Energy Transition
New York is rapidly transitioning to an electricity system powered by renewable energy sources such as wind, solar, and hydropower. This accelerated renewable energy development is guided by the Climate Act

, which sets nation-leading goals for achieving 70% renewably sourced electricity by 2030 and a zero-emission electric grid by 2040.
Increasing our renewable energy supply while phasing out the use of fossil fuels will improve air quality, support a more resilient electric grid, and spur a clean energy economy through supply chain investments, workforce development, and job creation. This transformation moves the State closer to delivering just, equitable climate action that benefits all New Yorkers.
How We're Charging Renewable Energy Forward
Our cumulative investments in renewable energy systems, energy storage, and transmission and distribution infrastructure will create more than 50,000 new, family-sustaining jobs.
New York's transition to a clean energy future requires accelerated growth in offshore wind and solar, as well as a storage, transmission, and distribution infrastructure, such as power lines and substations, to move renewable energy from where it's generated to where demand exists, especially New York City.
NYSERDA is working with utilities, innovators, community-based organizations, and local governments to advance renewable energy development to meet our climate goals, energize New York's economy, and create healthier communities.
Here's how:
Facilitating on-going and accelerated procurements for renewable generation and energy storage to advance market confidence and supply chain stability.
Partnering with local governments to support siting policies that create more resilient energy infrastructure, build community engagement, and maximize co-benefits between industries.
Supporting climate equity through the prioritization of benefits (including energy bill savings from renewable energy) and workforce development delivered to Disadvantaged Communities across the State.
Driving supply chain localization, local port and manufacturing investments, and job creation and training, through State investment to support offshore wind ports and manufacturing.
Reducing development costs by delivering economies of scale, removing barriers to deployment, reducing risk, and supporting innovation.
Informing transmission planning processes to drive investment critical to enabling the integration of 25+ gigawatt (GW) of Tier 1 and offshore wind renewable projects anticipated for State goals.
Powering a Clean and Resilient Future in New York
Powering New York State With Offshore Wind
A zero-emission electricity system will use renewable energy to power our homes, schools, places of work, and vehicles. By 2030, New York will have 10,000 megawatts (MW) of distributed solar energy across the State. Between rooftop panels and community solar projects, the benefits of solar energy are accessible to all New Yorkers. Simultaneously, our large-scale solar and onshore wind capacity will have reached around 16,000 MW and 4,000 MW, respectively. Meanwhile, our investments in offshore wind will achieve 9,000 MW of wind energy by 2035 – enough to power up to 6 million homes.
To ensure a reliable, resilient grid, New York will install 3,000 MW of energy storage by 2030 to provide flexibility and streamline the delivery of intermittent renewable resources such as wind and solar. Investments in our electricity transmission and distribution systems will also be needed statewide to increase grid flexibility and resilience, as more New Yorkers rely on electricity for heating, cooling, and transportation.
Our Progress
Achieving our renewable energy goals is critical to creating healthier communities and cutting greenhouse gas emissions to mitigate climate change. Our progress will also be measured by the renewable energy investments accruing for Disadvantaged Communities, clean energy job growth, and private market investment in renewables.
Other indicators of our progress can be found on New York's Clean Energy Dashboard.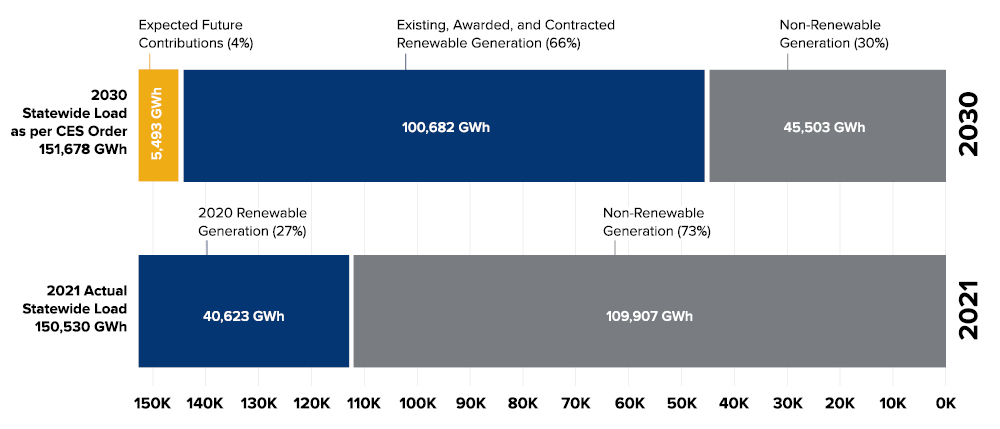 Renewable Energy Programs and Initiatives
Sign Up For News
Stay up-to-date on energy saving programs and incentives, best practices, and more
Stay Connected