Top 5 Reasons Drivers Are Choosing EVs
Cost Savings and Fossil-Free Living Are Driving Electric Vehicle Adoption
With more electric vehicle (EV) models coming to market, advances in battery technology, and greater access to charging stations, interest in EVs is at an all-time high. According to a 2022 Consumer Reports survey, 36% of Americans plan to buy or lease an all-electric vehicle or are seriously considering doing so for their next vehicle[1].
For those drivers who reported they're either definitely or seriously considering buying or leasing an EV, their motivations primarily stem from lowering their transportation costs and environmental impact, rather than vehicle performance, aesthetics, or having the latest technology.
Top Five Reasons That Drivers Are Contemplating the Switch to an EV
1. EV Charging Costs Less Than Filling Up Gas-Powered Vehicles
Reduced charging costs was selected by 33% of respondents, making it the highest-ranking reason for owning or leasing an EV. Gasoline and diesel prices are vulnerable to significant price fluctuations, whereas EV drivers pay $1.22 on average for the equivalent of one gallon of gasoline[2].
Using NYSERDA's Electric Vehicle Calculator to estimate the annual costs for driving a 2023 Chevrolet Bolt EV 2LT, the projected fuel/energy savings would be $611 for the first year of EV use.
This estimate assumes a gasoline price of $3.50/gallon and that an EV driver charges 90% of the time at home and drives 12,000 miles annually, which is slightly above the statewide average of 11,817 miles. EV drivers who can charge more frequently at home during off-peak hours can expect greater savings.
2. Lower Overall Costs Over the Lifetime of the Vehicle
Around 31% of respondents cited lower lifetime ownership costs for EVs as a leading reason for forgoing a gasoline-powered vehicle. The lifetime costs of an EV include the cost of the purchase or lease (minus rebates and tax credits), energy/fuel costs, and maintenance costs.
Although EVs are generally cheaper to power than vehicles that run on fossil fuels (e.g., gasoline or diesel), they have a higher sticker price. However, the Inflation Reduction Act provides tax credits up to $4,000 for used EVs and $7,500 for new EVs, helping close the price gap between electric and conventional models. In New York, many new EV models are also eligible for Drive Clean Rebates of up to $2,000, meaning a combined cost reduction of up to $9,500 on certain new EVs.
Battery-electric vehicles require less maintenance than vehicles with internal combustion engines, providing cost savings for EV drivers. We'll expand on this below.
3. Lower Maintenance Costs Than Gas-Powered Vehicles
Cost savings comprise the top three reasons for driving an EV, with 28% of respondents selecting lower maintenance costs as their motivation for making the switch.
With a battery-electric vehicle, the motor has fewer moving parts and there's no need to change the oil, resulting in less frequent and cheaper maintenance. EV brakes experience less wear due to regenerative braking, too. On average, EV drivers spend about 50% less on repairs and maintenance[3].
4. Avoid Using Gasoline
Sustainability ranks among the top reasons for driving an EV. Around 27% of respondents selected avoiding the use of gasoline or other fossil fuels as a key reason for going electric.
When gasoline or other fossil fuels are burned to power vehicles, they release carbon dioxide, a potent greenhouse gas that contributes to climate change. In New York State, greenhouse gas emissions from the transportation sector account for approximately one-third of statewide emissions.
Driving an EV significantly reduces your transportation carbon footprint, generally 50-70% on average if switching from a gas-powered vehicle[4]. Drivers can further curb their emissions by charging their EVs with electricity generated by renewable sources.
5. No Tailpipe Emissions or Exhaust Fumes
Eliminating tailpipe emissions from their personal vehicle was selected by 23% of respondents.
Tailpipe emissions contribute to local air pollution and global climate change alike. Using the example of the 2023 Chevrolet Bolt outlined above, drivers would save 5,612 lbs. of CO2 emissions a year (driving 12,000 miles) with this EV model in place of a gas-powered vehicle.
What Would Most Likely Encourage Drivers to Buy an EV?
More and more Americans and New Yorkers are purchasing and leasing EVs every year, but accelerated adoption is needed to meet emissions reduction targets

and combat climate change. Charging logistics and range anxiety were cited as the leading factors that would prevent respondents from driving an EV.
To address these challenges, respondents identified the following solutions as the most likely to encourage them to buy or lease an all-electric vehicle.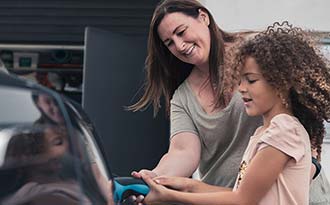 The percent of respondents that identified specific charging options and EV incentives as most likely to encourage them to buy or lease an all-electric vehicle.

| | |
| --- | --- |
| Charging Options | Electric Vehicle Incentives |
| Free public charging stations: 50% | Tax rebates at the time of purchase or lease: 53% |
| Ability to charge it where I live: 47% | Discounts to install a home charger: 49% |
| Easy access to fast-charging public station to fully recharge in under 30 minutes: 45% | Tax credits applied later: 45% |
New York State is rapidly building out its charging infrastructure to accommodate EV drivers where they live, work, and play. State investments in charging stations are targeting workplaces, on-street parking, and public facilities like libraries and parks that cater to longer parking durations.
Additionally, New York's network of direct-current fast chargers (DCFC), capable of fully charging an EV in under 30 minutes, is poised for significant growth. The New York Power Authority's EVolve NY

program will install 400 DCFCs by 2025 and the National Electric Vehicle Infrastructure (NEVI) program will invest approximately $175 million in DCFCs along New York's most-traveled highways over the next five years.
How New Yorkers Can Make the Switch to EVs
New Yorkers can save up to $9,500 on eligible new electric vehicles with IRA tax credits and Drive Clean Rebates.
In New York State, around 46% of drivers report that they're moderately likely, very likely, or extremely likely to purchase or lease an EV as their next vehicle based on results from NYSERDA's statewide tracking survey.
Incentives for both new and used electric vehicles, IRA tax credits of up to $1,000 for home charging equipment, plus a growing network of public charging stations, mean it's easier and more convenient than ever to be an EV driver in New York.
More on Electric Vehicles
Continue reading about EVs and the financial incentives available to make the switch.
Footnotes
Sign Up For News
Stay up to date on energy-saving programs and incentives, best practices, and more.
Stay Connected