National Electric Vehicle Infrastructure (NEVI) Program
The federal Infrastructure Investment and Jobs Act was signed into law on November 15, 2021 and established the National Electric Vehicle Infrastructure (NEVI) Program. NEVI will provide funding to states to deploy electric vehicle (EV) fast chargers along designated EV corridors to establish an interconnected EV charging network across the State and nation.
On July 31, 2022, the New York State Department of Transportation (NYSDOT) submitted New York's NEVI Plan [PDF] to the Joint Office of Energy and Transportation and the Federal Highway Administration (FHWA). On September 9, 2022, NYSDOT submitted supplemental information [PDF] on its NEVI Plan. New York State invites feedback on the plan through this short survey

.
NEVI and New York
The NYSDOT will receive approximately $175 million through NEVI over five years. The NEVI program requires funds to be invested within one travel mile of designated EV corridors, with charging stations no more than 50 miles apart. Designated corridors include many of the State's most-traveled interstate and state highways.
To receive the NEVI funds, the NYSDOT submitted a State EV Infrastructure Deployment Plan (Plan) to the FHWA. The Plan contained information on the State's existing charging infrastructure, goals for the investments, how the State plans to use the funding, and how the State will monitor and evaluate the program. Public input was an important part of Plan development. FHWA reviewed and approved these plans in September 2022.
Federal Grant Opportunity
The FHWA Charging and Fueling Infrastructure Discretionary Grant Program (CFI Program) is a new competitive grant program created by the Bipartisan Infrastructure Law to strategically deploy publicly accessible EV charging and alternative fueling infrastructure in the places people live and work, urban and rural areas alike, in addition to along designated Alternative Fuel Corridors (AFCs). This program provides two funding categories of grants: (1) Community Charging and Fueling Grants (Community Program); and (2) AFC Grants (Corridor Program). The Bipartisan Infrastructure Law provides $2.5 billion over five years for this program. This first round of funding makes $700 million from Fiscal Years 2022 and 2023 funding available to strategically deploy EV charging infrastructure and other fueling infrastructure projects in publicly accessible locations, including downtown areas and local neighborhoods, particularly in underserved and disadvantaged communities.
More information on the program, eligibility requirements and application deadlines

.
Share Your Input
New York State will provide the public and interested parties with regular, transparent, and effective access to information and decision-making.
New York State held a virtual public information meeting on the NEVI Plan on July 20, 2022. Slides from the meeting are available here [PDF].
You can sign up to receive future program updates and notices of outreach and engagement opportunities.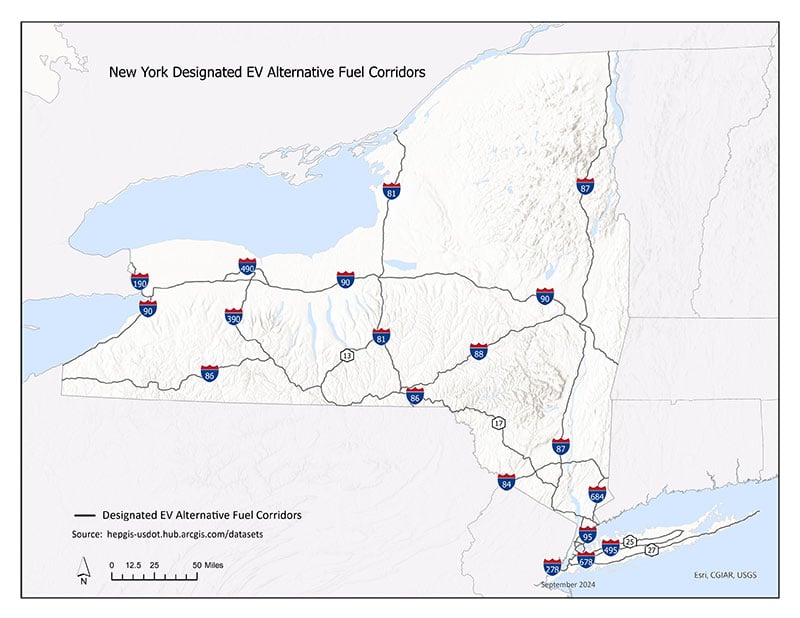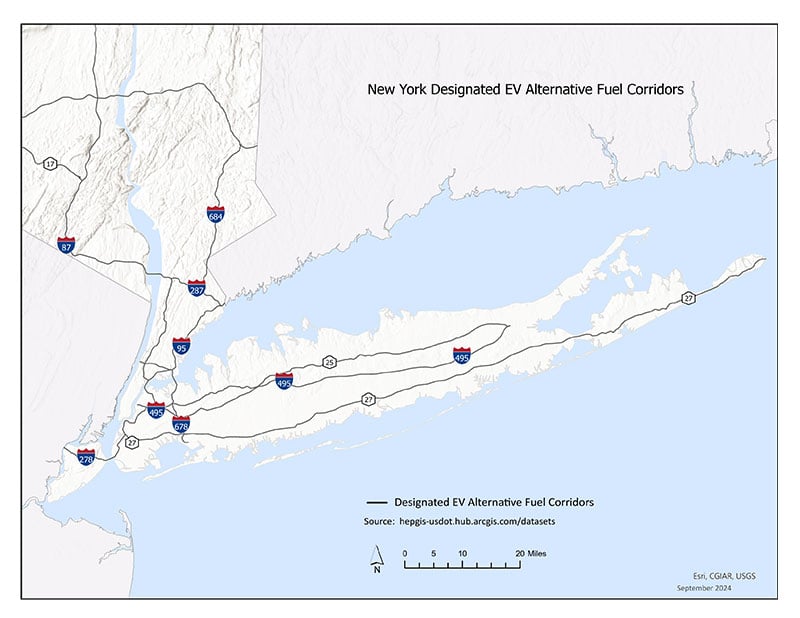 Important Resources