Member of the NYSERDA Board
Originally Appointed 6/17/2014
Reappointed 6/10/2021
Work History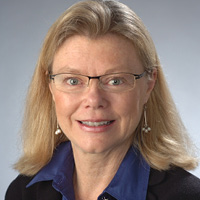 The Honorable Sherburne "Shere" Abbott is University Professor of Sustainability Science and Policy and Director of Environment, Sustainability and Policy in the Maxwell School of Citizenship and Public Affairs at Syracuse University. Her research and teaching interests lie at the interface of science and society—principally on issues related to climate change, energy and sustainability.
Prior to her current appointment, she was a senior advisor to President Barack Obama (confirmed by the U.S. Senate on April 30, 2009 as the associate director for environment and energy in the Office of Science and Technology Policy [OSTP], Executive Office of the President), serving as a deputy to the President's science advisor. She was responsible for coordinating the research and development portfolio for environment and natural resources, including overseeing the $2.4 billion U.S. Global Change Research Program, and the interagency committees on earth observing systems, air and water quality, disaster reduction, ecological services, toxins, the Arctic, and ocean science and technology.
During her tenure, she led the White House process that resulted in restructuring the nearly $14 billion national polar orbiting environmental satellite system and helped establish the nation's first National Ocean Policy. She co-chaired the first deputies committee of the National Ocean Council, co-chaired the first government-wide Interagency Climate Adaptation Task Force, and served as OSTP liaison to the Office of Energy and Climate Change Policy process. She was a member of the BIOMASS Research and Development Board and the Gulf of Mexico Restoration Task Force, headed the U.S. delegation to the Intergovernmental Panel on Climate Change, and served as U.S. Co-Chair of the international Group on Earth Observations. Previously, Ms. Abbott was on the faculty of the College of Liberal Arts and directed the Center for Science and Practice of Sustainability at the University of Texas at Austin. She also served in senior positions at scientific professional and nonprofit organizations, including as chief international officer of the American Association for the Advancement of Science and as executive director of the Board on Sustainable Development, director of International Organization Programs, and director of the Polar Research Board of the National Academies of Science, Engineering and Medicine.
In addition, Ms. Abbott consulted on environmental science and sustainable development for private foundations, the World Bank, the Brookings Institution, and other nongovernmental organizations. She previously served as a contributing editor for Environment magazine.
Nonprofit Boards
Her memberships include serving on the board of the Cazenovia Area Community Development Association and the council of the Science Policy Exchange.
Education
Ms. Abbott earned her bachelor's degree in biology from Goucher College in Maryland and her master's degree in forest science, with emphasis on science and natural resource policy, from the Yale University School of the Environment (then School of Forestry and Environmental Studies).