Chair
New York State Energy Research and Development Authority
Appointed June 2013
Work History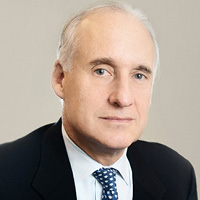 Richard Kauffman is Chair of the New York State Energy Research and Development Authority (NYSERDA). Beginning in January 2013, Mr. Kauffman served as New York State Chairman of Energy and Finance. In this position he oversaw the Department of Public Service, the New York Power Authority, the Long Island Power Authority, and NYSERDA. He stepped down from that role in January 2019 while continuing as Chair of NYSERDA.
As Chair of NYSERDA, Mr. Kauffman helps lead the implementation of New York's nation-leading climate change and carbon emission reduction goals as outlined in the Climate Leadership and Community Protection Act (Climate Act). Signed into law in 2019, the Climate Act is the most aggressive climate and clean energy initiative in the nation that places the State on a path to economy wide carbon neutrality. The Climate Act mandates an 85 percent reduction in carbon emissions by 2050, a 100 percent clean electricity sector by 2040, as well as targets for solar, offshore wind, energy storage and energy savings goals. It builds on New York's unprecedented acceleration of clean energy including over $21 billion in 91 large-scale renewable projects across the State since 2018, $1.8 billion to scale up solar, more than $1 billion for clean transportation initiatives, and over $1.2 billion in NY Green Bank commitments. Combined, these investments are supporting nearly 164,000 jobs in New York's clean energy sector in 2019, a 2,100 percent growth in the distributed solar sector since 2011 and a commitment to develop 9,000 megawatts of offshore wind by 2035. Mr. Kauffman is helping to realize a just and equitable transition to clean energy for all residents of New York that creates green jobs, stimulates the economy and ensures at least 35 with a goal of 40 percent of the benefits of clean energy investments benefit disadvantaged communities.
As the State's most senior energy official, Mr. Kauffman was New York's lead delegate in Paris at the 2015 United Nations Climate Change Conference, or COP21. In 2017 and 2018, he represented the U.S. at the invitation of the State Department on energy issues in Brazil, Nepal, and Norway. Mr. Kauffman was named by Fortune Magazine as one of the World's Top 25 Eco-Innovators. He has received the Solar Champion Award from the Solar Energy Industries Association and Smart Electric Power Alliance, the U.S. Green Building Council's Galvin Award for environmental leadership, and the Intersolar 2017 Champion of Change Award.
In addition to his current role at NYSERDA, Mr. Kauffman is an Adjunct Senior Scholar at Columbia University's Center for Global Energy Policy and also serves as Chair of Generate Capital, a leading financier of clean energy projects. Mr. Kauffman also previously served as Senior Advisor to Secretary Steven Chu at the U.S. Department of Energy (DOE) where he oversaw the restructuring of DOE's Loan Program after the Solyndra bankruptcy and advanced debt and equity capital market development policies, including proposed uses of REITs and MLPs for renewable energy.
In his private sector career, he was CEO and President of Good Energies, Inc., a leading investor in clean energy technologies; a partner of Goldman Sachs where he chaired the Global Financing Group and served on the Partnership and Commitments Committees; and Vice Chairman of Morgan Stanley's Institutional Securities business and co-head of its Banking Department. In London, he served as Vice Chair of Morgan Stanley International.
Boards
As a corporate board member, Mr. Kauffman served as Chairman of the Board of Levi Strauss & Co.; as board member of Q-Cells, a German manufacturer of solar cells; and Cofra, a Swiss holding company for the Brenninkmeijer family business. He currently serves on the board of Altaba, the successor company of Yahoo.
As a non-profit board member, he currently serves on the boards of the Wallace Foundation, Clean Energy America, Emergent and the advisory board of the Precourt Energy Institute at Stanford.
He previously served on the boards of the Brookings Institution, the Wildlife Conservation Society, the New York Philharmonic and Alvin Ailey. He was a co-chair of the advisory board of the Center for Business and the Environment at Yale and a member of the Yale School of Management advisory board. He is a member of the Council on Foreign Relations and currently serves on a study group on energy.
Education
Mr. Kauffman received a bachelor's degree from Stanford University, a master's degree in international relations from Yale University, and a master's in public and private management from the Yale School of Management.