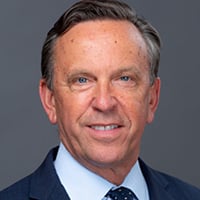 Member of the NYSERDA Board
Work History
Justin E. Driscoll is the President and Chief Executive Officer of the nation's largest state-owned electric utility (NYPA). NYPA is also the owner and operator of the New York State Canal System. Mr. Driscoll is responsible for developing and implementing the statewide utility's strategic vision and mission and for supervising its operations, legal and financial matters and relationships with external stakeholders.
Justin previously served as EVP and General Counsel of the Authority. He also supervised the activities of the Hydropower Licensing Group, the Regulatory/Energy Markets functions, Legislative and Community Affairs Group, Environmental Justice, the Corporate Secretary and the Chief Ethics and Compliance Officer. He also served on the Enterprise Risk Management Committee and was management's liaison to the Cyber and Physical Security Committee and Audit Committee to the Board of Trustees.
Before joining NYPA, Justin was engaged in the private practice of law and represented clients that included Fortune 500 companies, governmental entities and energy companies, in complex commercial litigation and regulatory matters.
Boards
Justin serves on several boards including The Alliance to Save Energy, New York City's Urban Green Council, the Large Public Power Council, World Resources Institute's Global Energy Advisory Group in Washington, D.C. and New York State Energy Research and Development Corporation.
Education
Justin is a graduate of American University in Washington, D.C. with a bachelor's degree from the School of Public Affairs. He received his law degree from New York Law School and attended the New York University School of Law, L.L.M. Program in trade regulation. He is a member of the New York City Bar Association, and the Energy Bar Association.