Clothes washer
ENERGY STAR certified clothes washers are cheaper to operate and use up to 30% less energy than standard models. Plus, they use half the amount of water of standard washers, saving between 8,000 – 11,000 gallons of water per year.
That means you could save an average of $50 up to $135 per year on your energy bill, depending on the age of your current clothes washer. You'll also use 17 fewer gallons of water every time you wash a load of laundry.
Some of the advanced features that make these energy and water savings possible include:
Front-load or redesigned top-load designs that gently flip and spin clothes through a reduced stream of water, rather than twisting and pulling clothes around a turning agitator
Efficient motors that spin clothes two to three times faster during the spin cycle to extract more water so clothes aren't as wet when they get put into the dryer
More space in the washer means you'll be doing fewer loads of laundry each week
So when you're in the market for a new clothes washer, visit a retailer near you and ask the sales associate to show you models with the ENERGY STAR and the yellow EnergyGuide label
.
Be sure to check the Modified Energy Factor and Water Factor. The higher the Modified Energy Factor, the more efficient the clothes washer will be. The Water Factor refers to the number of gallons of water used per cycle, per cubic foot. The lower the Water Factor, the better.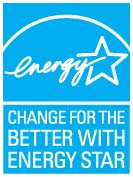 Clothes dryer
ENERGY STAR certified dryers use about 20 percent less energy than conventional models without sacrificing features or performance. They do this using innovative energy saving technologies, such as moisture sensors that detect when clothes are dry and automatically shut the dryer off. Many ENERGY STAR dryers also include convenient features, such as steam cycles that can help save time on ironing clothes by preventing wrinkles.
About 80 percent of American homes have a clothes dryer, so the savings opportunity is huge. If all clothes dryers sold in the US were ENERGY STAR certified, Americans could save more than $1.5 billion each year in utility costs and prevent greenhouse gas emissions equivalent to more than 2 million vehicles. To choose a dryer that saves energy and money while protecting the environment, look for the ENERGY STAR label.
Recycle
Remember to recycle your old clothes washer and dryer so it doesn't end up in a landfill. Many appliance retailers will pick up and recycle your old clothes washer or dryer when you purchase a new one. Some local recycling centers and transfer stations provide recycling services as well.
Boost your energy savings with these energy-saving tips.
page sourced from energystar.gov