Learn how induction stoves work and why they are a better choice than standard electric stoves or gas stoves.
How Induction Stoves Work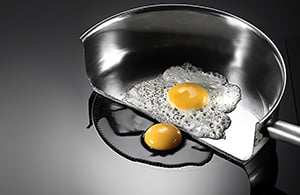 Induction is the process of heating the metal that pots and pans are made of by "inducing" an electromagnetic current within the metal cookware. Because this technology is so powerful and efficient, an induction stove can heat your pots and pans almost instantly. What makes this so unique is that an induction stove causes a pan to create its own heat, so the cooktop surface never gets hot to the touch.
Cookware Considerations
Induction stoves work by generating an electromagnetic current within the cookware itself. Therefore, if a magnet sticks, the pan will work! Most pans sold are induction compatible, including some stainless, blue, and carbon steel, as well as cast iron, enamel, or ceramic-coated iron.
Cook Faster. Cook Safer.
Induction stoves are an entirely different type of electric cooking than the standard coil stoves you may be used to. A standard electric stove has a heating element that slowly turns red hot and heats your pots and pans using a different thermal process called "conduction," which is less powerful and less efficient than induction. This type of electric stove stays hot long after cooking is done, which can slow down your clean up and make them a burn risk. It is important to note that many electric stoves have a glass-ceramic cooktop. They may look the same as an induction cooktop — but what's happening under the cooktop is very different. So, just because you see a flat, smooth surface on an electric stove, do not assume it's an induction stove!
Gas stoves, which use flames to heat your pots and pans, became increasingly popular over the course of the twentieth century. However, the same gasses (such as natural gas, propane, or butane) used to produce that flame are also the source of harmful carbon dioxide and methane emissions that present major health and safety risks to cooks, families, and our environment. That is why forward-thinking homeowners and chefs, such as our friend Lorenzo, are leading the charge to switch off their gas stoves and turn on induction.
The Differences Between Standard Electric, Gas, and Induction Stoves
| Induction | Standard Electric | Gas |
| --- | --- | --- |
| Connected to electricity | Connected to electricity | Connected to natural gas, propane, or other fossil fuels |
| 85% efficient | 70% efficient | 30-40% efficient |
| Option to power with renewable energy such as solar or wind | Option to power with renewable energy such as solar or wind | Relies on non-renewable fossil fuels such as natural gas or propane |
| "Smart" glass-ceramic cooktop that only turns on when a pan is on the surface | Exposed heating elements or standard glass-ceramic cooktop | Grates and burners |
| No emissions | No emissions | Emits fumes such as carbon dioxide and methane, even when not in use |