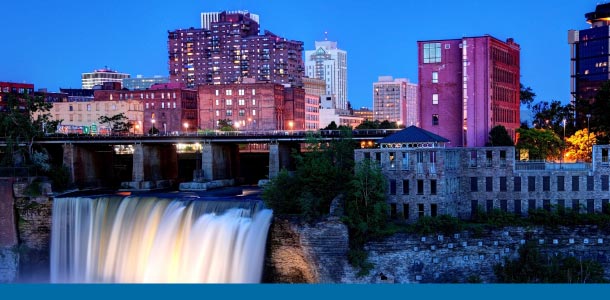 Partnering for a Low Carbon Future
NYSERDA is partnering with several organizations to increase participation, raise awareness, garner feedback, facilitate outreach and share results from the Buildings of Excellence competition. By directly involving key contacts, organization members, and participants within partner organizations, we are able to leverage the most valuable assets in moving New York's building stock to carbon neutral--developers and architects.
Below is a list of our current partners:
American Institute of Architects (AIA) – New York State AIA New York State's mission is to represent architects and the profession of architecture in government with the goal to promote the scientific and practical perfection of its members. There are 13 chapters of AIA in New York State. In addition to AIA's mission, AIA's 2030 commitment

, which prioritizes energy performance, will only help to deliver the success of this competition. Learn more at the AIA New York State website

.
American Institute of Architects (AIANY) – New York Founded in 1857, AIA New York is the oldest and largest chapter of AIA. The Chapter's members include participating architects, allied professionals, students, and public members interested in architecture and design. Learn more at the AIA New York City website

.
American Society of Heating, Refrigerating and Air-Conditioning Engineers (ASHRAE) ASHRAE, founded in 1894, is a global society advancing human well-being through sustainable technology for the built environment. The Society and its members focus on building systems, energy efficiency, indoor air quality and sustainability within the industry. Through research, standards writing, publishing and continuing education, ASHRAE shapes tomorrow's built environment today. Learn more at the ASHRAE website

.
Architectural League of New York (The League) The League has shown expertise in their work to advance excellence in design, stimulate critical problem solving as it relates to architecture, and educate its members for the last 140 years. Learn more at the League website

.
Asthma and Allergy Foundation of America (AAFA) AAFA, founded in 1953, is the oldest and largest asthma and allergy focused patient advocacy organization in the world. AAFA is dedicated to reducing the burden of asthma and allergies through support, advocacy, education, and research. AAFA aims to continue to raise awareness on the importance of indoor air quality (IAQ) and how it affects those with asthma or allergies. Learn more at the AAFA website

.
Building Energy Exchange (BE-Ex) BE-Ex connects New York City's real estate and design communities to energy and lighting efficiency solutions through education, exhibitions, technology demonstrations and research. Learn more at the BE-Ex website

.
New York Passive House (NYPH) and The North American Passive House Network (NAPHN) NYPH and NAPHN are non-profit organizations dedicated to mitigating our climate crisis and adapting to it - with affordable high-quality construction that is accessible to everyone - by implementing Passive House design and construction standards. NAPHN and NYPH are affiliated with the Passive House Institute (PHI) and the International Passive House Association. Learn more at the NYPH website

, the NAPHN website

, and the Passive House website

.
Passive House Institute US (PHIUS) PHIUS is a non-profit committed to making high-performance passive building the mainstream market standard. PHIUS trains and certifies professionals, maintains the PHIUS+ climate-specific passive building standard, certifies and quality assures passive buildings, and conducts research to advance high-performance building. Buildings that meet the PHIUS+ standard use 40-60 percent less energy for space conditioning than conventional buildings. PHIUS+ buildings provide superior indoor air quality, resilience during power outages, and an extremely quiet, comfortable indoor environment. Project teams are increasingly adopting passive building principles and the PHIUS+ standard for single-family, multifamily, and commercial construction to achieve Net Zero buildings. Learn more at the PHIUS website

.
PHIUS Alliance (formerly PHAUS) is the membership program of PHUIS. The PHIUS Alliance now has over 800 members across 18 regional chapters nationwide and dozens of corporate sponsors. The PHIUS Alliance focuses on outreach and building community among practitioners and manufacturers. Together with PHIUS, the Alliance presents the annual North American Passive House Conference (NAPHC) and offers a variety of professional development opportunities throughout the year. Learn more at the PHIUS Alliance website

.
Passive House Alliance – New York (PHA-NY) is an affiliate of the PHIUS Alliance U.S and is a volunteer-based organization devoted to the adoption of the Passive House Building standard in the Hudson Valley and greater Northeast region. PHA-NY is the largest and most active local chapter of the PHIUS Alliance in the Northeast region. It provides a robust membership-based network with over 1000 members throughout North America and provides training, resources, marketing, and advocacy support to its members throughout New York, New Jersey, Connecticut, Pennsylvania and New England. Learn more at the PHA-NY website

.
Passive House Accelerator (PHA) PHA has been instrumental in the expansion of the passive house network to design, development, policy, and real estate communities. Their mission is to advance passive house design, educate the design community, and scale up the passive house solutions. Learn more at the PHA website

.
Real Estate Board of New York (REBNY) REBNY represents influential real estate professionals as it works to protect, improve, and advance the business of real estate in New York City. Learn more at the REBNY website

.
Urban Green Council's (UGC) UGC's mission is to transform buildings for a sustainable future in New York City and around the world. We help develop cutting-edge policy, we educate a broad range of professionals, and we research solutions that drive policy and best practices nationally and globally. By working with both the public and private sectors, we leverage our effectiveness. Learn more at the UGC website

.