Diversity, Equity, and Inclusion at NYSERDA
Diversity, Equity, and Inclusion (DEI) are core values at NYSERDA and in our work for the people of New York State and the clean energy market. We are passionate about building and sustaining an inclusive and equitable working environment and are committed to diversity in all its forms. Because our programs serve all New Yorkers, we are committed to hiring and retaining a diverse and engaged workforce and building a workplace that empowers all NYSERDA employees to achieve their full professional and personal potential.
Strategic Plan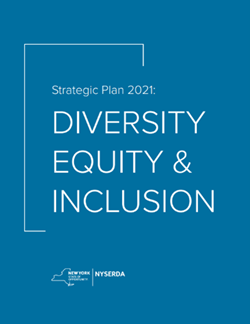 In 2020, NYSERDA formally launched an internal strategic planning effort to promote DEI across the organization, culminating in the development of the Authority's first-ever DEI Strategic Plan [PDF]. As part of the plan, a consultant-led internal strategic planning team worked intensively to create guiding principles for the effort and articulate the priority goals, objectives, and strategies to organize NYSERDA's forward-looking work, designed to realize progress over a period of approximately five years.
In addition, the strategic planning team formed tactical teams, featuring team members from across the Authority, to craft the discrete tactics – the specifics of what we will do – to implement each respective goal, objective, and strategy. With the Strategic Plan formally issued as of the Authority's October 5, 2021, Board Meeting, the implementation phase of this work has now commenced, and the DEI Strategic Plan will be used to guide Authority activity and implementation efforts, with a focus on internal activities but inclusive of external-facing impact as well.
Read the Letter from NYSERDA President & CEO Doreen Harris [PDF] that introduces the DEI Strategic Plan and underscores the importance of this work for NYSERDA.
DEI Guiding Principles
Only as a diverse, equitable, and inclusive organization can NYSERDA effectively serve New York.
NYSERDA will be a model to the clean energy industry for mission-driven diversity, equity, and inclusion.
NYSERDA will hold itself accountable at the individual, leadership, and organizational levels for effective and successful diversity, equity, and inclusion.
NYSERDA will ensure that all feel seen, heard, and included through respectful interactions and openness to difference — the underpinning for successful diversity, equity, and inclusion.
Continuous learning and openness to change will be the foundation to diversity, equity and inclusion at NYSERDA.
DEI Goals
Create and nurture an invigorated and enduring culture of engagement across NYSERDA that puts people first through demonstrable commitment to the goals and aspirations for growth and success of each employee, both personal and professional.
Build effective and enduring diversity, equity, and inclusion that represents and reflects the New York State communities we serve and is free of systemic and structural biases, including racism, that are historic barriers to the equitability of opportunity – both internal and external.
Be accountable for our DEI efforts and outcomes with comprehensive metrics and measurements across NYSERDA to show achievement of our DEI strategic goals.
Endeavor to create the pathway for effective and enduring DEI by collaborating with and learning from other State agencies and clean energy organizations to build healthier and more diverse workplaces.
DEI Council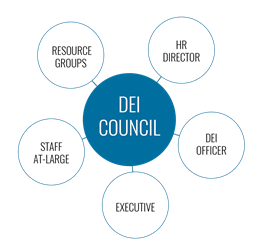 The NYSERDA DEI Council is the nexus that brings together representatives from across the Authority to connect NYSERDA's diversity, equity, and inclusion activities to the Authority's broader mission-driven, results-oriented strategy. The mission of the Council is to boldly advocate for a vibrant culture of engaged employees that supports the advancement of NYSERDA's goals for diversity, equity, and inclusion.
Climate Act Goals for Equity & Justice
We recognize there is a vital and inextricable link between our internal work on DEI and the outward-facing efforts we are helping New York undertake to build an inclusive clean energy economy, in pursuit of the Climate Act goals to ensure the benefits of clean energy investments flow equitably to disadvantaged communities across the State. You can learn more about our actions to promote climate equity and drive benefits to underserved communities in our Strategic Outlook [PDF]. You can also read more about New York State's activities in this space through the Climate Action Council

, the Climate Justice Working Group

, and the Disadvantaged Communities Barriers and Opportunities Report

.