55 Water Street
New York County
One of Manhattan's Most Iconic Buildings is Guided to Huge Energy Savings With an On-site Energy Manager.
Built in 1972, 55 Water Street is the largest office building in Manhattan. This Class A commercial building, with 3.2M square feet of rentable space, is well equipped and well operated. It is also one of the country's largest buildings with a "U.S. Green Building Council" LEED Gold Certification.
The money saved in energy reductions far surpassed the money spent to hire an energy manager.
Its ownership and management teams are passionate about pursuing sustainability initiatives to reduce the building's carbon footprint and environmental impact.
In 2021, New Water Street Corp. was approved for a cost-share with NYSERDA to hire an on-site energy manager (OsEM). Building management was looking forward to working with on-site expert who could help with sustainability initiatives and work with the building's operations team.
Project at a Glance
Company name: New Water Street Corp
Site name: 55 Water Street
Location: New York, NY
Building size: 3,652,582 Square Feet
Building type: Multi-Tenant Commercial Office
Utilities: Electricity, District Steam
Annual Utility Savings at a Glance
Electric:
1,671,330 kWh electric savings,
with another 16,000,000 kWh in progress
Steam:
41,839 MMBTU steam savings per year,
with another 60,000 MMBTU in progress
Cost savings with OsEM: $1,363,862,
with another $4,000,000 in various states of progress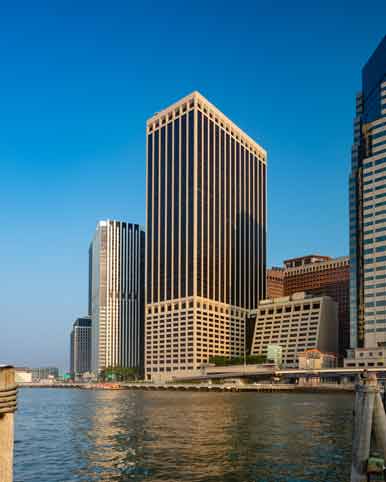 Phase-One Discoveries
Over the course of 12 months, the OsEM's focused recommendations for near- and long-term improvements.
Steam accounted for 45% of the building's energy use. Therefore, the energy manager's first priority was a full steam audit. Steam leaks were quickly identified and corrected. Additional suggestions were made to improve pressure control and insulation, which provided immediate benefits. More nuanced measures, such as eliminating separate heating and cooling systems in favor of heat pumps, were investigated.
An interesting feature of the site was its on-site ice storage plant. Ice made at night (when demand for electricity was lowest and less expensive) was used for space cooling during the day (when demand for electricity was high and costly).
However, the energy manager made a recommendation to improve on-site thermal storage by using the ice storage plant to supplement heating as well. The ability to use ice year-round, for both heating and cooling, would dramatically reduce the building's reliance on steam.
Less Steam, More Electricity
Further measures that either introduced electricity, or made its use more efficient included:
phasing out antiquated pneumatic control systems in favor of digital controls
upgrading induction units for more efficient space heating and cooling
upgrading lighting and lighting controls
installing a water source heat pump for domestic hot water. This single improvement reduced yearly steam use by 8,000 MMBTU.
Exceeding Savings Targets
Prior to hiring the OsEM, Water Street Corp developed an anticipated target of 2% yearly savings for steam and 2% for electricity. After the OsEM, the installed measures mentioned above resulted in a combined 15% reduction in the building's total energy use, which translated into a whopping 733% energy savings compared to the target.
| | | | | | |
| --- | --- | --- | --- | --- | --- |
| Energy Model Inputs | Baseline Energy Use | Target Energy Savings | Installed Energy Savings | % Installed Savings Against Target | % Installed Savings Over Baseline |
| Electric (kWh) | 65,503,166 | 1,310,063 | 1,671,330 | 128% | 2.6% |
| Fossil Fuel (MMBtu) | 100,790 | 2,016 | 41,839 | 2076% | 41.5% |
| Total (MMBtu) | 324,287 | 6,486 | 47,542 | 733% | 14.7% |
Ongoing Energy Savings
The building's efficiency profile now includes such energy-savings activities as retro-commissioning, removable jackets for regularly maintained valves/devices on the steam and chilled water loops and building automation system upgrades with advanced control algorithms.
Ongoing data gathering and analysis from these upgrades will shed further light on the benefits and feasibility of future energy improvement and electrification projects already under consideration as a result of the OsEM program.
Ongoing Relationships
As of 2023, Water Street Corp continues an active and productive relationship with both NYSERDA and with the energy manager.
After a full year on site, between 2021-2022, the energy manager knows the building well and continues to consult on improvements. These ongoing relationships highlight how shared goals can result in mutually beneficial outcomes.
OsEM proved to be a huge success for 55 Water Street. Even though it's a big building with big everything, the energy team was able to tackle a variety of operation and maintenance improvements, understand energy data streams contributing to their carbon footprint, and plan for a future that involves some very progressive engineering concepts to maintain flexibility as energy markets shift.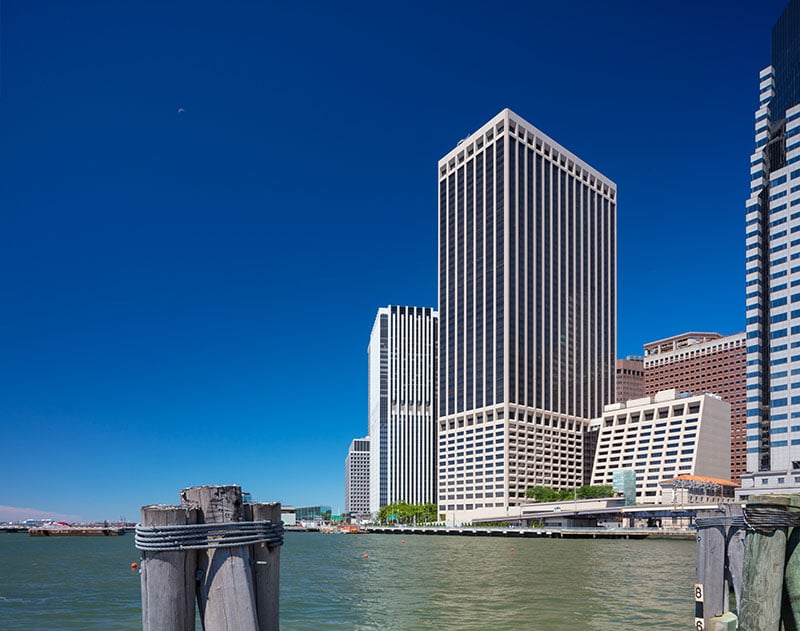 The Path to Whole-Building Electrification
This partial list of improvements illustrates some amazing transformations the building either has or will experience in the near future:
Exercises and Achievement Milestones - Completed
Evaluated carbon profile, energy usage and utility cost by NWSC management
Benchmarked the building to other buildings like it by NWSC management
Decided to take action to setup the next decade of building energy management by NWSC management
Hired OsEM
Set energy goals and metrics of success
Formed energy team and structured regular update cadence
Conducted lighting, insulation, controls, envelope, tenant, central plant, and heating audits
Identified operations & maintenance improvements
Conceptualized the future of various systems
Provide costing, impact, and logistics behind conservation measures
Helped management through the start of several project kick-offs including building automation system upgrade, lighting upgrade, retro-commissioning, and electrification analysis.
Implemented LED upgrade Phase I: 539,000 kWh saved
Implemented LED upgrade Phase II: 120,000 kWh saved
Implemented steam trap repairs: 4,304 MMBTU saved
Implemented domestic hot water leak repairs: 26,000 MMBTU saved
Long-Term and Capital Investments – Future Goals
This list developed by the energy manager includes five intensive solutions requiring significant capital investment.
Establish vision of whole building electrification: 78,000 MMBTU potential savings
Oversee advanced controls implementation: 10,000,000 kWh potential savings
Engage tenants through Real Time Energy Management and advanced metering
Provide data analytics to guide base building and tenants
Investigate on-site renewable energy
Want to identify areas for improvement, increase your buildings energy efficiency, and lower operating costs?
Visit NYSERDA's On-site Energy Manager program page or contact us at [email protected].