Energy & Climate Equity Strategy
NYSERDA's Commitment to an Inclusive Clean Energy Economy
NYSERDA recognizes the role that public policy has played in perpetuating inequities faced by historically marginalized communities, while working to leverage its critical role in addressing the climate crisis, energy injustice, and the legacy of environmental racism.
Under the Climate Leadership and Community Protection Act (Climate Act), New York State is transitioning to an inclusive clean energy economy that reduces greenhouse gas emissions, addresses systemic inequities, and expands economic opportunity for all New Yorkers. NYSERDA is committed to advancing energy and climate justice through investments in our economy and workforce that address historic inequities and improve health and resilience for all New Yorkers, especially historically marginalized communities.
NYSERDA is transforming its approach to meet New York State's ambitious climate and equity goals. Specifically, NYSERDA is working to address the challenges historically marginalized communities have faced in accessing programs and using their lived experience to inform solutions that support an inclusive clean energy transition. With the creation of an Energy & Climate Equity team, NYSERDA is working to conduct more equitable, meaningful, and diverse community engagement. This will ensure historically marginalized communities are front and center in the decisions that impact their everyday lives. More detail on a full range of programs NYSERDA is implementing to benefit disadvantaged communities can be found in the Inclusive Clean Energy Economy section of NYSERDA's Strategic Outlook 2023-2026 [PDF].
Interagency Planning and Coordination for Climate Equity and Justice
Below are some key documents created by interagency partners and appointed stakeholders to guide the achievement of the Climate Act's

goals and activities across New York State government. The Climate Act charged the Climate Justice Working Group with the development of criteria to identify disadvantaged communities

to ensure that frontline and otherwise underserved communities benefit from the state's historic transition to cleaner, greener sources of energy, reduced pollution and cleaner air, and economic opportunities.
The Climate Act requires Disadvantaged Communities (DACs) receive a minimum of 35 percent, with a goal of 40 percent, of the benefits from investments in clean energy and energy efficiency programs or projects in the areas of housing, workforce development, pollution reduction, low- and moderate-income energy assistance, energy, transportation, and economic development. This is to ensure an equitable distribution of benefits, or distributional equity, from clean energy investments. The Climate Act and Scoping Plan also calls for procedural equity, which is about improving processes for these same communities to provide input on policy and program planning and help determine how they will benefit.
In addition to Climate Act mandated plans and reports, NYSERDA is charged with coordinating with other agencies and executing on the following climate equity focused initiatives:
In addition, NYSERDA is developing policy roadmaps and frameworks for various economic sectors to support an equitable energy transition, including:
What follows are Energy and Climate Equity initiatives NYSERDA is implementing to help actualize procedural and distributional equity through the clean energy initiatives and programs it administers.
Equitable Community Engagement
NYSERDA is transforming the way we engage with historically marginalized communities by:
Developing equitable community engagement initiatives

NYSERDA is focused on shifting to initiatives that allow for deeper, more coordinated engagement and collaboration with historically marginalized communities around program planning and policy development. Equitable engagement initiatives include:

Energy Equity Collaborative (see more details below)
Disadvantaged Community (DAC) Stakeholder Services Pool (see more details below)
Disadvantaged Community (DAC) Stakeholder Reimbursement (see more details below)

Integrating equity into internal operations

The Energy Equity Stewardship Network is a peer-to-peer learning network within NYSERDA to provide staff with tools and resources to better understand equity issues and incorporate equity considerations into program and policy design.
NYSERDA created an Energy & Climate Equity Team to serve as an internal resource to provide staff with support to conduct meaningful community outreach and integrate community engagement tools into their program design, development, and improvement.
NYSERDA's equitable program efforts complement NYSERDA's Diversity Equity and Inclusion Strategic Plan which is focused on building a diverse, equitable and inclusive culture within the organization.
Through the Cecil Corbin-Mark Environmental Justice Fellowship NYSERDA is working to provide career experience to individuals from underrepresented or frontline communities to work in collaboration with communities to advance New York State's environmental and climate justice goals.
Equitable Engagement Initiatives
Regional Clean Energy Hubs
New York State is embarking on a transition to an inclusive clean energy powered economy. Residents, businesses and communities across the State will have access to new opportunities to benefit from this transition including clean energy careers, programs for home and commercial building energy improvements, and rebates for electric vehicle purchases.
To help New Yorkers access and navigate these opportunities, NYSERDA created the Regional Clean Energy Hubs. Clean Energy Hubs connect people to the clean energy economy.
Energy Equity Collaborative
The Energy Equity Collaborative provides a shared space for collaboration between those that serve and represent historically marginalized communities and NYSERDA, along with other State agencies and Authorities, as needed.
The Energy Equity Collaborative is being established with a Founding Steering Committee in 2023. It will provide a coordinated forum for community-based organizations and stakeholders that are representative of or principally serve disadvantaged communities, and NYSERDA to work together to address energy equity and climate justice issues and develop equitable programs. With NYSERDA's support, the Collaborative will host public meetings and create working groups for sector-specific issues. The Collaborative will host a network of organizations that help ensure the experiences and needs of under-resourced and historically marginalized communities are front and center in decision-making and program planning. The Collaborative includes participation from other New York State agencies, including members of the interagency Low-Income Energy Task Force, with which NYSERDA will coordinate on issues and opportunities raised.
Purpose of the Energy Equity Collaborative
Elevate energy and climate equity issues in New York State and align on best opportunities to inform and collaborate on initiative development
Build constructive relationships between NYSERDA and community organizations representing disadvantaged communities (DACs) and align on equitable program and policy development opportunities at NYSERDA
Develop the knowledge, connections, and capacity of participating DAC stakeholders to inform State clean energy planning
Provide a dedicated forum for NYSERDA to share updates on its plans and actions and for frontline community organizations and individuals to provide early-stage, high-level feedback on programs and initiatives in a structured but informal manner to support transparency, accountability, and relationship building
Founding Steering Committee
The Collaborative is co-led by a Founding Steering Committee comprised of the following community-based organizations that primarily serve historically marginalized and otherwise disadvantaged communities:
Adirondack North Country Association (ANCA)
ALIGN: The Alliance for a Greater New York (ALIGN)
Blueprint Geneva
BlocPower
Building & Construction Trades Council of Greater New York
Green City Force
Long Island Progressive Coalition (LIPC)
New York City Environmental Justice Alliance (NYC-EJA)
New York State Community Action Association (NYSCAA)
People United for Sustainable Housing Buffalo (PUSH Buffalo)
Public Utility Law Project (PULP)
Schaghticoke First Nations Indigenous People's Organization
WE ACT for Environmental Justice
The Founding Steering Committee is helping organize the structure, focus, engagement, and launch of the Collaborative that will eventually engage a very broad and diverse network of community-based organizations. The Founding Steering Committee will also provide input, as needed, on early-stage planning of initiatives from NYSERDA during the first year. While the Collaborative will serve in an advisory role to NYSERDA (i.e., not a legal entity or formal decision-making body), NYSERDA commits to transparency and accountability around issues and opportunities identified by the Founding Steering Committee, and to collaborating on solutions.
The Founding Steering Committee Selection Criteria [PDF], developed in collaboration with community stakeholders, were used to guide selection of Founding Steering Committee members. The Founding Steering Committee will also establish the process for organizations to participate in the Collaborative and determine how future Steering Committees will be selected in 2024 and beyond.
Paying for Community Expertise
NYSERDA is paying community stakeholders for their contributions to NYSERDA program planning.
The lived experiences and expertise of historically marginalized communities need to be front and center in the development of programs and policies that impact their daily lives. This includes low-income communities, communities facing disproportionate pollution and public health vulnerabilities, hard to reach, underserved rural communities, communities of color, Indigenous Nations, and other areas of the State with high levels of poverty and limited access to resources. NYSERDA is working to broaden our reach and hear from those on the frontlines of the climate crisis. We recognize that community stakeholders need to be compensated for their valuable time and contributions when informing NYSERDA's policies and programs.
In response, NYSERDA has established two ways for community-based organizations serving or representing disadvantaged communities to be paid for time dedicated to informing NYSERDA initiatives. One of the ways described below—specifically, the Disadvantaged Communities (DAC) Stakeholder Reimbursement—is available to support participation by individuals as well.
Disadvantaged Communities (DAC) Stakeholder Services Pool (RFQL 4922)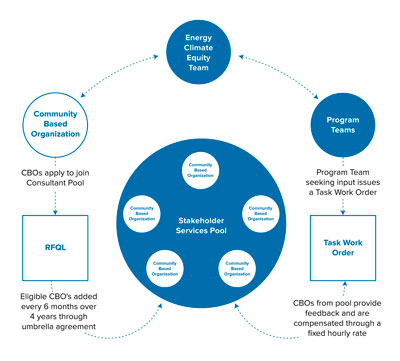 NYSERDA issued a Request for Qualifications to establish a group, or "pool," of qualified community-based organizations (CBOs) that represent New York State's disadvantaged communities. The pool of CBOs may include grassroots advocacy organizations, faith-based groups, environmental and climate justice organizations, as well as individual nonprofits, coalitions, and for-profit firms based in and with a substantial connection to those residing in New York State's disadvantaged communities.
Organizations qualified under this RFQL are available to work with NYSERDA staff through a variety of paid services. CBOs will assist with helping NYSERDA address DAC barriers to participation and inform how DACs can receive a greater share of the benefits from clean energy investments and programs. This includes providing advice and input on programs and policies, facilitating community outreach and engagement, and participating in working groups organized by NYSERDA around various issues and program areas. These could include, but are not limited to, solar energy, workforce development, affordable housing decarbonization, clean transportation, and large-scale renewable deployment. Assistance may also be requested to design new programs or improve Authority-wide initiatives.
Disadvantaged Communities (DAC) Stakeholder Reimbursement

Reimbursement (payment) is available to individuals and community-based organizations invited by NYSERDA to participate in meetings or other immediate, short-term, or ad hoc needs and services. The reimbursement is payment for contributing ideas and perspectives to inform NYSERDA and related program and policy planning based on the lived experiences of individuals or knowledge held by organizations that are based in or serve DACs.
To be eligible for reimbursement, organizations or individuals must meet one of the following criteria listed below and participate in the entire Stakeholder Session.
The organization that person represents is a community-based organization that principally serves (greater than half of those served) and/or is based in an NYS disadvantaged community, as defined here . This organization has an understanding of strategies and solutions to overcoming barriers to disadvantaged communities accessing clean energy; knowledge of barriers related to low-income, Black, Indigenous, People of Color, affordable housing, environmental justice, underserved rural communities, and other areas with high levels of poverty and limited access to resources.
OR
The individual is based in NYS and has expertise in clean energy equity and/or climate justice issues which may include but is not limited to experience in providing services to and implementing clean energy projects in disadvantaged communities, including: lived experience related to energy issues; engaging with and providing services to disadvantaged communities related to housing and advocacy, transportation, workforce, Minority/Woman-Owned Business Enterprise, and other related services.
OR
The individual is outside of NYS with unique or unparalleled subject matter expertise in energy equity subject matter research. This expertise may be judged on the amount of time the individual has been involved in the field, recognition by other organizations, involvement with companies which have benefitted from this subject matter expertise, and involvement with professional societies, including environmental and climate justice organizations.
Reimbursement is based upon the length of the session held, using the following rate structure:
Up to 2.5 hours = $300
3 to 5 hours = $600
5.5+ hours = $800
NY Energy Advisor
NYSERDA and New York State utilities developed the New York Energy Advisor website

, a one-stop shop site to help low- to moderate-income New Yorkers get access to personalized energy savings programs. The site provides easy and efficient access to energy programs and services, including energy efficiency, renewable energy, and energy education materials, that are available to New Yorkers based on individual eligibility criteria without searching for assistance on multiple websites. It also serves affordable property owners and managers by providing access to information on energy efficiency programs and services that may benefit their properties.
Stay Connected
Sign up for the Energy Equity & Climate Justice Digest email list. The digest includes information about NYSERDA's initiatives, program announcements, and updates related to advancing a just and inclusive clean energy economy.
Do you have any questions, feedback or would like to learn more about NYSERDA's energy equity and climate justice initiatives? Email us at [email protected].