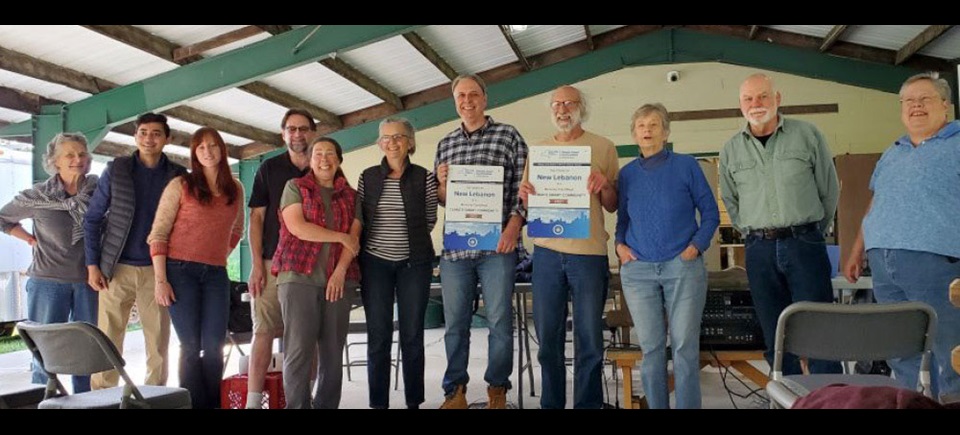 Towns Advancing Clean Energy and Efficiency
Small Towns Have a Big Role to Play in New York's Clean Energy Transition
Local governments have considerable influence in advancing clean energy in their communities through building codes, land use regulation, and managing landfills, streetlights, and other infrastructure. Municipal leaders, especially in smaller towns, are well-positioned to be responsive to local needs and champion clean energy and energy efficiency as trusted community representatives.
Through the Clean Energy Communities (CEC) program, municipalities of all sizes across New York are taking action to reduce energy and emissions from their operations and encouraging the use of clean energy technologies, such as heat pumps and solar, by community members. By completing High Impact Actions, counties, cities, towns, and villages earn points in the CEC program toward grant funding and recognition as a Clean Energy Community.
The combined efforts of New York's smaller communities – 933 towns and 533 villages – are making significant contributions towards the State's clean energy and climate goals.
Here's how three small towns are driving their communities toward a more sustainable future.
New Lebanon – Columbia County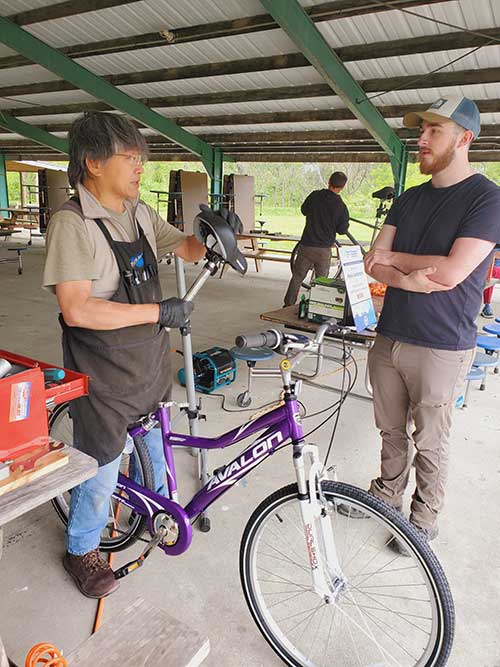 The Town of New Lebanon is a sustainability leader in the Capital Region, earning 5,300 points, and completing 10 of the 13 available actions in the CEC program.
Before becoming Town Supervisor, Tistrya Houghtling began working with the Capital District Regional Planning Commission

as the Town Clerk to present on the CEC program and garner the Town's support. "Focusing on the monetary savings from actions like LED streetlights and grant opportunities helped secure buy-in to participate," says Supervisor Houghtling.
New Lebanon took an approach of prioritizing no-cost actions upfront to qualify for CEC grant funding and pay for additional High Impact Actions, thus earning more points and more grants, totaling $120,000 to date. "Our committee was the boots on the ground driving actions that didn't cost taxpayer money to get grant money to then complete actions that require financial investment," adds Supervisor Houghtling. CEC grants helped fund a solar array and install heat pumps in several municipal buildings, helping lower municipal energy costs.
The Town's sustainability work has continued to expand – both in impact and community involvement. New Lebanon has earned Climate Smart Communities Bronze certification

, which complements the CEC program by preparing municipalities to lead community action to reduce greenhouse gas emissions and build climate resiliency. Municipal leaders and community members on New Lebanon's Climate Smart Communities Task Force

have helped the Town implement outreach campaigns on community solar, clean heating and cooling (i.e., heat pumps), and energy efficiency. New Lebanon's bike recycling program, which provides free, used bikes to residents, has helped bring more community members into the fold of the Town's sustainability initiatives, notes Supervisor Houghtling.
As a member of the County Board of Supervisors, New Lebanon has helped catalyze Columbia County's CEC participation, as well as share best practices and collaborate with neighboring municipalities on the program. So far, 18 municipalities in Columbia County have earned CEC designation.
Riverhead – Suffolk County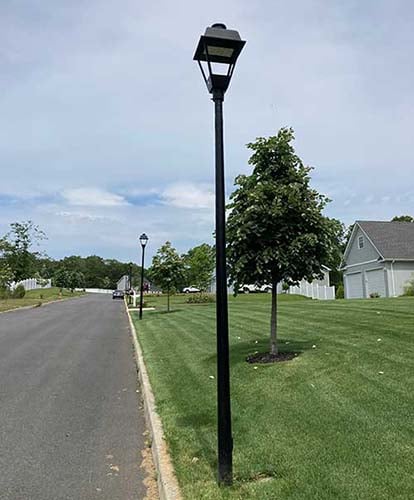 On Long Island's North Shore, the Town of Riverhead has made steady progress in the CEC program since beginning with low-hanging fruit like benchmarking municipal energy use and passing the unified solar permit. Riverhead's CEC work is facilitated through the Town's Engineering Department and Environmental Advisory Committee

, which is comprised of community members and Town staff.
After completing four High Impact Actions, Riverhead earned CEC designation and a $5,000 grant that helped fund LED lighting upgrades in the Town's Highway Department building. The Town has further championed energy efficiency by replacing over 14,000 streetlights – both cobra head and decorative – with dark sky compliant LED light fixtures. The highly efficient LED lights cut electricity costs in half, providing enough savings for the Town to hire an additional maintenance staff member.
Next, Riverhead is pursuing Climate Smart Communities (CSC) certification after forming a Climate Smart Community Task Force

in 2020. Earning Bronze certification earns points in the CEC program to become eligible for additional grant funding. In pursuit of CSC certification, Riverhead established a food scraps drop-off program

to divert waste from local incinerators and landfills, helping reduce methane emissions and improve local soil. "Exposure from the food-scraps program has helped connect with more residents interested in sustainability," says Jason Blizzard, who serves as the Coordinator for the Task Force.
Webb – Herkimer County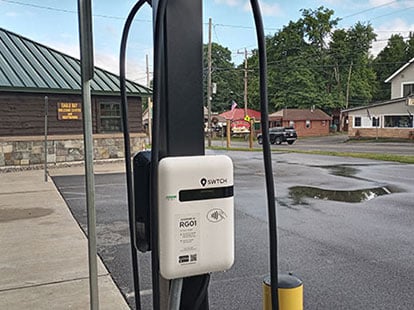 Spanning numerous lakes and mountain ridges in the western Adirondacks, the Town of Webb is the largest township by land area in New York State. Webb is a designated Clean Energy Community, having completed five High Impact Actions as of July 2023.
"Energy efficiency and cost savings have been the main drivers for participation," says Dan KieferBach, who supports the Town of Webb's CEC work as a Community Development Specialist at LivingADK

.
Webb began with energy assessments across its municipal facilities to identify opportunities for the greatest cost and energy savings. The findings prompted investments in LED lighting upgrades, insulation, and mini-split air source heat pumps in Town buildings to increase efficiency, reduce emissions, and accrue energy cost savings. "The building efficiency audits came from a desire to reduce heating and cooling costs in all of Webb's municipal buildings so a greater portion of the facilities budget could go toward necessary renovations and repairs", notes Dan.
Since participating, Webb has extended its CEC work into the community with three electric vehicle charging stations to serve visitors to the popular recreation destination, as well as via educational campaigns to increase awareness of community solar and heat pump technologies. Through in-person interactions with trusted local partners, the campaigns aim to foster discussions about clean energy technologies, available options, and their benefits. Webb is coordinating with the neighboring Town of Inlet on the ongoing HeatSmart campaign promoting heat pumps to expand their reach across both communities, which are effectively interconnected by Route 28 and the Fulton Chain Lakes.
Next, Webb is planning to complete a FlexTech study on the Hiltebrant Sports Complex to evaluate the feasibility of converting it to a year-round recreation facility and opportunities to incorporate clean energy and energy efficiency.
How to Become a Clean Energy Community
Achieving any four of the 13 High Impact Actions earns communities CEC designation and a one-time grant of $5,000 to use towards additional energy efficiency improvements or clean energy investments. Municipalities are eligible for point-based grants to help continue their clean energy initiatives when they reach the 3,000-, 4,000-, and 5,000-point thresholds.
All three communities offered advice for other municipalities looking to get started in the program or accelerate progress towards designation and points-based grants.
"Begin with the easier, no-cost actions to get enough points to reach the grant funding threshold to then make more investments, save more money, and earn more points towards additional grants," says Supervisor Houghtling.
"Try to get involved to see what actions would be the best fit for your municipality. Don't be discouraged if there isn't an immediate appetite for the more aggressive actions to start.", recommends Jason Blizzard from the Town of Riverhead.
"The first thing is to get started and leverage local knowledge and relationships. Tap into folks already involved in this work and make them the point person to champion CEC efforts.", advises Dan KieferBach, Community Development Specialist at Living ADK.
More on Communities and Local Climate Action
Learn more about initiatives and opportunities to advance clean energy and climate action at the local level.
Sign Up For News
Stay up to date on energy-saving programs and incentives, best practices, and more.
Stay Connected