Counties Leading the Charge on Clean Energy
Across New York, Municipalities are Advancing Clean Energy Solutions for Their Communities
New York's clean energy transition requires action and collaboration at the State and local levels. From land use planning to code enforcement, local municipalities have a pivotal role in shaping renewable energy development and energy efficiency in their communities.
NYSERDA's Clean Energy Communities (CEC) program rewards and recognizes municipalities that are leading New York State towards a clean energy future. Participating municipalities complete specified "High Impact Actions" to earn points toward grant funding and designation as a Clean Energy Community. There are 13 different High Impact Actions that local governments can take to promote renewable energy projects, encourage residents and businesses to adopt clean energy technologies, and make cost-saving investments to cut municipal energy use and greenhouse gas emissions.
New York State is home to diverse communities, spanning 533 villages, 933 towns, 62 cities, and 62 counties. More than half of these municipalities are participating in the CEC program, demonstrating that communities can tailor the CEC framework to local needs, challenges, and priorities.
From the Capital Region to the Southern Tier and Finger Lakes, here's a look at three counties leading the way on clean energy.
Albany County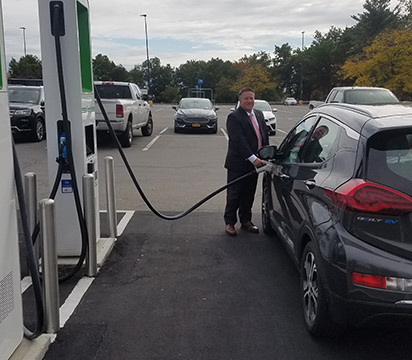 Albany County was designated as a Clean Energy Community in 2018 and has continued advancing clean energy and energy efficiency within its municipal operations and the community.
After beginning with no-cost actions like benchmarking municipal energy use and promoting solar through a community campaign to earn designation, the County leveraged CEC grant funding to invest in six electric fleet vehicles and four charging stations at MVP Arena. Since then, Albany County has committed to electrifying its light-duty fleet by 2030 and made significant progress with additional electric vehicle (EV) purchases and EV charging installations.
Albany County is pursuing other additional High Impact Actions to earn points and qualify for another grant to further its clean energy initiatives. The County's new highway garage, which is currently under construction, will be equipped with a geothermal heat pump system that will serve as a demonstration project to educate staff and visitors on beneficial electrification. The new facility will also integrate a roof-mounted solar array and rainwater collection and reuse system to reduce the County's emissions and water consumption.
"Participating in NYSERDA's Clean Energy Communities Program was an easy decision for us because it aligns with our goals and offers meaningful funding to support our investments in sustainability. Initiatives like electrifying our fleet, converting our streetlights to LEDs, and providing public charging stations at our buildings and parks help the County save money, reduce emissions, and improve our community."
— Albany County Executive Daniel P. McCoy
Recognizing the benefits of regional coordination on clean energy and climate action, Albany County is preparing to launch the Government Sustainability Collaborative. The intermunicipal initiative seeks to exchange ideas and best practices, as well as collaborate on shared issues related to sustainability. "I have made a commitment that Albany County will work to be the greenest County in the State and that can only be achieved through partnerships," says County Executive McCoy.
Broome County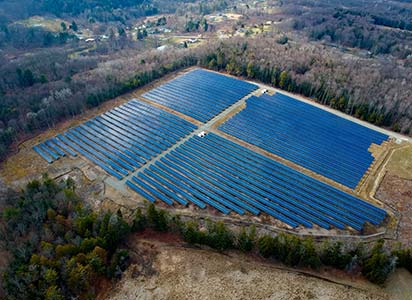 In the Southern Tier, Broome County has made steady progress since completing their first High Impact Action in 2017.
"There is a lot of [County] work toward sustainability but having a framework through the CEC program to guide and document our efforts was key to long-term planning and being successful," says Beth Lucas, Director of Planning at Broome County. "The CEC program also helped highlight issues with energy management at County facilities," adds Lucas.
CEC efforts, which are spearheaded by the Planning Department, began with benchmarking County energy use, training for code enforcement staff, promoting solar via community campaign, and enabling property assessed clean energy (PACE)

financing for commercial properties.
Broome County's designation grant for achieving these four actions funded LED lighting upgrades across several buildings, increasing buy-in from the Department of Public Works and spurring ongoing efforts to convert all lighting to LEDs.
The County's clean energy efforts have expanded considerably since, including the construction of the 5.2-megawatt Conklin Solar Farm in 2018. The renewable energy generated by the solar array provides credits from NYSEG to lower the energy costs for the Binghamton Airport Terminal, Visions Veterans Memorial Arena, and office buildings. The Conklin Solar Farm has reduced greenhouse gas emissions from the County's facilities by more than 40% when compared to previous years' emissions.
Building upon the savings from LED upgrades and solar, Broome is developing a Sustainable Municipal Operations Plan to evaluate County properties for renewable energy and better integrate capital investments with sustainability efforts.
To increase awareness and engagement in these efforts, the Planning Department will soon be launching a panel and workshop series focused on sustainability in Broome County. The series will be organized around the ten pledge elements of the Climate Smart Communities program

and focus on local opportunities and challenges, such as green jobs and flooding impacts.
Yates County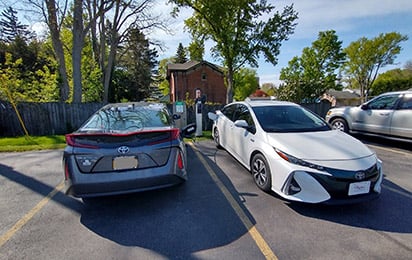 New York's third least populous county ranks among the top five counties statewide in the CEC program. Yates County has implemented a suite of energy efficiency upgrades and clean energy investments across its operations to qualify for both CEC designation and a points-based grant for earning over 3,000 points.
Multiple County departments coalesce around CEC efforts, including Buildings & Grounds and Planning, with support from the County Administrator. The County had already been pursuing projects to expand clean energy when the CEC program launched. "We were looking into EV charging stations and a landfill solar project, and our County Administrator encouraged pursuing CEC designation and grant funding to carry these initiatives forward and pursue additional energy-saving actions," says Joe Reed, Building Maintenance Supervisor at Yates County.
Since participating in the CEC program, Yates County has organized clean energy training for local municipal officials (earning 1,500 points) and integrated occupancy sensors and LED lighting across its facilities and streetlights to cut energy costs. "We've replaced 99% of our exterior lighting with LEDs – converting from 250 watts to 54 watts," says Reed.
Next, Yates is planning to install four EV charging ports and purchase two light-duty EVs, which will be used to transport veterans to medical appointments and other day-to-day activities by various departments.
Becoming a Clean Energy Community
There are 493 designated Clean Energy Communities in New York State as of June 2023, not including the hundreds of municipalities participating in the program and working towards designation.
Achieving any four High Impact Actions earns communities CEC designation and a one-time grant of $5,000 to use towards additional energy efficiency improvements or clean energy investments. Municipalities are eligible for point-based grants to help continue their clean energy initiatives when they reach the 3,000-, 4,000-, and 5,000-point thresholds.
Albany, Broome, and Yates Counties all offered advice for other municipalities looking to get started in the program or accelerate progress towards designation and points-based grants.
"Turn to your Clean Energy Communities Coordinator and local and regional experts to help your community understand the program, set goals, and begin completing actions," says Luc Rogers at Albany County.
"Identifying CEC actions that align with municipal work and goals and focusing on low-hanging fruit is a great way to start and get grant funding to make additional investments," says Beth Lucas at Broome County
"Talk with your CEC Coordinator. They walk you through the process and provide resources that are tailor-made for the program," advises Joe Reed from Yates County.
Clean Energy Communities Coordinators are based in every region of New York State and available to help local leaders navigate the CEC program with resources and hands-on support.
"As a CEC Coordinator, our primary responsibility is to help communities achieve whatever level of success they aspire to, and to be a community partner providing the resources and support they need to achieve their goals."
— Rob Richardson, CEC Coordinator at Genesee/Finger Lakes Regional Planning Council
More on Communities and Local Climate Action
Learn more about community-based efforts and opportunities in clean energy and climate.
Clean Energy Communities Program Webinars : Features archived webinars organized by the Capital District Regional Planning Commission on the CEC program, including insight from municipal leaders and guidance on completing High Impact Actions.
Clean Green Schools Initiative: Provides funding to help public under-resourced schools invest in infrastructure improvements to become healthier, more productive learning environments.
Just Transition Site Reuse Planning Program: Supports communities with planning services to help mitigate any negative impacts of pending or future fossil fuel power plant closures.
Resources for Community-Based Organizations: Covers opportunities and resources available to community-based organizations and nonprofits working in clean energy and climate action.
Sign Up For News
Stay up to date on energy-saving programs and incentives, best practices, and more.
Stay Connected