How New York is Preparing for an EV Future
Building Out Charging Infrastructure to Plug the Gaps in Access
To meet New York's climate goals, there will need to be 2-3 million EVs on the road statewide by 2030 and 10 million by 2050.
Electric vehicles (EVs) are a crucial part of New York State's path to reducing greenhouse gas emissions and achieving carbon neutrality by 2050.
As more New Yorkers make the switch to EVs – often at a reduced cost due to Inflation Reduction Act tax credits and Drive Clean Rebates on eligible models – the State is simultaneously advancing charging station infrastructure to stay ahead of demand.
While home charging can meet the needs of many EV drivers, providing charging access for renters – nearly 46 percent of New Yorkers – requires a more holistic approach that offers charging where people live, work, and play[1].
The Charge Ready NY 2.0 Program, which launched on July 19, 2023, is delivering $12 million in incentives to accelerate the installation of Level 2 charging stations at workplaces, multi-unit dwellings, and public facilities across New York. Level 2 chargers – the most prevalent type of public charger – add between 20 and 40 miles of range per hour of charging and are well suited to locations where people are parked for an hour or more. Targeting incentives to sites that cater to routine travel patterns (i.e., commuting to work) and longer parking durations is fundamental to overcoming barriers to charging access, and ultimately, EV ownership.
Building out public and workplace charging also helps reduce strain on New York's electric grid by encouraging daytime charging when renewable resources like solar are at peak output.
Locate Electric Vehicle Charging Stations
Centering EV Charging Around Access and Equity
Emissions from gas- and diesel-powered vehicles are a leading source of air pollution in New York State. Frontline communities and communities of color have long faced disproportionate exposure to transportation pollution due to decisions about where to locate highways, housing, and public transit infrastructure.
Prioritizing investment toward charging infrastructure in these historically marginalized communities is a step toward supporting local EV ownership and in turn contributing to cleaner air and public health.
To qualify for Charge Ready NY 2.0 funding, public sites like libraries, parks, recreation centers, and on-street parking must be located within Disadvantaged Communities. Workplaces and multi-unit dwellings are eligible for bonus incentives of $500 per charging port if located in a Disadvantaged Community, further encouraging vehicle electrification in neighborhoods that have borne the most environmental harm from vehicle emissions.
In urban centers, such as New York City where nearly one million vehicles require street parking, funding for on-street public parking is helping overcome obstacles to charging faced by many New Yorkers.
New York City's curbside Level 2 EV charging pilot program demonstrates high on-street charging demand and infrastructure reliability over 18 months of operations. An evaluation report [PDF]

of the pilot program shows that the number of charging sessions at each station grew month to month, even as new chargers were brought into service. Additionally, the 100 chargers installed remained operational 99.9 percent of the 18-month period.
Addressing Range Anxiety to Charge EVs Forward
Providing charging infrastructure where New Yorkers live and work will cover the day-to-day needs for most EV drivers. But for longer trips, range anxiety – the fear that an EV won't have enough charge to complete a journey – remains a significant barrier to owning or leasing an EV.
According to a 2022 Consumer Reports survey

, 55 percent of Americans who aren't "definitely" considering an EV cite range anxiety as a barrier to leasing or owning one. Yet, for the 2021 model year, the median driving range of an all-electric EV was 234 miles, which is just above the average weekly driving distance for New Yorkers (228.3 miles)[2][3]. The fact that EV range accommodates typical driving habits is better reflected among EV owners, with only 27 percent citing range anxiety as a concern.
While continued advancements in EV driving range will help assuage range anxiety, near-term investments in charging infrastructure along New York's major highways to support long-distance travel is a necessary component of an accessible, convenient charging network.
The New York Power Authority's (NYPA) EVolve NY program

is helping lay the foundation for accessible charging along key roadways. By 2025, NYPA will have 400 direct-current fast chargers (DCFC) installed or in construction at 50-mile intervals along interstate corridors and at select urbans hubs, including a 10-charger site at JFK Airport. DCFCs are capable of charging an EV to 80 percent in as little as 20 minutes, making for efficient pitstops on the road.
Additional investment in DCFCs will come through the National Electric Vehicle Infrastructure (NEVI) Program. New York will receive approximately $175 million in funding over five years to deploy fast chargers along designated electric vehicle corridors, including many of the State's most-traveled interstate and State highways.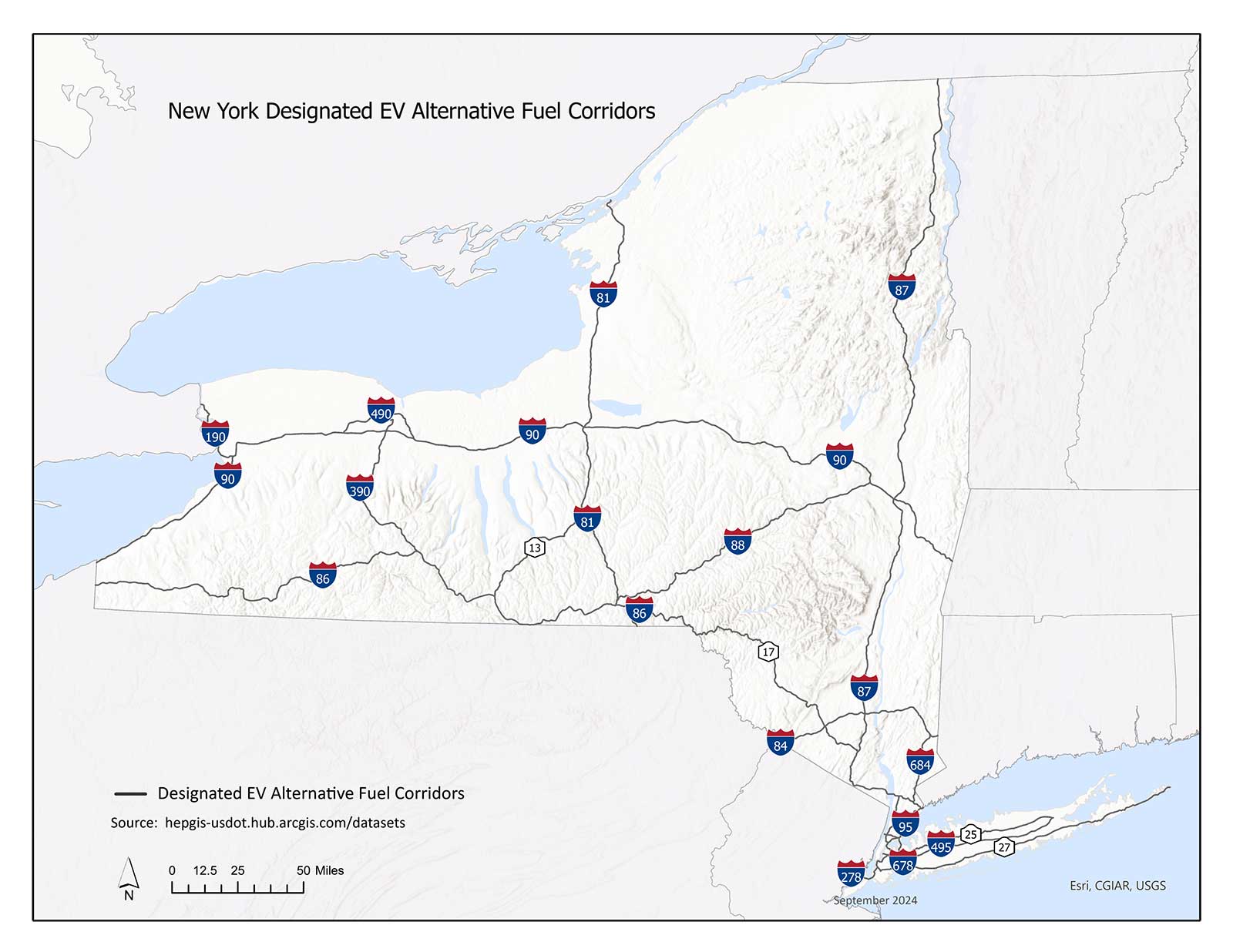 EV Charging is Emerging as a Must-Have Amenity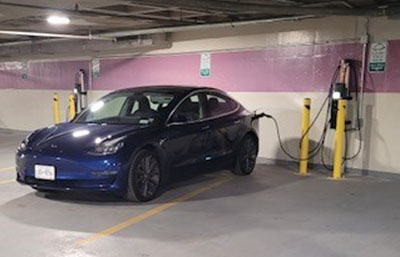 For workplaces, multifamily buildings, public facilities, and consumer-facing businesses like restaurants and retail, charging stations are a competitive advantage to attract EV drivers today that will soon become a necessity as ownership accelerates.
In New York, registration for new EVs surged by 231% from 2020 to 2022[4]. Charging station projects funded through the first round of the Charge Ready NY program are helping serve the growing number of EV drivers while providing insights into how to integrate charging across building types.
Innovation Square – a 30-story skyscraper in downtown Rochester – accessed Charge Ready NY funding to help cover the cost of installing four dual-port charging stations in its parking garage. The eight designated parking spaces serve a mix of customers, including student housing residents, commercial tenants, and paid public parking.
Integrating EV charging is directly supporting revitalization efforts by attracting residents and businesses to the mixed-use property, according to Evan Gallina of Gallina Development. "It's a nice amenity that people are willing to pay for" says Gallina, noting that the charging payments cover the cost of electricity to power them. As more students, businesses, and offices come to Innovation Square, Gallina plans to continually assess charging needs to keep ahead of demand.
Workplaces, public facilities, and multi-unit dwellings looking to attract a growing pool of EV drivers can apply for Charge Ready NY 2.0 Program funding. Applications will be accepted from both public and private entities on an open-enrollment, first-come, first-serviced basis until the end of 2025.
More on Electric Vehicles and Charging
Continue reading about charging stations, electric vehicles, and New York's transition to clean transportation.
Footnotes
Sign Up For News
Stay up to date on energy-saving programs and incentives, best practices, and more.
Stay Connected