The seashells you collect or the beehive constructed under the eaves could be the inspiration needed to build the next energy efficient home. Nature has been finding energy-related solutions for millions of years, and intentionally looking to nature for bio-inspired solutions for our own energy problems is called biomimicry. For example, the Wright Brothers famously studied the flight mechanisms of birds for inspiration in their design of the airplane. They didn't copy the flapping of wings, but instead focused on the control of flight by wing-shape modification. Sales of biomimicry-based products and architectural projects have generated over $1.5 billion in revenue in previous years. Encouraging inventors and entrepreneurs to bring technologies inspired by biomimicry from concept to market can help usher in a whole new world of production that is environmentally friendly and energy efficient.
New York was the first state to sponsor a biomimetic, industrial design program. NYSERDA's interests extend to products that create, convert, or store energy; situations that consume or conserve energy when a product is in use; and embedded energy required in the making of a product NYSERDA's efforts began with a session that brought together 50 industrialists, academicians, economic development specialists, and biomimicry gurus. Now, more than 30 related academic research efforts are underway or completed in New York. Industrial designers and researchers interested in innovative biomimetric solutions for energy-related challenges can work with Terrapin Bright Green, a biomimicry consultancy that is continuing NYSERDA's efforts.
Thought Leader
Janine Benyus: Biomimicry in Action
(00:20:15)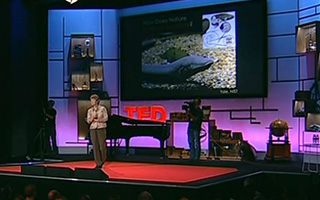 From Ted Talks
Look to nature to solve design problems. That's what Janine Benyus advises innovators. There you'll find designs for making things waterproof, aerodynamic, solar-powered, and more.
Get Advice
Chris Garvin
Terrapin Bright Green
Research & Technical Reports