Empire Building Challenge Projects
Planning for Resource Efficient Decarbonization
A Phased Approach to Eliminating Greenhouse Gas Emissions from Tall Buildings in Cold Climates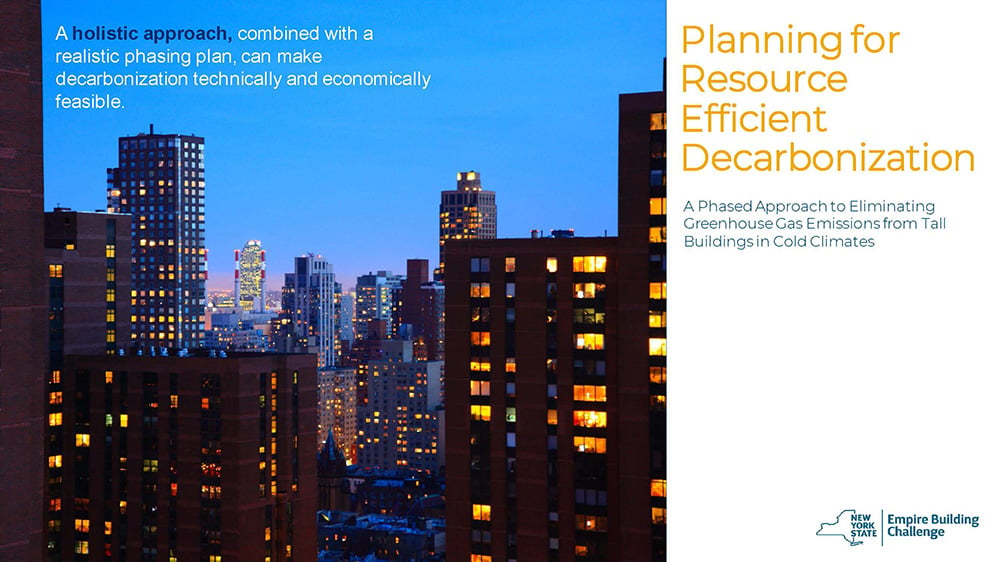 Following the Empire Building Challenge approach, each of the real estate partners below developed a phased, strategic roadmap to carbon neutrality for their properties.
The Empire Building Challenge holistic approach, combined with a realistic phasing plan, proves that decarbonization is technically and economically feasible.
To learn more about the Empire Building Challenge approach, see our "Planning for Resource Efficient Decarbonization" guide, and continue scrolling for more information about these cutting-edge demonstration projects.
Multifamily Projects
Omni New York LLC
Whitney Young Manor
Yonkers, NY
This retrofit project, with nearly $12 million allocated to the decarbonization effort, will showcase how to leverage a recapitalization opportunity to comprehensively retrofit energy systems and otherwise modernize an affordable housing complex.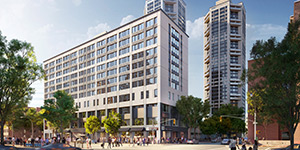 L+M Fund Management
The Heritage
New York City
This project dramatically cuts heating and cooling needs thanks to major building envelope improvements. Packaged terminal heat pumps for heating and cooling will reduce energy use and costs from the current electric resistance heating system. The project also pilot tests state of the art heat pump water heaters and electric laundry dryers.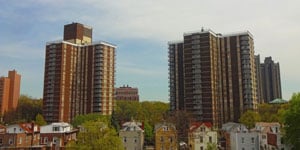 Amalgamated Housing Corporation
The Towers
The Bronx, NY
This is the oldest limited equity multifamily co-operative in the country. AHC will re-pipe the existing hydronic distribution system to enable simultaneous heating and cooling, instead of the single seasonal option offered today. New wastewater heat recovery and geothermal systems will recover heat from domestic water sources, and allow AHC to decommission its cooling towers.
---
Commercial Projects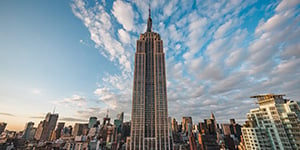 Empire State Realty Trust
Empire State Building
350 Fifth Avenue, NYC
Work will include pilots on several floors as tenants change, electrifying certain space conditioning loads, and recovering waste heat that is currently exhausted. The NYSERDA investment will support pilots for several key projects planned for replication throughout the Empire State Building, including the development of a building-wide thermal network.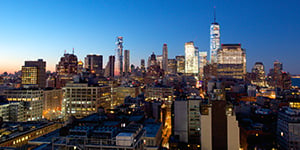 Hudson Square Partnership
345 Hudson
New York City
This comprehensive retrofit takes advantage of tenant turnover as an opportunity to upgrade building infrastructure to carbon efficient, energy cost-saving technology to completely decarbonize the property. A comprehensive water source heat pump system will recycle heat from different spaces in the building, reducing heating and cooling needs.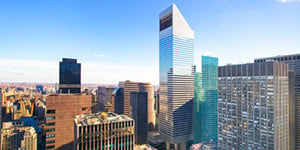 Boston Properties
601 Lexington Ave
New York City
With building systems typical among high rises built in the 1970's, this project will demonstrate scalable decarbonization within this challenging building type. BXP will reduce the building's steam consumption by over 30% through the capture and utilization of heat that would typically be wasted.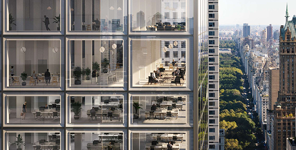 Brookfield Properties
660 Fifth Avenue
New York City
To achieve full decarbonization by 2035, this project includes an HVAC system overhaul, heat pumps in numerous heat recovery and reuse applications, and a dedicated outdoor air system (DOAS). Brookfield will also capture waste heat throughout the building via water-to-water heat pumps and air-to-water heat pumps.
Lefrak
59-17 Junction Boulevard
Queens, New York
This project leverages replacement of Hurricane Ida-damaged HVAC equipment to enable electrification and heat recovery. Critical re-piping and a new heat exchanger will allow the building's core and perimeter zones to operate independently. This building will benefit from heat recovery during winter season as the core requires cooling year-round.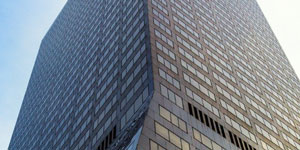 Tishman Speyer
520 Madison Avenue,
New York City
This comprehensive project focuses on decarbonizing heating loads, and investing in heat pumps, heat recovery, load reduction, as well as thermal layering to achieve full decarbonization by 2035. A ground source heat pump system will provide simultaneous heating and cooling and will employ innovative technology to drill below Midtown Manhattan. This is the first application of geothermal energy to support decarbonization of a high-rise office building in NYC.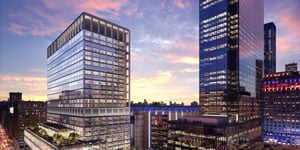 Vornado
Penn One
New York City
Vornado developed a roadmap to 100% carbon neutrality at Penn One, their flagship office, by 2040. Advanced waterside heat recovery measures will enable the decommissioning of the existing cogeneration plant. This project showcases a 'thermal dispatch model,' highlighting how carbon free sources can be deployed incrementally and in an accretive fashion to meet the heating and cooling loads of a large commercial building.