In addition to the thousands of charging stations around New York State, there are multiple home-charging options that make it very convenient to own an electric car.
Convenient Charging Options for Electric Cars
Electric car drivers have various options available to plug in and charge the car's batteries. For the majority of users, charging needs can be fulfilled at home. If you have a battery-powered car, that means no more trips to the gas station.
The most basic charger is a standard home outlet. Simply plug in the electric car adapter provided by the manufacturer, and your car will charge. You also have the option of buying a faster home charging station from local retailers. A qualified electrician must install it in your garage or outdoors.
Charging stations are available across New York State to recharge electric cars while drivers are at work, shopping, or at other destinations. Commercial charging stations generally expedite vehicle charging when time is limited.
Many car models offer mobile app connectivity for monitoring and setting charge times.
Understanding Charging Options
Charging Options When You're Home
There are several ways to charge your electric car at home, starting with the standard home outlet. Just like many of us charge our cell phones at home while we sleep, most electric car owners charge their cars during the overnight hours. The 120-volt charging cord that comes with your electric car supports what is called Level 1 charging. Level 1 charging adds about three to four miles of range for every hour the vehicle is plugged in.
Many home charging stations, and most public and workplace charging stations, operate at 240 Volts and have fixed cables that connect to your car. This level of charging is known as Level 2 and it is at least two times faster than Level 1. To install a Level 2 station at your home, an electrician will need to install wiring similar to that which is used for other large appliances like an electric stove or clothes dryer (a dedicated 20 to 60 amp circuit, depending on your vehicle's charging capacity and your future needs).
Standard Home Outlet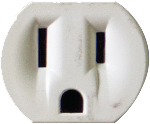 How it Works
Use the adapter cable that came with your car. Plug the standard 3-prong plug into your wall outlet and plug the other end into your electric car.
When to use it
Plug it in overnight and your car will be ready by morning. It takes about 8-12 hours to full charge a depleted battery.
Rapid Home Charger

How it Works
This requires an initial purchase and installation, but once set up, simply plug the charger cable directly into your electric car.
When to use it
If you drive multiple times a day, this type of charger may be for you by ensuring that your car is fully charged between outings.
Charging Options Away from Home
When you're away from home, there are thousands of charging stations that you can take advantage of across New York State. This level of charging is known as Level 2 and it is at least two times faster than Level 1.
Level 2 charging stations can be found at stores, office buildings, municipal parking lots, parks, hotels, theaters, and many other types of locations you go to every day. All Level 2 charging stations have a common plug that all electric cars can use, while DC fast chargers may not be compatible with every model.
DC fast charging uses direct current (DC), as opposed to households which use alternating current (AC), and can provide close to a full charge in under an hour. Only public sites can support DC fast charging and they are most often installed along major travel corridors to support long distance drivers. Note that not all electric or hybrid cars are fast charging compatible.
NYSERDA is supporting the expansion of New York State's Direct Current Fast Charging (DCFC) network as another means of increasing the adoption of electric cars. This program

promotes the use of EVs and EV chargers, counters range anxiety concerns, and reduces both harmful emissions and the transportation sector's dependence on petroleum.
Destination Charging Stations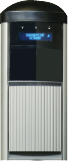 How it Works
Use a charging station app to find one of the thousands of Level 2 stations near your destination. Depending upon its host, using it may be free or cost a small fee.
When to use it
Ideal for topping off when you park somewhere for a while, like a workplace or parking garage.
On-the-Go Charging Stations

How it Works
Pay and use any of the hundreds of NYS fast chargers to rapidly charge your car, similar to how you would use a conventional gas station.
When to use it
As a stopover on longer road trips when you need to charge up as you go.
Some public chargers are equipped with credit card readers, but others require you to pay using a web-based application (app) or an RFID card, which may require you to first subscribe to the network (ie. ChargePoint, blink, EVgo, Electrify America, Greenlots, and others) that operates the charger. Most networks have agreements to allow electric car owners with accounts on one network to use other networks, but there could be a surcharge, like using another bank's ATM.
Charging Stations Make All-Around Business Sense
Do you manage a commercial property, a retail store, a public parking facility, a multifamily building, or a similar type of site? If so, becoming an EV charging station owner may be good for business. Your facility can serve as an attractive destination for the tens of thousands of electric vehicle owners in New York State, whether they may be your customers or tenants. Not only do electric car drivers like to "top off" wherever they go, but many savvy consumers plan longer trips with charging breaks in mind.
Support may be available to reduce the cost of your charging station installation.
Alternatively, if you are a charging station installer or inspector, now is a good time to brush up on all the installation best practices, as demand for charging stations is expected to increase, from homes and businesses to municipalities.
Through the Charge NY program, NYSERDA has developed many resources to help prospective charging station host facilities and charging station operators.
Learn how to become a host facility