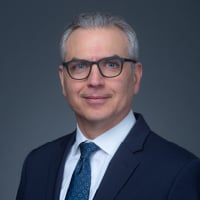 Peter Costello was named general counsel of the New York State Energy Research and Development Authority (NYSERDA) in October 2019 and appointed secretary to the Authority in January 2020.
In this position, Mr. Costello serves as the chief legal officer for the Authority, responsible for the overall direction and supervision of NYSERDA's legal department and all legal matters concerning the Authority, including advice and counsel on laws, rules, and regulations governing clean energy development and operations. As a member of NYSERDA's executive team, he also participates in formulating and implementing strategy and policy.
Work History
Mr. Costello joined NYSERDA in February 2009, working in the Authority's Counsel's Office for more than five years. He focused primarily on supporting NYSERDA's research and development programs, and real estate matters, including the development of the Saratoga Technology + Energy Park (STEP®). Following its formation, he was assigned to provide legal support to NY Green Bank and participate as a member of its senior management team. In January 2015, Mr. Costello was appointed managing director of Legal and Regulatory Affairs for NY Green Bank where his responsibilities included providing legal advice and counsel with respect to strategic initiatives, operations, transactions, regulatory issues, and general corporate affairs. He also managed NY Green Bank's internal legal team and its relationships with outside counsel firms.
Prior to joining NYSERDA, Mr. Costello worked in a transactional capacity at private law firms, including LeBoeuf, Lamb, Greene & MacRae LLP and Lowe, Fell & Skogg, LLC, where he became a partner. In private practice, Mr. Costello focused on various corporate and real estate matters, including merger, acquisition and disposition; financing; land use and development; leasing; entity formation, management and operation; and technology transfer and software licensing. He also served as outside counsel for one of the U.S.'s Big Three auto manufacturer's regional real estate and dealership development operations. 
Education
Mr. Costello has a Bachelor of Arts from McGill University and a Juris Doctor from the University of Colorado School of Law.