Recapping Climate Week 2023
Get Caught Up on Climate Week Events and NYS Clean Energy Milestones
Climate Week 2023 has officially wrapped up its run from September 17-24. In case you missed it, here's a recap of the events and major New York State clean energy developments from the weeklong climate summit.
To kick off Climate Week, Governor Hochul issued a proclamation that reaffirms New York State's commitment to combatting climate change.
"Our steadfast commitment and transformative investments in clean and renewable energy projects are helping ensure that New York remains at the forefront of climate action with a focus on environmental justice to achieve a cleaner, greener, and healthier environment for all New Yorkers."
- Governor Kathy Hochul
Climate Week 2023 held a record-breaking 585 events, ranging from panels on sustainability topics to a circular fashion festival. The Opening Ceremony and over a dozen session are available to watch on demand

.
New York State also announced a series of clean energy actions and new initiatives during Climate Week that move us closer to our nation-leading climate goals. From new partnerships to breaking ground on clean energy infrastructure and investing in low-income families, here's a summary of key milestones from Climate Week 2023.
Climate Week 2023 Recap
Release of the Electric School Bus Roadmap and Guidebook
Just before the start of Climate Week, Governor Hochul announced the New York State Electric School Bus Roadmap and the Electric School Bus Guidebook to help New York schools prepare for all new bus purchases to be zero-emission by 2027 before transitioning to entirely zero-emission fleets by 2035.
The Electric School Bus Roadmap explores key challenges and costs of school bus electrification, as well as recommendations for accelerating zero-emission bus adoption. The roadmap will be updated every three years to stay current on the quickly evolving zero-emission school bus market.
The Electric School Bus Guidebook provides a comprehensive set of resources to prepare school districts for bus fleet electrification. The first three guides detail the benefits of zero-emission buses and the procurement process for electric buses and charging infrastructure. Forthcoming guides will cover other bus electrification topics, such as site planning and operations and maintenance.
New York Adopts First-in-the-nation 'Buy Clean Concrete' Mandate
On September 19th, Governor Hochul announced a "Buy Clean Concrete" mandate for state government entities. This represents the first emission limits on concrete for state-funded public building and transportation projects.
Manufacturing cement, which is used in concrete, accounts for approximately 8% of global greenhouse gas emissions.
The NYS Buy Clean Concrete guidelines

, which take effect in 2025, will require reporting on embodied carbon for all concrete mixes used in qualifying construction projects. Embodied carbon accounts for the greenhouse gas emissions associated with the full lifecycle of a material or product, from the extraction of raw materials and transportation to construction and disposal.
Construction Begins on Converter Station for 339-mile Champlain Hudson Power Express
Governor Hochul announced the start of construction on a converter station in Queens that will feed clean power from the Champlain Hudson Power Express (CHPE) transmission line into New York City's grid. Once complete, the station will be capable of converting 1,250 megawatts of clean energy. This project represents the first conversion of a fossil-fuel site into a grid-scale zero-emission facility in New York City.
Prior to commencing construction, the station underwent nearly three months of remediation work to prepare the site and safely remove fossil fuel infrastructure. The converter station is expected to begin operating in 2026, furthering New York's progress toward meeting its target of 70 percent renewably sourced electricity by 2030.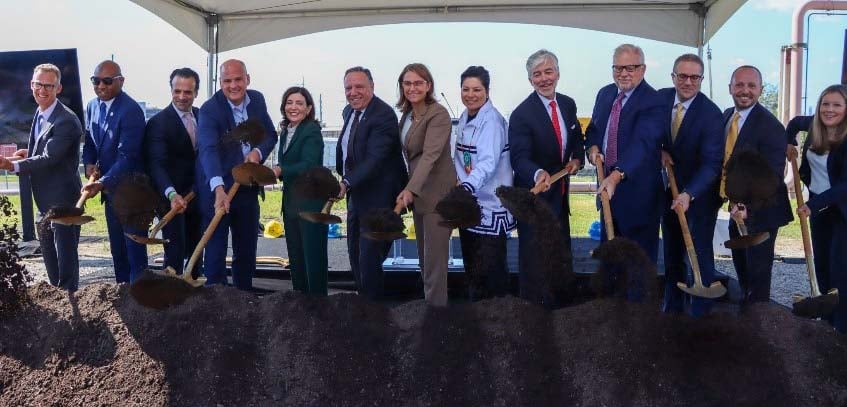 NYS Joins U.S. Climate Alliance Commitment to Quadruple Heat Pump Installations by 2030
On September 21st, Governor Hochul announced a multi-state commitment to decarbonize buildings by increasing heat pump adoption four-fold by 2030. The bipartisan coalition of 25 governors, which represents 55 percent of the U.S. population, agreed to collectively reach a target of 20 million new heat pump installations.
Heat pumps are a cleaner, more convenient way to keep homes and buildings comfortable year-round. Heat pump adoption continues to grow in New York and beyond, with heat pump sales in the U.S. surpassing gas furnaces in 2022.
This commitment to accelerate heat pump adoption is accompanied by additional building decarbonization commitments

with U.S. Climate Alliance members.
Governor Hochul Announces $200 Million EmPower+ Program to Reduce Energy Costs for Low-Income New Yorkers
The EmPower+ program is designed to help low- and moderate-income (LMI) New Yorkers make energy-saving improvements to their property. The announced $200 million in funding will support energy efficiency upgrades, such as adding insulation and installing energy efficient appliances, for approximately 20,000 LMI households. Both income-eligible owners and renters of 1-4 family households can apply to the EmPower+ program.
This announcement supports the Climate Act's goal that at least 35 percent, with a goal of 40 percent, of the benefits of clean energy investments support New York's Disadvantaged Communities.
NYSERDA and NYC Economic Development Corporation Announce Agreement to Advance Climate Technology Innovation
NYSERDA and the New York City Economic Development Corporation (NYCEDC) are building upon shared efforts to support research, innovation, and commercialization of technologies that reduce emissions in New York State.
The new partnership aims to encourage companies to relocate or expand operations in the Empire State, promote New York's innovation ecosystem, and enhance connections between manufacturers, research centers, developers, and other local and regional entities.
NYSERDA's Innovation program is deploying $800 million over 10 years as direct investments via grants and wrap-around commercialization support.
Other Notable Clean Energy and Environmental Milestones
New York State's commitment to clean energy and sustainability was marked by many significant actions and announcements during Climate Week.
Here's a roundup of other milestones from Climate Week 2023.
More on Climate Action
Continue reading about New York's plans for combatting the climate crisis and opportunities for taking climate action in your own life.
Sign Up For News
Stay up to date on energy-saving programs and incentives, best practices, and more.
Stay Connected