Port Infrastructure
Due to the scale of offshore wind technology, waterfront facilities are generally required to manufacture and handle primary components. Infrastructure requirements vary significantly depending on the end-use of a particular facility, whether it be to support operations and maintenance, manufacturing, marshalling and staging, or other activities. As the U.S. offshore wind supply chain matures, port facilities will be developed or refurbished across the strategic geographical regions that can serve New York as well as Regional Offshore Wind Ports.
New York is poised to capture a significant portion of this port activity. The State benefits from a diverse array of existing port infrastructure across four distinct geographic regions: New York Harbor, Long Island, and the Hudson River. NYSERDA is working closely with stakeholders across the State to advance offshore wind port infrastructure.
Potential Port Facilities for Offshore Wind Activities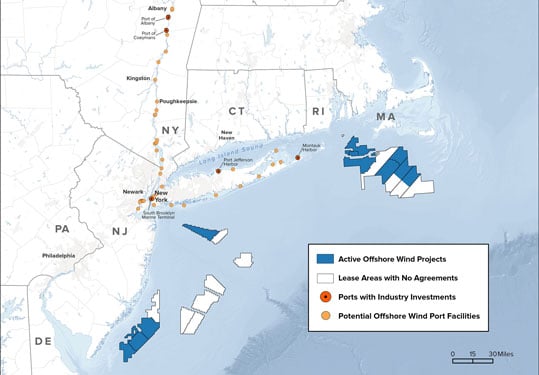 New York has Five Offshore Wind Ports Under Development
Currently, developers have selected 5 ports to service the New York and U.S. offshore wind industry:
Port of Albany –

Offshore wind manufacturing facility

Port of Coeymans – Advanced Foundation Components (Secondary Steel)
South Brooklyn Marine Terminal – State-of-the-art Staging and Assembly facility and Equinor Operations & Maintenance hub
Port Jefferson – Ørsted and Eversource regional Operations & Maintenance hub – dockage for Service Operations Vessel
Montauk Harbor – Ørsted and Eversource Operations & Maintenance for South Fork Wind Farm -– dockage for Crew Transfer Vessel
$700 Million of Public Investments into Ports and Manufacturing Facilities
New York State has committed to investing $700 million in offshore wind port infrastructure to leverage and strengthen private investment and maximize long-term economic benefits to the State. As a result of NYSERDA's 2020 solicitation for Offshore Wind Renewable Energy Credits, the Empire Wind 2 and Beacon Wind projects will leverage almost $3 in private dollars for every $1 in public dollars to unlock $644 million in investments for ports in the Capital Region and Brooklyn, including the nation's first offshore wind tower manufacturing facility at the Port of Albany.
NYSERDA's 2022 solicitation will make available up to $300 million in funding for manufacturing and supply chain infrastructure to unlock significant private investments in New York. An additional $200 million in public funding for supply chain investments will be made competitively available in subsequent stand-alone supply chain solicitations.
Learn more about the first phase of the $500 million in funding that will be invested through New York's third offshore wind solicitation..
Potential Port Inquiry
Are you interested in discussing port property you own to understand potential fit with the market? Email Peter Lion at [email protected].