Port Infrastructure
Due to the scale of offshore wind technology, waterfront facilities are generally required to manufacture and handle primary components. Infrastructure requirements vary significantly depending on the end-use of a particular facility, whether it be to support operations and maintenance, manufacturing, staging, or other activities. As the U.S. offshore wind supply chain matures, port facilities will be developed or refurbished across the region.
New York is poised to capture a significant portion of this port activity. The State benefits from a diverse array of existing port infrastructure across three distinct geographic regions: New York Harbor, Long Island, and the Hudson River. NYSERDA is working closely with stakeholders across the State to advance offshore wind port infrastructure.
Potential Port Facilities for Offshore Wind Activities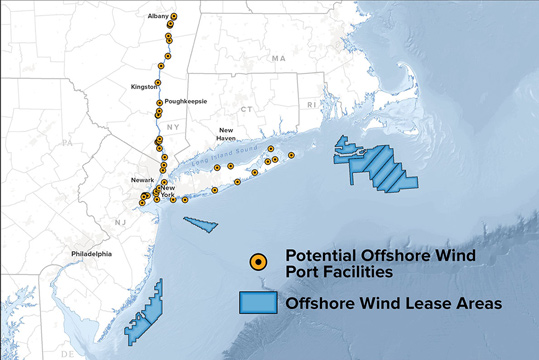 $200 Million of Public Investments into Ports
New York State has committed to investing $200 million in offshore wind port infrastructure to leverage and strengthen private investment and maximize long-term economic benefits to the State. NYSERDA, New York State Department of Transportation, and Empire State Development are leading a competitive solicitation process to allocate the funds.
Solicitation Process
Phase 1 – COMPLETED
A Request for Qualifications (RFQL) was issued in October 2019 to pre-qualify applicants to participate in Phase 2.
Phase 2 – IN PROGRESS
As part of NYSERDA's 2020 OREC solicitation, the State will accept proposals for port infrastructure investments, requesting public funds while leveraging private investments.

Offshore Wind Ports: Cumulative Impacts Study
Download the Report

PDF