2020 Offshore Wind Solicitation (Closed)
Under the Public Service Commission Order Authorizing Offshore Wind Solicitation in 2020, NYSERDA competitively selected and finalized contracts with Empire Wind Offshore LLC and Beacon Wind LLC, each a 50-50 partnership between Equinor and bp, for the Empire Wind 2 and Beacon Wind offshore wind projects. Execution of these contracts represents a key milestone in the advancement of offshore wind development in New York State.
The 1,260-megawatt Empire Wind 2 and 1,230-megawatt Beacon Wind projects were provisionally awarded in January 2021 as a result of NYSERDA's second offshore wind solicitation. Expected to enter into commercial operation in 2026 and 2028, respectively, the projects will strengthen New York's economy and further drive investments in ports to directly support offshore wind projects while establishing New York as the hub of the offshore wind supply chain. NYSERDA payments to the projects will commence once they obtain all required permits and approvals, complete construction, and begin delivering power to New York. Empire Wind 2 (1,260 megawatts) and Beacon Wind (1,230 megawatts) will generate enough clean energy to power 1.3 million homes and will be major economic drivers, supporting:
Unprecedented public and private funding commitments of $644 million in port infrastructure, including:

$357 million in the nation's first offshore wind tower manufacturing facility to be built at the Port of Albany
More than $287 million in an offshore wind staging and assembly facility at the South Brooklyn Marine Terminal (SBMT).

More than $8.9 billion in anticipated in-state spending.
The creation of more than 5,200 jobs backed by commitments to paying prevailing wage and negotiating project labor agreements.
$47 million in workforce development and just access funding.
Putting the State's equity goals squarely into action, Empire Wind 2 and Beacon Wind will deliver significant economic benefits to disadvantaged communities and support the responsible retirement of aging fossil fuel plants in Queens and Nassau County.
To maximize the long-term economic benefits to the State from the regional development of offshore wind, the contracted projects leverage almost $3 of private funding for every $1 of public funding for a combined investment of $644 million for resilient port facilities in the Capital Region and Brooklyn.
With this award, New York State has five offshore wind projects in active development, demonstrating the State's unparalleled appetite for clean energy and growing momentum in establishing major ecosystems for workforce development, manufacturing, and operations and maintenance to support the region's offshore wind projects and the development of a green economy.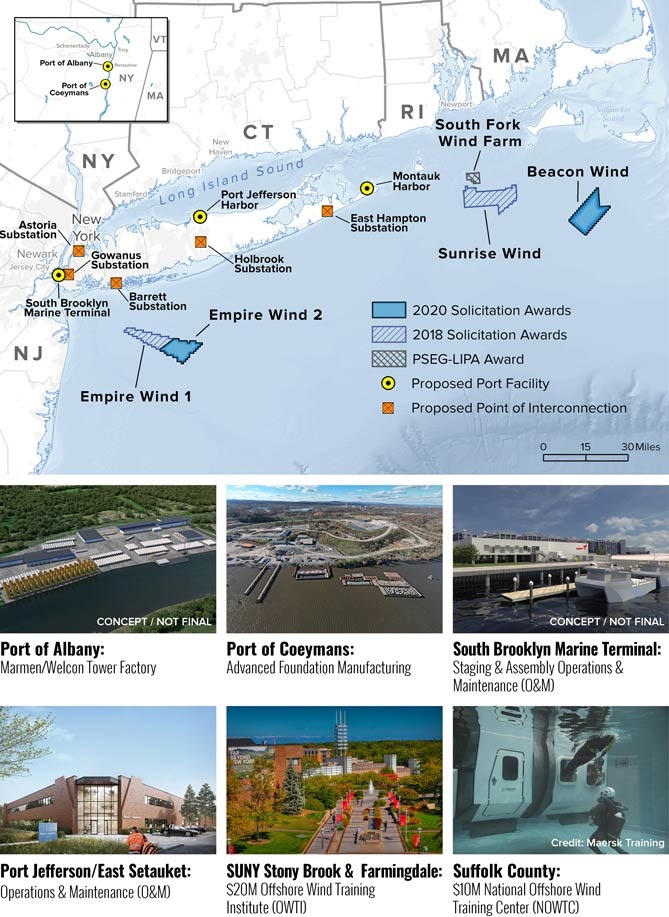 Closed Solicitation, ORECRFP20-1
On July 21, 2020 New York took another major step in advancing the State's nation-leading climate agenda with the announcement of the largest combined solicitations for renewable energy ever issued by a U.S. state seeking 4,000 megawatts.
ORECRFP20-1, NYSERDA's second offshore wind procurement, sought up to 2,500 megawatts of offshore wind and a complementary multi-port infrastructure investment, which will bring New York's total commitment to more than $400 million in public and private dollars for port infrastructure– the largest infrastructure commitment to offshore wind in the nation.
This second offshore wind solicitation supports a comprehensive acceleration of action towards achieving New York State's mandate to secure 70 percent of the State's electricity from renewable energy by 2030 and at least 9,000 megawatts of offshore wind by 2035 and another significant milestone in the acceleration of New York's clean energy and climate goals. Clean energy, including offshore wind, has proven to be a strong economic driver and will play a pivotal role in creating short- and long-term economic development in the State as New York begins to build back better [PDF]
.
Submitted Proposals
The public versions of the ORECRFP20-1 proposals are included below:
Bay State Wind LLC – Sunrise Wind 2
Equinor Wind US LLC – Empire Wind 2 and Beacon Wind
Vineyard Wind LLC – Liberty Wind
ORECRFP20-1 Schedule
| Event | Date (all times ET) |
| --- | --- |
| RFP Release Date | July 21, 2020 |
| | August 12, 2020, 10:00 a.m. |
| Deadline for Submission of Written Questions | August 19, 2020, 3:00 p.m. |
| | August 26, 2020 (revised August 27, 2020) |
| Deadline for Notice of Intent to Propose | September 23, 2020, 3:00 p.m. |
| Deadline for NYSERDA Portal Registration | October 13, 2020, 3:00 p.m. |
| Deadline for Submission of Proposals | October 20, 2020, 3:00 p.m. |
| NYSERDA Award Notification Date | Q4 2020 |
| Contract(s) Executed | Q4 2020 |
ORECRFP20-1 and Appendices
Eligibility Requirements
The Offshore Wind Standard Order limited project eligibility to projects that generate electricity from offshore wind projects that:
Are located off the coast of the United States
Become operational on or after January 1, 2015
Deliver electricity into New York
Have obtained a lease (executed or provisional) from the Bureau of Ocean Energy Management (BOEM) , and
(New in ORECRFP20-1) Include plans to support port development with up to $400 million in public and private funding for those port locations qualified under Fall 2019 RFQL 4259 (see map and caption below). Funding sources are as follows:
Eligible Sites for the ORECRFP20-1 Solicitation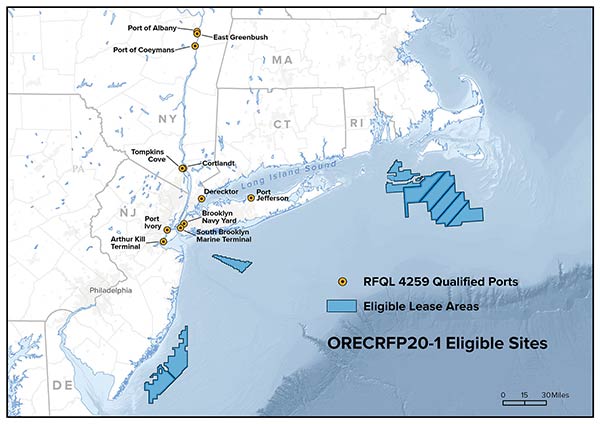 Eligible Ports
(Qualified via Fall 2019 RFQL 4259)
Arthur Kill Terminal (Atlantic Offshore Terminals)
A 32-acre undeveloped site on Staten Island, NYC.
Brooklyn Navy Yard (Brooklyn Navy Yard Development Corporation)
A 35-acre developed site as part of a larger 290-acre facility in Wallabout Bay, Brooklyn, NYC
Derecktor (Robert E. Derecktor Inc.)
A 6-acre developed site in Mamaroneck, NY
New York State Offshore Wind Port (Association Development Group, Inc.)
A 30-acre undeveloped site as part of a larger 112-acre facility in East Greenbush, NY
Port of Albany (Albany Port District Commission)
An 81-acre undeveloped site and a 14-acre redeveloped site as part of a larger 400-acre facility in Albany, NY
Port of Coeymans (Carver Companies)
A 36-acre developed site as part of a larger 425-acre facility in Coeymans, NY
Port Cortlandt (AKRF, Inc.)
A 20-acre undeveloped site in Cortlandt, Westchester County, NY
Port Ivory (Port Authority of New York and New Jersey)
A 64-acre site on Staten Island comprised of 38 undeveloped acres and 26 unused developed acres on Staten Island, NYC
Port Jefferson (Sunrise Wind LLC, a 50/50 joint venture between Ørsted and Eversource)
A 4-acre site at Port Jefferson, NY
South Brooklyn Marine Terminal (Sustainable South Brooklyn Marine Terminal L.P., a partnership between Red Hook Terminals and Industry City)
A 72-acre developed site in Sunset Park, Brooklyn, NYC
Tompkins Cove (Haugland Group LLC)
A 15-acre developed site in Tomkins Cove, NY in the mid-Hudson region
Contract Requirements
The Orders authorize NYSERDA to
Support the delivery of economic benefits and supply chain investment to New Yorkers by:
Support environmental and fisheries stewardship as part of the responsible and cost-effective development of offshore wind by:
Evaluation Criteria
The Offshore Wind Orders prescribe the evaluation of proposals to be based upon an ultimate weighting of 70% price considerations, 20% economic benefits to New Yorkers, and 10% project viability.
Proposers' Conference
NYSERDA hosted a conference for proposers via webinar on August 12, 2020 from 10:00 a.m. to 11:00 a.m. ET. This webinar reviewed elements of the RFP including eligibility criteria, submission requirements, the proposal evaluation process, contract commitments, and the post-award process and agreement.
Slides from this webinar can be found via this link [PDF]
Communications and Updates regarding the RFP
All relevant documents pertaining to this RFP will be available on this site. Proposers are advised to check this website regularly for updates.