Transportation Technology
Finding new ways to move New Yorkers
New York State needs more secure, sustainable, and cleaner transportation solutions. Its transportation sector accounts for more than three-quarters of petroleum fuel use in the State and emits 68 million metric tons of CO2 equivalent. That is about 33% of the State's greenhouse gas emissions. New York is supporting innovations that enhance mobility, improve efficiency, reduce congestion, and diversify fuel options.
Fueling ideas, bringing them to market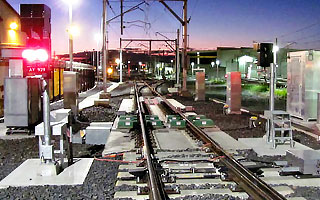 Navigating the regulatory requirements and approvals to transition transportation-related innovations from the lab to the marketplace can be tricky. Help is available for businesses, public agencies, universities, and entrepreneurs that want to develop, test, and launch new technologies, products, and services that help New Yorkers get where they need to be efficiently and ecologically.
Go alternative
Hybrid electric. Plug-in hybrid electric. Compressed natural gas vehicles. All of these alternative fuel vehicles improve air quality, increase fuel independence, and help the environment. Businesses can get assistance in purchasing commercial truck or bus fleet to cleaner, more efficient and cost effective alternative fuel vehicles.
See It in Action
Safety concerns for workers who maintain New York City's 500 miles of subway tunnels drove the Metropolitan Transportation Authority (MTA) to seek out Clear-Vu Lighting, a Long Island-based company that built and delivered a safer, brighter, and more energy-efficient LED lighting solution.
Get Advice
Adam Ruder
Associate Project Manager
518-862-1090 x3411
Related Programs and Research