2022 Offshore Wind Solicitation (Closed)
Under the New York State Public Service Commission's (PSC) Order Establishing Offshore Wind Standard and Framework [PDF]

for Phase 1 Procurement, issued on July 12, 2018, Order Adopting Modifications to the Clean Energy Standard [PDF]

issued on October 15, 2020 in Case No. 15-E-0302, and most recently in the Order on Power Grid Study Recommendations [PDF]

issued on January 20, 2022 in Case Nos. 20-E-0197, 18-E-0071, and 15-E-0302, NYSERDA sought to procure Offshore Wind Renewable Energy Credits (ORECs) through this third solicitation (ORECRFP22-1). NYSERDA competitively selected three projects: Attentive Energy One (developed by TotalEnergies, Rise Light & Power, and Corio Generation), Community Offshore Wind (developed by RWE Offshore Renewables and National Grid Ventures), and Excelsior Wind (developed by Vineyard Offshore).
On October 24, 2023, Governor Hochul announced the largest state investment in renewable energy in U.S. history as part of New York's 10-Point Action Plan, further demonstrating New York's leadership in advancing our nation's clean energy transition. The provisionally awarded three new offshore wind projects are: Attentive Energy One (1,404 MW), Community Offshore Wind (1,314 MW), and Excelsior Wind (1,314 MW).
This combined portfolio of projects is expected to: 
Generate enough renewable, locally-produced energy to power more than 2 million homes, or approximately 10 percent of New York's electricity load.
Deliver $15 billion in anticipated in-state spending, including $3.4 billion in commitments to spending in Disadvantaged Communities in alignment with the goals of New York's Climate Act .
Create more than 4,200 well-paying jobs, and commit over $100 million to training New York's workforce to build and service offshore wind projects.
Reduce greenhouse gas emissions by 7 million metric tons annually, the equivalent of taking over 1.6 million cars off the road every year.
Contribute more than $85 million to support wildlife and fisheries research, mitigation, and enhancement.
Provide billions of dollars in public health benefits resulting from reduced exposure to harmful pollutants—including fewer episodes of illness and premature death, fewer days of school or work missed, less disruption of business, and lower health care costs. 
Demonstrating the State's commitment to ensuring these projects create quality, family-sustaining jobs for New Yorkers, the contracts upon full execution will include commitments to purchase certain minimum amounts of U.S. iron and steel and prevailing wage provisions for all laborers, workers, and mechanics performing construction activities. In addition, offshore wind project developers will be required to negotiate Project Labor Agreements among their construction contractors and a building and construction trade labor organization representing craft workers for the construction of the new renewable energy generation resources.
All three projects are anticipated to enter commercial operation by 2030. The average bill impact for customers over the life of the projects will be approximately 2.73 percent, or about $2.93 per month. The weighted average strike price of the awarded offshore wind projects over the life of the contracts is $96.72 per megawatt hour in 2023 (real) dollars, which equates to a nominal weighted average strike price of $145.07 per megawatt hour. The strike prices comprising the weighted average cited above are subject to certain adjustments in accordance with the terms of the awarded contracts, including, in some cases, adjustments based on certain price indices, interconnection costs and/or receipt of qualifying federal support.
Importantly, this announcement represented the first set of actions taken by the State as part of New York's 10-Point Action Plan, announced by Governor Hochul and offering insight into how the Governor's Administration plans to overcome macroeconomic and inflationary challenges that have impacted the renewable energy sector. These awards also deliver on Governor Hochul's commitment to make New York State a hub for the U.S. offshore wind supply chain.
NYSERDA is awarding $300 million in state investment to enable the development of two marquee supply chain facilities, including nacelle manufacturing and assembly by GE Vernova, along with blade manufacturing developed by LM Wind Power Blades USA, both planned for New York's Capital Region. Together, these two facilities, which represent nearly $1 billion in state and private investments, will have the capacity to supply almost one-third of the total regional demand for offshore wind by 2035. They will also create 1,700 direct and indirect jobs backed by prevailing wage and project labor agreements, and result in over $3 billion in direct spending in the State. Additionally, these projects also align with available federal tax credits, enabling future savings to New York's ratepayers.
For more information on the awarded projects, please see New York's Offshore Wind Projects webpage.
Closed Solicitation, ORECRFP22-1
On July 27, 2022, Governor Hochul announced the release of New York's third competitive offshore wind solicitation

, seeking enough clean, renewable energy to power at least 1.5 million New York homes. The third solicitation included the first phase of a nation-leading $500 million investment in offshore wind ports, manufacturing, and supply chain infrastructure, as announced during the 2022 State of the State Address.
On January 26, NYSERDA received a robust response to New York's third offshore wind solicitation, with more than 100 total proposals for eight new projects from six offshore wind developers – representing a record-setting level of competition among East Coast states.
On April 4

and May 12

, the U.S. Department of the Treasury and Internal Revenue Service issued guidance regarding the Inflation Reduction Act which provides increased clarity regarding eligibility requirements for certain tax credits available to offshore wind projects. To ensure robust and competitive pricing, NYSERDA provided all Proposers with an opportunity to submit updated offer pricing to reflect this guidance as well as other clarifications issued in accordance with the solicitation.
On July 27, 2023, NYSERDA issued an addendum to ORECRFP22-1 to ensure the most cost-effective outcome of the solicitation for ratepayers. As part of this addendum, NYSERDA provided a clarification to all bidders and offered another opportunity for updated pricing to ensure the most competitive award group. Bid prices could not be adjusted upwards and no other changes to bids were allowed.
A draft version

of the solicitation was released for public comment in March 2022, and a follow-up request for Information

was released in May 2022 to ensure that the procurement advances New York's offshore wind goals in a thoughtful, cost-effective, and environmentally responsible manner to the benefit of all New Yorkers. During the two public comment periods, NYSERDA received over 1,300 comments from over 60 stakeholder groups and individuals representing the development community, labor, academia, manufacturing, environmental organizations, ratepayers, and others. In addition to the Request for Information process, NYSERDA hosted an information webinar [PDF] on the Supply Chain Investment Plans (SCIPs) related to ORECRFP22-1 and the $500 million in New York State funding for offshore wind infrastructure on July 14, 2022.
This third solicitation includes key initiatives to advance New York's responsible and forward-thinking approach to growing our offshore wind portfolio. The 2022 solicitation reflects step changes in New York State Public Service Law, Public Service Commission Orders, and priorities expressed by Governor Hochul in the 2022 State of the State Address [PDF]:
Supply Chain Investment Plans (SCIPs) are required and will support the development of a strong, local supply chain that will not only create jobs for New Yorkers but help bolster the State's standing as a regional hub for offshore wind manufacturing.
Due to the reduced footprint in transmitting energy from offshore wind projects to shore, high voltage direct current (HVDC) technology will be required for all projects where cables will be installed in areas of constraint. If HVDC is used, projects must be Meshed Ready to strengthen reliability and provide redundancy. These features also permit more flexibility for future offshore wind projects. Please refer to Appendix G to learn more about these requirements.
Proposals must include Stakeholder Engagement Plans and New York Workforce and Jobs Plans to ensure alignment with the principles of a just transition outlined in the Climate Leadership and Community Protection Act ("Climate Act").
In promoting the intent of the New York Buy American Act, the solicitation sets a minimum U.S. iron and steel purchase requirement for all projects awarded to encourage domestic steel production and requiring developers to provide opportunities for U.S.-based steel suppliers to participate in the growing offshore wind industry.
Proposers may submit plans to repurpose existing downstate fossil-based electric generation infrastructure in alignment with Governor Hochul's 2022 State of the State priorities to enhance future system reliability and support more renewable energy on the grid. Proposers must submit a timeline and studies to support the proposal that consider local requirements and plans to address the just transition of generation plant workers.
This solicitation allows for economic benefits associated with Energy Storage and other clean energy and decarbonization investments. Investments may include pilot and demonstration projects that complement offshore wind development, including innovative storage projects such as Clean Electrolytic Hydrogen.
Submitted Proposals
The public versions of the ORECRFP22-1 proposals are included below:
Attentive Energy LLC – Attentive Energy One
Bay State Wind LLC – Sunrise Wind 2
Beacon Wind LLC – Beacon Wind 2
Community Offshore Wind LLC – Community Offshore Wind
Invenergy Wind Offshore LLC – Leading Light Wind
Vineyard Offshore LLC – Excelsior Wind, Liberty Wind North, Liberty Wind South
ORECRFP22-1 Schedule
Event
Date (all times ET)
RFP Release Date
July 27, 2022
Proposers' Conference Presentation Slides

[PDF]

August 23, 2022, 10:00 a.m.
Deadline for Submission of Written Questions
September 16, 2022, 3:00 p.m.
Responses to Written Questions

[PDF]

Posted December 23, 2022
NYSERDA Portal Open for Registration
November 4, 2022
Deadline for Notice of Intent to Propose and all
Certifications Under Executive Order No.16*

December 1, 2022, 3:00 p.m.
Deadline to Supplement Notices of Intent with
Funding Recipient Information*
January 5, 2023, 3:00 p.m.
NYSERDA Portal Open for Submissions

January 19, 2023, 3:00 p.m.
Proposal Submission Deadline

January 26, 2023, 3:00 p.m.
Updated Offer Price Deadline
June 16, 2023, 5:00 p.m.
RFP Addendum Issued
July 27, 2023
RFP Addendum and Updated Offer Price Deadline
August 24, 2023, 3:00 p.m.
NYSERDA Award Notification Date
October 24, 2023
Contract(s) Executed
Est. Q1 2024
Please note that the above dates are subject to change.
* Appendix A should be returned by the December 1 deadline, even if Funding Recipient information is not final at that time. In addition, a certification under Executive Order No. 16

, as published by the Office of General Services at https://ogs.ny.gov/EO-16, must also be submitted by every Proposer as well as by every potential Funding Recipient by the December 1 deadline. Proposers are permitted to supplement their Notices of Intent with information related to Funding Recipients until the January 5 deadline.
ORECRFP22-1 Documents
Eligibility Requirements
Offshore Wind Availability as of July 2022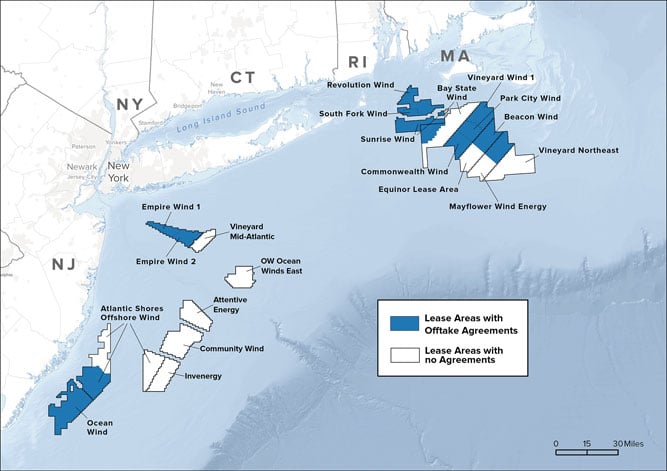 In accordance with Public Service Commission Orders, eligibility is limited to projects that:
Are located off the coast of the United States
Become operational on or after January 1, 2015
Demonstrate delivery of electricity into New York
Have obtained a lease (executed or provisional) from the Bureau of Ocean Energy Management (BOEM) , and
(New in ORECRFP22-1) Include Supply Chain Investment Plans that will utilize up to $300 million in New York State funding to localize component manufacturing and critical offshore wind staging, assembling, maintenance and operations ports
(New in ORECRFP22-1) Must be Meshed Ready (in accordance with the specifications noted in Appendix G) and they must utilize HVDC technology for the radial export cable
(New in ORECRFP22-1) Stakeholder Engagement Plans and New York Workforce and Jobs Plans
This RFP supports the responsible and cost-effective development of offshore wind by requiring proposers to:
Include commitments to negotiate project labor agreements, labor peace agreements and prevailing wages
Submit environmental and fisheries mitigation plans describing development practice that will minimize impacts to fisheries and the environment
Participate in New York State's offshore wind technical working groups: Environmental, Commercial Fishing, Jobs and Supply Chain, and Maritime
Consult with relevant State agencies around fishing, wildlife, and the environment
Make environmental data collected during site assessment publicly available
Implement lighting controls to minimize nighttime visibility
Minimize visual impacts
Evaluation Criteria
The Public Service Commission Orders prescribe the evaluation of proposals to be based upon an ultimate weighting of 70% price considerations, 20% economic benefits to New Yorkers, and 10% project viability.
Proposers Conference
NYSERDA hosted a conference for proposers via webinar on August 23, 2022 at 10:00 a.m. EST. The webinar addressed key elements from the RFP including eligibility criteria, submission requirements, the proposal evaluation process, contract commitments, and the post-award process and agreement. Interested parties may review the presentation slides through the following link, ORECRFP22-1: Proposers Conference Presentation Slides [PDF].
Responses to Written Questions
NYSERDA's Offshore Wind Team has released a complete set of responses to questions, available here: ORECRFP22-1 Responses to Written Questions [PDF]. Some questions, such as those regarding modifications to the Standard Form OREC Purchase and Sale Agreement and the SCIP Facility Funding Agreement, have been addressed directly through changes to the RFP documents. Please review the updated RFP documents under "ORECRFP22-1 Documents" to view all document modifications.
The deadline for submission of questions for the ORECRFP22-1 was September 16, 2022. An initial set (1-26) of responses to written questions was published on September 13, 2022. Questions 27-170 were published on October 7, 2022, questions 171-172 were published on October 19, 2022, questions 173-211 were published on November 4, 2022 questions 212-220 were published on November 23, 2022, and questions 221-232 were published on December 23, 2022.
In order to maintain the integrity of the competitive process, questions about the RFP were requested to be stated in a generic and non-project specific manner such that the question and answer could be anonymized and published in accordance with Section 1.6 of the RFP. It was requested that no information should be shared with NYSERDA regarding the specifics of a potential proposal if it is not able to be published in this manner.
2022 Offshore Wind Solicitation – Notices of Intent to Propose
NYSERDA's 2022 offshore wind solicitation captured significant interest from the private market. NYSERDA received six Notices of Intent to Propose, representing:
Seven offshore lease areas totaling approximately eight gigawatts of new generation capacity; and
Project developers Attentive Energy LLC, Bay State Wind LLC, Beacon Wind LLC, Community Offshore Wind LLC, Invenergy Wind Offshore LLC, and Vineyard Offshore LLC (two leases)
ORECRFP22-1 Notice of Intent to Propose Map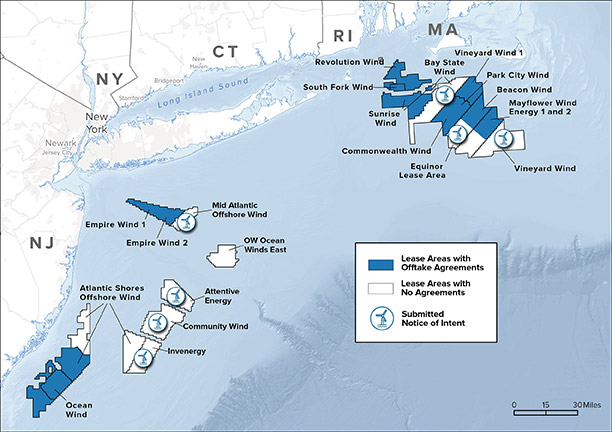 Communications and Updates Regarding the RFP
All relevant documents pertaining to this RFP will be available on this site. Any changes to the RFP process or documents will be posted on this site and sent via email to those parties who have submitted a Notice of Intent to Propose. Interested parties are advised to check this website for updates.