NYSERDA is currently accepting applications for Solar for All participants for no-cost community solar subscriptions around the state. See if there is a Solar for All project near you.
The map below represents areas currently served by Solar for All projects. If you live in a highlighted area, you may be able to participate. First verify your eligibility and then apply to the program.
If projects in your utility service area are currently fully subscribed or if you live outside the highlighted areas, you can still apply and be placed on a waitlist until a spot becomes available.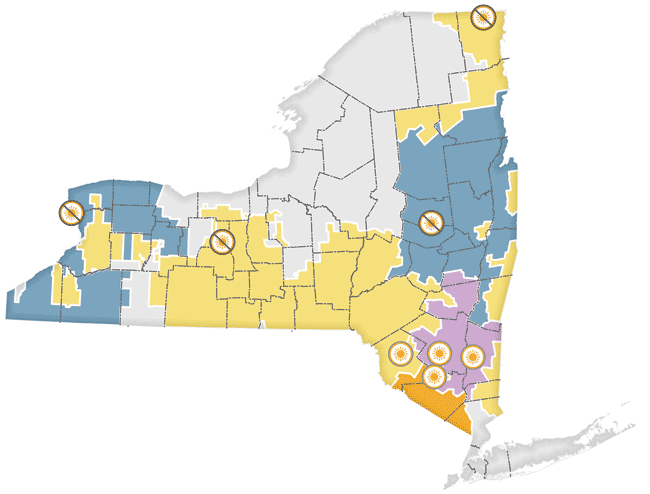 Amp Grand Island Solar
Nexamp Seneca
Crans Mill
Boas #4
Johnstown A, B
Nexamp Rochester
Sackett Lake
Underhill
Project Locations

Spots Available

Fully Subscribed
Utility Service Area
Central Hudson
National Grid (West and Capital)
New York State Electric & Gas (NYSEG)
Orange & Rockland
All Projects
Below is a table of all projects participating in Solar for All. The status column indicates which projects are currently accepting applications and which are maintaining a waitlist. If you apply to the program and a project is not available in your area, you will receive notification about your placement on the waitlist.
Utility Name
Project Name, Provider Name
Location
Eligible Customer Locations
Status
Central Hudson
Nexamp Rochester, Nexamp
6140 Route 209,
Town of Rochester, NY
12446
All Central Hudson customers
Spots available, accepting applications
Central Hudson
Underhill, Clearway Energy Group
130 Underhill Rd,
Poughkeepsie, NY
12601
All Central Hudson customers
Spots available, accepting applications
National Grid (Capital Region)
Johnstown A, Common Energy
186A West State St,
Johnstown, NY
12095
All Capital Region National Grid customers
Currently fully subscribed, may join waitlist
National Grid (Capital Region)
Johnstown B, Common Energy
186B West State St,
Johnstown, NY
12095
All Capital Region National Grid customers
Currently fully subscribed, may join waitlist
National Grid (Western NY)
Amp Grand Island Solar, Amp Energy
2411 Bedell Rd,
Grand Island, NY
14072
All Buffalo Area National Grid customers
Currently fully subscribed, may join waitlist
NYSEG
Boas #4, Delaware River Solar
297 Boas Rd,
Mooers Forks, NY
12959
All NYSEG customers
Currently fully subscribed, may join waitlist
NYSEG
Sackett Lake, Delaware River Solar
585 S Maplewood Rd,
Monticello, NY
12701
NYSEG customers in Chenango, Otsego, Sullivan, or Delaware counties
Spots available, accepting applications
NYSEG
Nexamp Seneca, Nexamp
4380 State Route 14A,
Seneca, NY
14456
All NYSEG customers
Currently fully subscribed, may join waitlist
Orange & Rockland
Crans Mill, Clearway Energy Group
56 Crans Mill Rd,
Crawford, NY
12566
All Orange & Rockland customers
Spots available, accepting applications