Energy Resources Partners
The energy resources program is working to build a vibrant renewable energy industry in New York State. Renewable resources companies work in fields from manufacturing to installation and include solar, wind, biomass, and some hydroelectricity.
New York State has some of the most aggressive energy and climate goals in the country, including:
The Clean Energy Standard, a mandate to get 50% of electricity in the State from renewable sources by 2030
A 40% reduction in greenhouse gas emissions by 2030 (using 1990 as a baseline)
Saving 185 trillion Btus (British Thermal units) in end-use energy by 2030 through greater efficiency
NYSERDA's Energy Resources Business Partners play a vital role in helping New York reach these goals.
---
Alt.Technica
Alt.Technica
Alt.Technica designs and develops solar products and installations, including interpretive exhibits for science & environmental centers, solar fountains, solar freezer carts, dark-sky compliant solar LED lights, as well as system components. Solar designer, Amelia Amon, provides her aesthetic approach to integrating sustainable energy into our built environment.

Contact
Amelia Amon
212-260-0806
242 East 19th St
New York, NY 10003
---
Alternative Aviation Fuels LLC
Alternative Aviation Fuels LLC is engaged in consultancy and research for the development of alternative fuels for the aviation industry.
Contact
Michel Delafontaine, President
[email protected]
914-319-4059
29 Legendary Circle
Rye Brook, NY 10573
---
Apex Wind Energy Inc.
Apex Wind Energy Holdings, LLC
a subsidiary of Greenlight Energy Resources, was formed in 2008 by an experienced team of wind energy development and financial professionals to develop wind energy facilities in North America. Apex Wind's expert management team is responsible for the development of over $12 billion dollars worth of wind facilities during their combined 80 years of industry experience. Their efforts directly resulted in the development, procurement or financing of projects representing over 4,000-MW of wind energy generation in commercial operations today.
Contact
Karlis Povisils, Development Manager
[email protected]
434-220-7595
Queen Charlotte Building,
244 East High Street
Charlottesville, VA 22902
---
AWS Truepower, LLC
Approaching three decades of service in the industry, AWS Truepower (AWST)
continues to be a leader and innovator in renewable energy consulting. Our skilled team of approximately 75 meteorologists, engineers, and environmental specialists are field-oriented and fully conversant with large commercial projects, utility electrical systems, remote field measurements, and distributed applications. AWST's core leadership team, consisting of the founding principals, directors and senior staff, drives the company to constantly examine processes and establish best practices. This commitment to making energy smarter is how we ensure science is delivering the performance our clients need.
Contact
Marie Schnitzer, Director of Solar Services
518-213-0044
463 New Karner Road
Albany, NY 12205
---
CFIC-Qdrive
Manufacturer of CFIC-Qdrive, oil-free cryogenic coolers, compressors, and related equipment for the biological and physical sciences, including freezing and storage of biomaterials; cooling of sensors; and liquefaction and compression of gases (especially high-purity gases). Developmental work includes application of oil-free acoustic Stirling and linear motor technologies to emerging applications including domestic co-generation and fuel cell peripherals.

Contact
John Corey, President
[email protected]
518-272-3565
302 10th St. Troy, NY 12180
---
Conserval Systems Inc. (SolarWall®)
Conserval Systems, Inc.
has been delivering custom engineered renewable energy solutions for the past 20 years in over 30 countries around the world. Conserval invented and commercialized solar air heating for the commercial and industrial sector with their technology that was subsequently branded as SolarWall
The SolarWall air heating system has one of the fastest energy return-on-investments for a solar technology. The system uses the sun's energy to pre-heat ventilation air for commercial and industrial buildings or for crop drying applications such as tea, coffee and cocoa. It substantially reduces traditional heating fuel expenses and CO2 emissions in a building integrated system which requires no maintenance and lasts over 30-years.
The SolarWall technology can also be used in conjunction with photovoltaics to create a total energy system. Pairing the SolarWall technology with PV improves the operating efficiency of the PV and substantially reduces the payback period, thus making the combined system financially viable for typical commercial & industrial applications. The technology is also available in a modular rooftop system called SolarDuctTM or SolarDuct PV/TTM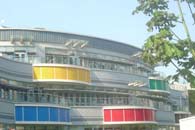 Contact
[email protected]
716-835-4903
4242 Ridge Lea Road, Unit 28
Buffalo, NY 14226
---
Creighton Manning Engineering

Creighton Manning
is an award-winning civil engineering and land surveying firm with nearly 50 years of experience in New York State. The firm specializes in transportation engineering including traffic signal design and ITS. Creighton Manning provides land surveying and civil engineering services to the wind power industry in New York State including SEQRA and site plan approval, site design including turbine layout, access road, wetland mitigation and avoidance and stormwater pollution prevention plans; transportation routing studies, off-site mitigation and road design; land surveying; post-construction studies.
Contact
Shelly A. Johnston, P.E., Partner
[email protected]
518-446-0396
2 Winners Circle
Albany, NY 12205
---
Double A Willow
Driven by concerns about global warming, air pollution, rural development, and national security, Double A Vineyards, through its subsidiary Double A Willow
, has taken the lead in the large scale commercialization of shrub willow and other commercial uses.
Chosen in 2004 by SUNY ESF, who provided 20 years of research into the development of shrub willow, as the only licensed commercial nursery to grow and distribute their patented high yielding and fast growing varieties, Double A Willow has developed a large, impressive nursery capable of providing willow cuttings to growers across North America. These cuttings will be used primarily to ultimately provide fuel supplies for wood and coal power plants and combined heat and power projects. It is hope as technology improves willow can be used as a source fuel for large scale biofuel projects.
In addition, Double A Willow is dedicating a larger portion of its business to the development of other uses of shrub willow. Some of these other uses include: snow and privacy fences, living walls, riparian buffers, phytoremediation projects, and ornamental uses such as basketry and dried willow arrangements.
Dennis and Sue Rak, the owners of Double A Willow, are well known in New York State and across the country for their crop and business management skills in the operation of a large, diverse and growing grapevine nursery business which they have operated for the past 20 years. In the 4 years they have operated the Double A Willow nursery business they already have gained a reputation as a customer oriented, efficient operation that should provide the skills and drive to make this new renewable energy business a great success.
Contact
Dennis Rak, President
[email protected]
716-672-8493
10277 Christy Rd
Fredonia, NY 14063
---
ECR International
As a full-service provider of American engineered-and-manufactured hydronic and forced air products, ECR International
is recognized worldwide for its innovation, quality, performance and reliability. Modern manufacturing plants located in Dunkirk and Utica New York
ECR designs, manufactures and markets HVAC equipment including furnaces, boilers, water heaters, hydronic system controls and micro-combined heat & power systems. By relying less on electricity from power plants, a freewatt system can significantly lower environmental impact.
Plus, freewatt systems provide constant thermal comfort, without the temperature swings and noisy cycling that comes with a traditional heating system.

Contact
Joe Langlois, Product Manager
[email protected]
315-797-1310
2201 Dwyer Ave.
PO Box 4729
Utica, NY 13504-4729
---
EnergyWise Partners LLC
EnergyWise Partners LLC My eWise markets specific technologies for remote monitoring of renewable energy systems, working primarily through installers. These technologies provide an independent online view of system performance in real-time and usage profile for geothermal, solar thermal and solar electric systems. Monitoring forms the basis for: performance guarantees, proactive support contracts, 3rd party financing and billing of renewable energy as well as supporting legislation and incentive design.
Contact
Eric Baller, CEO
[email protected]
585-420-8998
125 Tech Park Drive
Rochester, NY 14623
---
EnerVault

EnerVault
produces highly flexible, very large megawatt-hour advanced electric energy storage systems that are inherently safe, reliable and cost-effective for large commercial and industrial facilities, renewables support and utility grids. The company's mission is to make possible the expanded use of renewable energy such as wind and solar by compensating for intermittent output; allow smart grid technologies to stabilize the grid and reduce blackouts by matching of load demand and capacity as needed; reduce service interruptions caused by grids exceeding capacity; support micro-grids; and substitute fossil-fuel based peak capacity plants with clean, emissions-free electricity.
EnerVault's grid-scale energy storage systems are based on the company's patented Engineered Cascade™ technology that transforms an inherently safe redox flow battery chemistry into highly economic and reliable storage solutions. With a world-class team led by energy storage experts, the company has been recognized for its innovation by industry and investor groups.
Contact
Bret Adams, Director of Business Development
[email protected]
408-636-7519
1244 Reamwood Avenue
Sunnyvale, NY 94089
---
Excelerant Ceramics

Excelerant Ceramics
is a technical ceramics company that develops and manufactures ceramic components which serve as the functional backbone of appliances that are used for energy generation and energy storage. Excelerant Ceramics' mission is to develop products that facilitate the modernization of the US energy infrastructure into a web of micro-grids for distributed energy generation. In the near term, our development efforts are focused on inventing low-cost materials that facilitate the efficient conversion of natural gas into both heat and power for residential and commercial properties.
Contact
Michelene Hall, Founder
[email protected]
585-420-8275
445 West Commercial Street, Suite 5A
East Rochester, NY 14445
---
FTL Design & Engineering Studio
FTL Design
is a leading architectural design and engineering firm, offering a range of consulting services for innovative structures including sustainable enclosures, lightweight skins and deployable technologies.
FTL explores lightness as a visual, physical, and sustainable approach, using a minimum of materials to impact our planet, using a physical lightness of form and its visual effect of light on structure. We seek to build responsive structures that contain spaces which inspire, a place where building, nature, and people can meet.

Contact
Nic Goldsmith, Principal
[email protected]
212-732-4691
44 East 32nd St
New York, NY 10016
---
GeoEnergy Enterprises
GeoEnergy Enterprises (GEE)
believes that Geothermal Energy is a practical, reliable, and cost effective solution that will play a major role in reducing the planet's energy needs. The premise of Geothermal HVAC is to utilize the earth's constant temperature, below the surface, to radically alter the energy efficiency equation.
The company has developed and patented the GeoColumnTM. The GeoColumn is a simple, elegant design that transforms the excavation aspects of the geothermal installation process from a complex custom drilling activity to a simple "one size fits all plug and play solution". We have eliminated the need to drill sophisticated wells that are hundreds of feet deep with a standard twenty foot column solution.
Contact
Reed Sarver, Chairman and CEO
[email protected]
917-418-5048
P.O. Box 437
Katonah, NY 10536
---
groSolar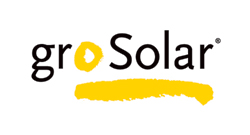 groSolar
is a large commercial and utility scale solar EPC firm with award winning MW+ projects across the US. We serve the 1-30 MW solar market for commercial, nonprofit, and government projects. Our experience includes design and build applications atop brownfields, landfills, water treatment plants, and manufacturing facilities. groSolar also offers product procurement and logistics services to solar installers and contractors who focus on residential and small- to mid-scale commercial solar applications.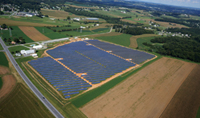 Contact
James Resor, CEO
[email protected]
800-374-4494
205 Billings Farm Rd, Building 4
White River Junction, VT 05001
---
The Hilliard Corporation
The Hilliard Corporation
offers a broad line of motion control, starting, and filtration equipment for a wide range of industries. Our products are designed, manufactured, and sold according to our customers' expectations and can be adapted to your application.
Contact
Rob Doud, Marketing Manager
[email protected]
607-735-0946
100 West Fourth Street
Elmira, NY 14902
---
Prism Solar Technologies, Inc.
Prism Solar Technologies, Inc. (PST)
has developed a unique proprietary Holographic Planar Concentrator ("HPC") film technology for use in photovoltaic ("PV") module applications. The company manufactures a transparent holographic film that collects sunlight, selects the most useful portions of the spectrum, and focuses that light onto adjacent solar cells in a new type of proprietary PV module.
Prism Solar's strategic advantage lies in the core, patented HPC technology. By incorporating holographic film into a photovoltaic module, 50% of solar cells – the most expensive component of a PV module -- are replaced with inexpensive holographic film, which lowers the module cost per watt dramatically. The result is an HPC module that produces 25% more energy (Whs) over a year's time compared to a conventional module with an equivalent peak watt rating.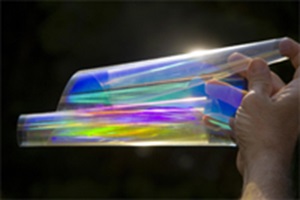 Contact
Jessica Barry, Director of Business Development
[email protected]
845-883-4200
180 South Street
Highland, NY 12528
---
Reflexite Display Optics
Reflexite Display Optics
is a manufacturing company based in Rochester, NY. We are a wholly owned subsidiary of the Reflexite Corporation, an employee owned company. We are engaged in the manufacture and sale of standard and custom microstructured polymer optics using a wide range of polymer processing techniques including roll to roll film manufacturing, high precision molding, injection molding, and compression molding. Our microstructured tooling is produced in house at our Precision Technology Center and capitalizes on our capabilities in diamond turning, linear ruling, and other advanced mastering techniques. Our expertise in microstructure design and manufacture includes but is not limited to: prisms, lenticulars, fresnels, linear fresnels, microlens arrays, diffusers, corner cubes, gratings, and motheye structures..
Reflexite Display Optics products offer benefits in many different industries and applications including display, lighting, solar, and instrumentation. More information can be found at www.display-optics.com.
Contact
Bryan Parks, President
[email protected]
585-647-1140
500 Lee Road, Building 500 Rochester, NY 14606
---
Rentricity Inc.
Rentricity Inc.

is a renewable energy company that uses unique energy recovery configurations to transform the untapped energy in various man-made processes into electricity. The energy recovery systems – called Flow-to-Wiresm – convert excess pressure in water mains and other similar pipes into clean electric power. A single Flow-to-Wiresm system produces between 30 and 300 kilowatts of electricity. Since this electricity can then be sold onto the grid, Rentricity gives its generating partners an additional source of revenue and a way to offset rising electricity rates.
---
Solar Energy Systems, LLC

Solar Energy Systems, LLC (SES)
, is a leading integrator of commercial solar electric systems in the Northeastern United States. SES finances, designs, engineers, builds and maintains solar photovoltaic (PV) installations utilizing only licensed tradespeople.
Contact
David Buckner, President
[email protected]
718-389-1545
1205 Manhattan Avenue, Suite 1210
Brooklyn, NY 11222
---
SunWize Technologies, Inc.
Whether you are a local independent installer, a company needing power for remote equipment or looking for grid tie solar for your home or business, SunWize has a solar energy solution for you. Since 1992, SunWize
has been a leader in solar product distribution and manufacturing and highly regarded for complete commitment to our customers' satisfaction. We operate manufacturing and distribution facilities on the east and west coasts and sales offices throughout North America. From component distribution to engineered systems, SunWize offers high quality, field proven solutions providing reliable solar electric power.
Contact
David Holt, Senior Director Sales
800-817-6527
1155 Flatbush Road
Kingston, NY 12401
---
Sweetwater Energy Inc.

Sweetwater Energy
uses a unique technology to produce low-cost sugars from non-food plant materials. The company's sugar solution is sold to refineries, which use it to produce biofuels, biochemicals, and bioplastics. Unlike petroleum-based technologies, Sweetwater Energy's process uses renewable plant materials that are both grown domestically and significantly reduce greenhouse gas emissions.
Contact
Jonathan Sherwood, VP, Finance
[email protected]
585-647-5760
500 Lee Road
Rochester, NY 14609
---
The Radiant Store Inc.

The Radiant Store
is a diversified company specializing in the areas of renewable power, solar thermal, solar hydronic and low temperature radiant heating. The company mission is focused on providing carbon neutral solutions to consumers and businesses seeking to reduce consumption of fossil fuels.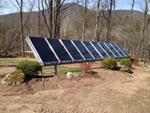 Emerson Solar Hybrid
Contact
Terrence M. Moag, President & CEO
[email protected]
518-899-2791
405 Jordan Rd Rensselaer Technology Park
Troy, NY 12180
---
Wind Products Inc.
Wind Products Inc.
develops and sells products to enable cost-effective onsite wind power generation for residential, commercial, and industrial property owners. The Company was founded in 2008 and is based in the New York