Timeline

Over several phases in the coming years, RetrofitNY will catalyze the market for energy-efficient building renovations that approach or achieve carbon neutrality. But the time to get involved is now. We're busy engaging property owners to generate demand and actors across the design and building industry to innovate and develop high-performance retrofit designs.
If you're interested in participating, contact us for more information.
Updates
RetrofitNY Pilot Project Participant Awarded Additional Funding from NYSERDA & USDOE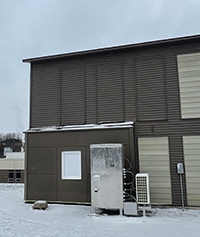 As a participant in RetrofitNY's Round 1 Pilot Projects, Tom King of tkFabricate is helping to design an energy pod that can meet a dwelling unit's heating, cooling, ventilation, dehumidification, and domestic hot water needs on a distributed basis in one cost-effective, compact unit. Since the RetrofitNY Round 1 Design Phase, tkFabricate was created to commercialize its energy pod with the help of NYSERDA funding available through the Advanced Buildings' NextGen HVAC Innovation Challenge.
In addition to their exciting work with NYSERDA, tkFabricate has also been awarded funding through the US Department of Energy's Advanced Building Construction (ABC) Initiative, where their energy pod is currently being used by teams from Syracuse University and the Rocky Mountain Institute in their ABC demonstration projects.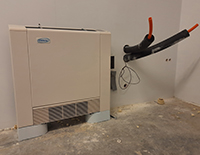 RetrofitNY's approach is to cultivate a market environment in which innovative ideas can be nurtured into cost-effective, scalable solutions that have the potential to revolutionize the way buildings are renovated. tkFabricate's success is an important sign of the progress and broader impact that RetrofitNY seeks to create.
Read the full USDOE announcement

.
NYCHA Announces Ravenswood RetrofitNY Pilot RFQ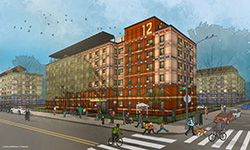 The New York City Housing Authority (NYCHA) released a Request for Quote (#346909)

for the Ravenswood RetrofitNY Pilot.
The project will demonstrate a pathway for multifamily building electrification through:
exterior insulated panel cladding
window replacement with high-performance windows
installation of electric unitary heating and cooling systems using inverter-driven heat pumps
new whole-building ventilation including energy recovery ventilators (ERV)
new heat pump domestic hot water maker
roof insulation, new LED lighting
electric stoves
high-efficient washer-dryer combo units
rooftop solar
Now Available: New Funding for Carbon Neutral Retrofits
RetrofitNY announced a second round of funding of $5 million, through PON 4878

, for all electric deep energy retrofit pilot projects targeting the affordable housing stock, that will demonstrate a pathway to carbon neutral buildings through replicable whole building solutions.
Pilot participants will be able to receive $100,000 in funding for design, and up to $40,000 per dwelling unit for construction.
To apply for funding through PON 4878, building owners need to be qualified through Request for Qualifications RFQL 4552

. They will then need to partner with a solution provider qualified through RFQL 4553

and providing an all-electric whole building solution comprised of components qualified through RFQL 4551

.
If you haven't taken the necessary steps to get qualified for funding, now is the time to do so. You can explore the list of firms that have already qualified

.
Request for Qualifications Now Open
RetrofitNY is continuing to make progress in transforming New York's existing building stock to carbon neutrality.
RetrofitNY has released three Requests for Qualifications (RFQLs) to build a pool of candidates for upcoming carbon neutral demonstration pilots.
Individual RFQLs are available for:
Candidates that are qualified through these RFQLs will be able to apply for funding for a carbon neutral retrofit project when they form a project team with other qualified candidates.
RetrofitNY Pledge Launches
NYSERDA has launched the RetrofitNY Pledge, a formal call to action to help motivate manufacturers to make cost effective, high-performance building retrofit solutions more affordable and accessible. The Pledge enables building owners to use their collective buying power, at no risk to themselves, to compel manufacturers to introduce new retrofit solutions into the market.
Each signature helps build momentum to move manufacturers toward developing and making these solutions available. It sends a signal to the industry that owners care about sustainability and the well-being of residents and want to be a leader in the market when these solutions become available. It also sends a signal of strong market demand enabling the supply side industry to lower costs.
There's no binding commitment in signing the Pledge, and the impact is easy to see. By joining other building owners and leaders in the industry, we send a collective, powerful signal that the demand for these solutions not only exists but are necessary to help make New York's carbon neutral future possible.
PON Issued – Round 5 of NexGen HVAC Innovation Challenge
Round 5 of the Advanced Building's NexGen HVAC Innovation Challenge is now open with deadline to submit concept papers on November 17th, 2020. The innovation challenges are focused on improving the performance and value propositions of current and next generation HVAC innovations for New York's buildings. Of the six challenge areas in this round, you may be particularly interested in the challenges on panelized systems for deep energy retrofit and integrated HVAC solutions for mid-rise multifamily buildings.
What's the opportunity?
Integrated HVAC solutions for mid-rise multifamily buildings
Seeking a cost-effective solution that will integrate a building's key mechanical, electrical, and plumbing (MEP) systems for multifamily buildings 4-7 stories.
Challenging industry innovators to develop an integrated approach that will efficiently and cost-effectively deliver a multifamily dwelling unit's heating, cooling, ventilation, dehumidification and domestic hot water needs.
Proposed approach should demonstrate potential at scale to significantly reduce installation and maintenance costs over business as usual for the given use case.
Panelized systems for deep energy retrofit
Seeking a cost-effective offsite-manufactured panel system with pre-fitted fenestration bringing a building's exterior to passive house performance levels with significantly reduced on site construction times.
Targeting low-rise 1-3 story and mid-rise 4-7 story multifamily buildings.
Challenging industry innovators to develop an envelope system that will cost-effectively enclose a multifamily building's vertical wall and roof surfaces, incorporate high performance windows and doors, incorporate a variety of aesthetically pleasing exterior finishes for different architectural contexts, integrate photovoltaics (PV), and facilitate operations of the building's mechanical systems.
Building Stock Assessment and Architectural Profiles Market Characterization Study- Now Available
Learn more about the prevalent building typologies throughout New York State's multifamily building sector in this joint study by Syracuse University and Pratt Institute. The building inventory assessment and architectural profiles developed for each typology should prove useful to those interested in developing the technologies and processes critical to retrofitting buildings to meet deep energy and net zero performance levels.
Download Market Characterization Report

[PDF]
Designed Firms Qualified for NYCHA RFP
NYSERDA qualified ten design firms through NYSERDA's RFQL 4234, to respond to NYCHA's RFP 99825 to design net-zero energy retrofit pilot. NYCHA will select one design firm to design and oversee construction of the net-zero energy retrofit approach through RFP 99825, with design work occurring later this year and construction anticipated in 2021.
NYCHA Collaborates with NYSERDA to Release RFP to Design Net-Zero Energy Retrofit Pilot
NYSERDA and the New York City Housing Authority (NYCHA) are working together on an RFP issued and funded by NYCHA for the design and construction oversight of a high performance retrofit for a building owned by NYCHA. The RFP is for multidisciplinary design teams to develop a net-zero energy retrofit solution. To be eligible to apply for the NYCHA RFP 99825, design teams will first need to be qualified through NYSERDA's RFQL 4234.
PON Issued to Design and Manufacturer Energy Pod
Through NYSERDA's Advanced Building's NextGen HVAC Innovation Challenge, a solicitation was issued to design and manufacture an "energy pod." An energy pod will meet a dwelling unit's heating, cooling, ventilation, dehumidification, and domestic hot water needs on a distributed basis in one cost-effective, compact unit. To achieve scale with net zero energy retrofits at affordable multifamily properties, component costs must be drastically reduced. For the mechanical equipment, NYSERDA is looking to accomplish this with an energy pod.
Pilot Project Round 1 Final Reports – Successes and Challenges
As a first step in scaling cost effective net zero retrofits, RetrofitNY awarded six design-build teams across New York State funding to design a high-performance retrofit solution for a multifamily affordable property. The final team reports highlight the solutions they developed to advance toward net zero retrofits in today's market, as well as the challenges to overcome to retrofit our residential building stock at scale.
The teams worked closely with the building owner to design solutions – approaching net-zero energy levels of performance - using products and technologies available in the current market. These innovative solutions demonstrated the feasibility of high-performance retrofits for the most prevalent types of multifamily residential buildings in the State and provide an important baseline on the current state of the U.S. market. Based on the learnings from these six pilot designs, the RetrofitNY team is engaging with industry stakeholders to reduce cost and streamline processes to facilitate cost effective net zero retrofits.
SUNY Residence Hall ZNE Pilot
DASNY, SUNY, and NYSERDA announced a RFQ to retrofit a residence hall to zero net energy performance. For more information about getting involved with RetrofitNY, visit our Getting Involved page.
2018 RetrofitNY Team Awards
The winning teams for the first pilot round were awarded on June 27, 2018. The design/build teams are:
The International Center for Appropriate and Sustainable Technology (ICAST): working with Beacon Communities on a two-story, six-unit building that is part of a six-building campus in Troy.
The Levy Partnership: working with Joint Ownership Entity (JOE) NYC on a six-story, 21-unit building in Harlem.
Bright Power: working with Volmar on a five-story, 42-unit building in the Bronx.
SWBR Architects: working with Conifer Real Estate on a two-story, 24-unit building in Portville in the Western NY Region.
King + King Architects: working with Rock PMC on a two-story, eight-unit building in Phoenix outside Syracuse that is part of a five-building campus.
Chris Benedict, RA: working with RiseBoro Community Partnership on a four-story, 46-unit building in Brooklyn.
RetrofitNY Design Workshops - 2018
Net Zero Retrofit Tech Forum
Experts from the National Renewable Energy Laboratory (NREL) joined RetrofitNY to share their knowledge on state of the art technology for building retrofits to our RetrofitNY project teams and stakeholders on July 11, 2018.
NREL's buildings research teams lead efforts in developing cutting-edge technical solutions to improve the energy efficiency of both residential and commercial buildings, and to accelerate the integration of renewable energy technologies with buildings.
To receive a link to the recorded webinar, email us at [email protected].
RetrofitNY Webinar - Energiesprong Field Study & NY Model Solution
The Energiesprong initiative in the Netherlands has produced impressive solutions to take existing buildings to a net zero energy level of performance. Over the last few years the program has managed to reduce initial costs around 60% to catalyze a self-sustaining market for net zero retrofits.
RetrofitNY presented an interactive webinar for its awarded project teams on July 17, 2018. Ian Shapiro of Taitem Engineering reported on the Netherlands-based study[PDF] of the Energiesprong program. Simon Verduijn of the Energiesprong Foundation presented a model solution on a New York building and addressed specific design challenges. Simon also spoke about Energiesprong's successes and mistakes in mobilizing projects, working with tenants, and technical challenges.
To receive a link to the recorded webinar, email us at [email protected].