How RetrofitNY Has Evolved
Carbon Neutral Energy Performance by 2025
New York State has ambitious goals to reduce its emissions, and if we're going to achieve those goals, we need to start with the source of 45 percent of all carbon emissions: existing buildings. Making carbon neutral energy retrofits a reality is the goal of New York State's RetrofitNY program. We're learning from carbon neutral pioneers in the Netherlands, Energiesprong, an organization that has already proven that carbon neutral retrofits are scalable. We are adapting the Energiesprong approach to the specific needs of our climate and buildings, beginning with affordable multifamily properties.
We know we can't do this alone. Reaching this goal will require working side by side with manufacturers, building owners, designers, construction firms, and finance representatives to create innovative solutions and, ultimately, a cleaner future for all New Yorkers.
Pilot Projects: Test, Learn, Repeat
How can you learn if an idea works at scale? Test it.
Leveraging what was learned from Energiesprong, RetrofitNY funded pilot projects in 2019 to partner with building owners, members of the construction and design community, and finance professionals to design holistic, high-performance retrofit solutions for affordable multifamily buildings. These pilots not only resulted in advancements toward net zero retrofits in today's market, but identified the market challenges we need to overcome if we are to make these solutions scalable.
The first round of pilot projects identified key factors to consider in order to achieve success in future projects:
The lack of available technologies needed to support project designs in the U.S. market.
The high cost of building materials and HVAC products and difficulty engaging manufacturers to provide technical solutions in order to make designs even more effective.
The need to streamline the complicated design and construction process.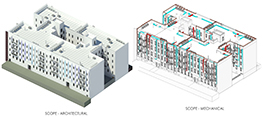 Riseboro, the first pilot project to
enter construction in 2019.
What's Next: Industry Collaboration to Create New Technologies and Compress Costs
A key barrier being addressed in the next phase of RetrofitNY is engaging the manufacturing and construction industry to develop innovative products in order to lower costs in the following three areas:
Mechanical Equipment
To address high costs on the mechanical side, NYSERDA is supporting the creation of an "energy pod," a new technology that meets a dwelling unit's heating, cooling, ventilation, dehumidification, and domestic hot water needs on a distributed basis in one cost-effective, compact unit. Funding through the Advanced Buildings' NextGen HVAC Innovation Challenge is being made available to help concept, design and manufacture an energy pod to be integrated into future pilot projects.
Building Envelope
A building's envelope results in a multitude of costs for building owners, including air leaks and insulation issues, exterior wall maintenance, and overall building appearance upkeep. The RetrofitNY approach is addressing these costs through prefabricated exterior building panels that will greatly improve performance and aesthetics in multifamily buildings.
Business Model
As identified by the pilot projects, the design and construction process is a complicated one. Hurdles in the process include extensive supply chain markups and high labor, design, and engineering costs. We will be partnering with members of the design and construction community to find ways to make this process more streamlined, efficient, and cost-effective.
In addition to collaborating with the design, construction, and manufacturing communities, RetrofitNY will continue building a network of building owners across New York State who are interested in adding net zero and deep energy retrofitted buildings to their portfolio. Aggregating existing demand for these solutions will empower manufacturers, contractors, and designers to pursue a holistic net zero approach, leading the way to a future of better buildings and carbon neutrality.