About REV Campus Challenge
The REV Campus Challenge promotes clean energy efforts by recognizing and supporting colleges and universities in New York State that implement clean energy projects and principles on campus, in the classroom, and in surrounding communities.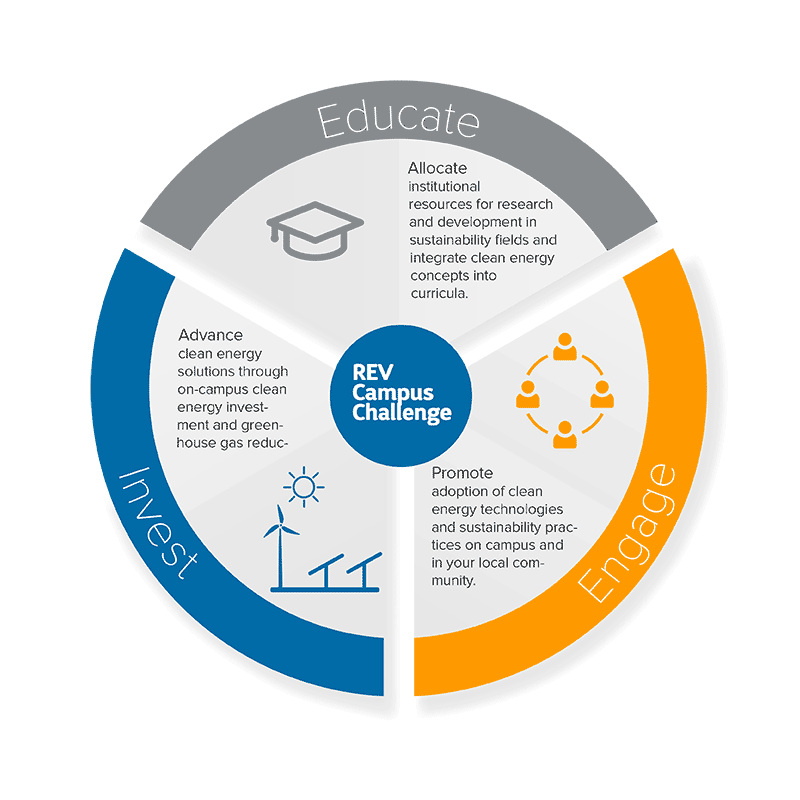 REV Campus Challenge members include two- and four-year, public and private institutions from all regions of New York State. From community colleges to state research universities to private liberal arts colleges, REV Campus Challenge members represent New York's leaders in institutional sustainability.
The REV Campus Challenge provides its members with a range of services including:
Support programs to enable member institutions to make progress toward their goals
Opportunities to be recognized for clean energy achievements
Membership in a network of like-minded institutions from all corners of the State
Workshops and opportunities to learn from and engage with peers
A library of resources to consult and draw from
Background
The REV Campus Challenge launched in Fall 2015 with the goal of engaging the broad academic potential of New York State's colleges and universities to help realize New York's strategy to build a clean, resilient, and affordable energy system for all New Yorkers. Since its launch, the REV Campus Challenge has recognized institutions around the State for clean energy achievements, made available $5 million in funding to support a wide range of clean energy activities, and engaged dozens of institutions around New York in shaping the Challenge's next steps.
New York State's more than 200 two- and four-year institutions of higher education sit at the intersection of many of New York State's greatest resources for achieving a clean energy future. With hundreds of thousands of students, faculty, and staff, New York institutions are at the cutting edge of researching the cleantech of the future, they have strong partnerships with the communities in which they reside, and they serve as incubators for the next generation of the world's clean energy leaders.
Ready to Join the Challenge?
Learn more about your peers who are already part of the Challenge
Learn more about the programs available to Challenge members