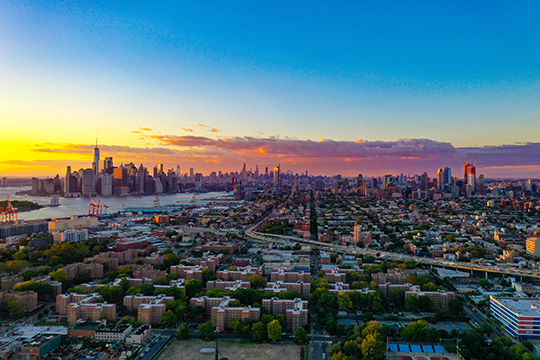 Our goal is to achieve carbon neutrality by 2050, and to build a cleaner, safer, more resilient, and more affordable New York by offering support for the construction, renovation and operation of carbon neutral and other low carbon buildings.
Carbon Neutral NY is a coordinated effort and critical component of keeping New York at the forefront of addressing climate change through progressive and advanced energy policy.
As part of Governor Cuomo's integrated and comprehensive climate and energy policies, in 2019 New York State enacted the most ambitious climate legislation in the nation – The Climate Leadership and Community Protection Act (Climate Act)

. The Climate Act commits New York to achieve:
70% renewable electricity by 2030, increasing to 100% carbon-free electricity by 2040,
Installing 9,000MW of Offshore Wind
Installing 3,000 MW of new Solar
Reducing total energy consumption by 185 TBtus
Adding 3,000 MW of storage;
Creating the Climate Action Council, and
Achieving a carbon neutral economy by 2050.
To achieve these goals, New York has also committed to expanding affordable housing, supporting disadvantaged communities, and increasing economic output. NYSERDA was tasked by Governor Cuomo in the 2018 State of the State address to create a Carbon Neutral Buildings Road Map. This Road Map will provide critical information and policy insights to help chart the course for New York to make all homes and buildings carbon neutral by 2050.