SUNY Ulster
Ulster County
Cleantech Training at SUNY Ulster: A Comprehensive Approach for All Types of Learners
SUNY Ulster's Pre-Apprenticeship program, which launched in 2019, develops and delivers technical training, relevant education, and hands-on experience in cleantech to traditional and non-traditional learners.
With courses, internships, community partnerships, and other resources, the college ensures that new and existing workers, apprentices, and students have the skills, experience, and qualifications required to meet the demands of the cleantech industry.
400+ Clean Energy Trainees in Three Years
Over the course of the pre-apprenticeship program, more than 450 individuals completed training.
Engaging Nontraditional Learners
SUNY Ulster's pre-apprenticeship program initially offered cleantech training (building envelope, heating, cooling, passive solar, and more) to high-risk youth, incarcerated individuals, and others not usually involved in higher education. As demand grew, the college expanded its offerings. It built partnerships in the community, offered courses for credit, added a degree, and additional short-term training. Today, SUNY Ulster offers multiple, flexible pathways to relevant cleantech credentials for all types of learners.
Multiple Pathways to Cleantech Credentials
Learners can get the credentials they need in a variety of ways:
> Training for Contractors and Other Adult Learners
For those looking to increase their skills in cleantech fields. Courses appeal to residential contractors who want to service clients interested in cleantech heating/cooling options or energy savings in their homes.
> Courses for Credit
Credit-bearing courses – offered as remote, self-paced online, and hybrid -- include:
Skills in basic building science
Building analysis
Building envelope
Heating & cooling
Foundational courses can be stacked into micro-credentials
> Clean Energy Degrees, Microcredentials
For students who want a more in-depth study of "green building," there is a Green Building Associate of Applied Science (AAS) degree. Courses are offered online for traditional students and people who work full time. As part of the degree, students can also access cleantech micro-credentials.
> Internships
For enrolled students and others pursuing SUNY Ulster's pre-apprenticeship training who want hands-on experience in green building techniques and repairs.
> Continuing Education, BPI Certification
For students who take multiple Building Performance Institute (BPI) courses, BPI offers continuing education credits (CEUs) for completed certifications.
> Community Partnerships
SUNY Ulster created partnerships with several community stakeholders in the Hudson Valley. These partnerships appeal to potential students who directly benefit from them.
> Additional Support
The college has scholarships and tuition assistance available. Additionally, trainees take advantage of tool borrowing/lending at the college as well as BPI certifications in Spanish.
Trainee Profiles
Here are just a few of the many trainees succeeding in cleantech careers.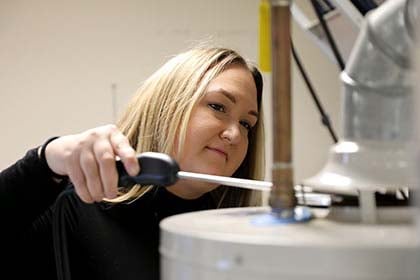 Certification Leads to Energy Auditor
A trainee, Nicole, who worked in an administrative position for a foam company, earned both BPI Building Analysis (BPI BA) and BPI Envelope certifications. She received a 9% raise and now helps perform energy audits.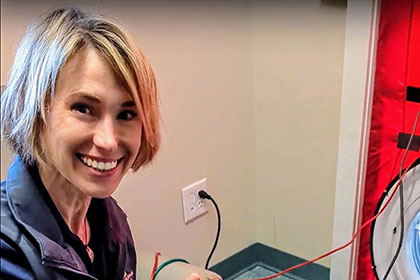 Professional Development Leads to Green Realtor
A student, Marcy, is a green realtor at Hudson Valley Green Homes at Keller Williams Realty. She felt that the Energy Auditor training would enhance her ability to educate her real estate clients about the importance of energy efficiency measures in their homes. After receiving her BPI Building Analyst Professional certification, Marcy started her own home energy assessment company, Green Building Specialists. Currently, Marcy has performed over 45 assessments and returned last year to receive her BPI Building Envelope Professional certification.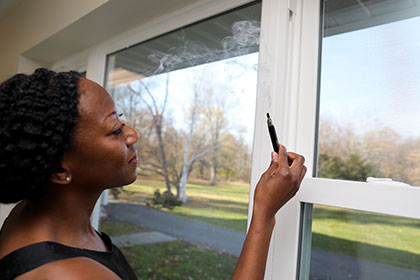 Apprenticeship + Training + Certification Leads to an Entrepreneurial Opportunity
A student, Desiree, started her own business. Simply Sustainable, LLC, is a building-science-based consulting firm that provides in-person energy code testing in the Hudson Valley as well as virtual building science, healthy home, green building, and clean air services. Desiree professionalized her love for green building by completing an apprenticeship, training with a local building scientist, and earned her Building Analyst & Envelope Professional BPI certification.
Training to Employment
Clean energy training immediately transfers to the workforce. Green realtor, green building specialist, and clean energy entrepreneur are just some of the titles held by graduates. Some students completing BPI certification have found employment with a local contractor or HVAC installer. Some have even started their own energy auditing businesses in the mid-Hudson region.
Students are qualified for these and other cleantech jobs:
Home energy assessor
Energy advisor
Certified small house auditor
Sales rep for smart home heating and cooling solutions
Owner – energy solutions company
Job Seekers and Students
Interested in enrolling in cleantech courses at SUNY Ulster? Contact Barbara Reer, a cleantech program advisor at SUNY Ulster: [email protected]
NYSERDA Partners
Interested in developing pathways to clean energy at your institution? Learn more about NYSERDA's clean energy workforce development opportunities.
NYSERDA Businesses
NYSERDA offers workforce development and training solutions for your clean energy business. Support is available for hiring and training new employees or for training current employees.