IBM Yorktown Heights
Westchester County
IBM adds on-site energy manager to its T.J. Watson Research Center
Project Details
Location:
Yorktown Heights
Footprint:
846,730 square feet of office space, manufacturing, research labs, data centers, and other buildings
Total OsEM Identified Savings:
Electrical: 8,676,400 kWh
Fossil Fuel: 12,864 MMBtu
Total Installed Savings to Date:
Electrical: 1,554,770 kWh
Fossil Fuel: 1,970 MMBtu
After more than a century in business in New York State, many of IBM's flagship sites are still in New York.
The second largest site both in terms of square footage and energy spend is the T.J. Watson Research Center at Yorktown Heights.
In 2018, IBM's corporate headquarters was contracting for general, portfolio-level energy management services, but had no dedicated energy management services on specific sites.
With an ambitious corporate energy conservation program and certification to global standard ISO50001 (International Organization for Standardization – Energy Management), there was pressure to achieve goals at this high-visibility site.
Engagement with the On-site Energy Manager (OsEM) program started in January 2021. Then, an on-site energy manager was hired to work closely with the site's facilities and operations teams.
Together, they planned to implement operational improvements, comply with all standard requirements of ISO 50001, and save as much energy and carbon as possible with operational excellence and energy projects.
Goals
Before the OsEM program, the site had a corporate annual energy conservation target of 4%. These energy savings goals were a blended rate calculation that included historical energy consumption, cost, and absolute energy conservation. They applied to each of the sites, individually. The sites also had established goals to exceed the requirements of ISO 50001 certification and regularly conducted internal audits to check site preparedness towards external audits and certification.
Additionally, IBM set a goal of net zero carbon emissions by 2030. That goal prioritizes energy efficiency, reductions in emissions, and clean energy use across the countries IBM operates in. These goals would help guide the OsEM.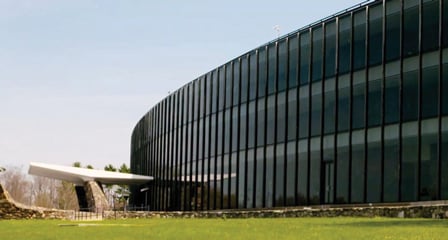 Measures Taken
In year one of OsEM engagement, close to 30 projects were recommended, from operations to capital projects. Over the two-year OsEM program, a variety of them were implemented.
No-Cost – When the OsEM was onsite, and in partnership with the facilities teams, no-cost measures were regularly identified, implemented, and measured, sometimes all in just one day. They included valve repairs, setpoint adjustments, improved control system sequencing, and turning off unused lights and equipment.
Minimizing Consumption – During the COVID-19 pandemic, the OsEM minimized energy consumption during periods of extremely low occupancy by setting to "off" all unused exhaust fans, air handling units (AHUs), lights, escalators, vending machines, and other plug loads. As new COVID operational recommendations changed, the outdoor air and other fan requirements changed, and the OsEM was involved to understand and add input.
Comprehensive Projects – Over two years, other implemented projects included replacing end-of-life glycol chillers (resulting in half a million kWh electric savings); coil cleaning of lab AHUs; upgrading to LEDs in labs, kitchen, cafeteria, and other spaces; a compressed-air leak detection survey; and shutdown of non-operational lab spaces.
Results
The OsEM was able to build relationships with site teams and get to know the building systems. The OSEM leaned on strong with relationships with essential on-site facilities teams. Together, they implemented energy conservation measures and ultimately achieved 3.1% energy conservation.
At the portfolio level, external contracting services found that this site, because it had a dedicated OsEM, was able to save more energy and carbon and was more likely to meet site-level goals.
Further, the OsEM scoped over 25 large capital energy projects and was able to share best practices developed during the engagement to help contracted off-site energy managers implement energy and carbon emission reductions.
Next Steps
Prior to the end of the program, the energy manager mapped out future implementation suggestions to be made over the coming months and years. They included:
Replacement of two chillers, estimated to save 3M kWh of energy savings and $400K savings
Electrification study
Kitchen demand ventilation
When the program ended, the high value of an onsite manager was easily proven. IBM is currently developing and budgeting its future implementation schedule and expecting significant energy savings in the coming months and years.
The NYSERDA On-site Energy Manager Program
Through the On-site Energy Manager (OsEM) Pilot Program, NYSERDA costshares up to 75% of the cost to hire an OsEM. OsEMs work with companies to develop and implement successful energy and productivity projects. Projects may include operation and maintenance improvements, behavioral changes, energy efficiency upgrades, process improvements, throughput and scrap reduction improvements, and cost management.
Discover how to bring energy costs under control and maximize profitability.
Visit nyserda.ny.gov/OSEM or call 1-866-NYSERDA.