Fresenius Kabi
Erie County
OsEM significantly reduces electric and natural gas use for Fresenius Kabi
Project Details
Location:
Grand Island, NY
Business Type:
Healthcare Products Manufacturing
OsEM Identified Savings:
Electrical: 23,192,000 kWh
Fossil Fuel: 32,830 MMBtu
Total Installed Savings:
Electrical: 2,307,000 kWh
Fossil Fuel: 15,675 MMBtu
Background
Fresenius Kabi is a global healthcare company that specializes in life-saving medicines and technologies for infusion, transfusion, and clinical nutrition. Its products and services are used to help care for critically and chronically ill patients.
It operates a manufacturing complex located in Grand Island, New York. The campus houses several different FDA-validated manufacturing suites, warehousing, shipping and receiving, and office spaces. The campus consumes approximately 39 million kWh of electricity and 107,000 MMBTU of natural gas annually.
In an effort to meet or exceed its own corporate and local goals to reduce energy consumption and greenhouse gases, Fresenius Kabi partnered with CJ Brown Energy for a half-time, on-site energy manager through NYSERDA's On-site Energy Manager (OsEM) Program.
The program was active for 30-months, from May 2020 through October 2022.
Goals
By collaborating with the OsEM, Fresenius Kabi learned how to leverage the manager's expertise. Together, they created a plan to:
Develop new methods to reduce annual electricity use by 4% and annual natural gas use by 4% (which aligned with target reductions of 1,560,000 kWh of electricity and 4,300 MMBTU natural gas)
Take advantage of energy efficiency incentive programs
Educate and train the facilities team about preventative maintenance and protocol
Measures Taken
The OsEM worked hand-in-hand with Fresenius Kabi facility engineering, facilities management, technicians, and project execution teams. They identified energy capital projects and energy savings measures. They also analyzed and reported on program performance. And, prior to soliciting bids for new equipment, the OsEM evaluated production systems to determine the most efficient and cost-effective means to achieve for peak energy performance.
Across the campus, a total of 32 energy conservation projects were identified with correlating energy and financial savings. These savings were found through several campus-wide datalogging processes. In many cases the existing automation system was used to gather data on existing HVAC units.
In addition to data logging, mechanical system data was gathered from performance sheets or nameplates and entered into spreadsheet calculations or energy models.
Some of the recommended energy improvements included operational setpoint adjustments, HVAC replacements, reprogramming of controllers, lighting replacements, mechanical repairs, control system optimization, and solar PV. Efforts were then focused on the conservation projects with larger projected savings.
Fresenius Kabi staff and the OsEM had monthly meetings that focused on bringing proposed projects to implementation. The OsEM helped move these projects through the capital expenditure approval process, and in some cases, to final implementation.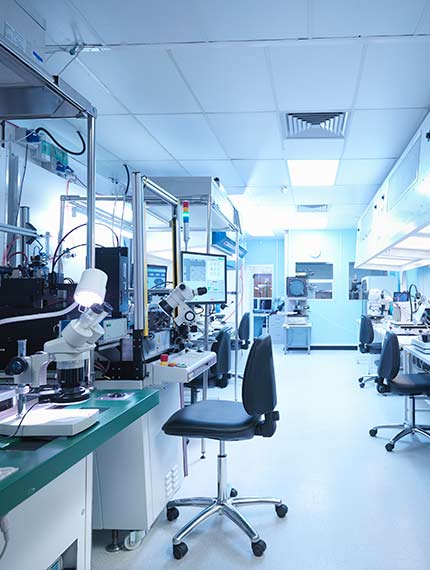 Results
Fresenius Kabi has implemented or approved implementation of 12 of the suggested 32 conservation projects. The balance (20 projects) are expected to be complete by the end of 2023. Significant electric savings were generated by the recommended LED lighting replacements for the interior and exterior of several buildings. Steam leaks and trap replacements helped decrease annual natural gas usage.
Overall, Fresenius Kabi expects to exceed its annual goal of 4% electricity savings and 4% natural gas savings. Future savings will only increase as additional energy conservation projects are implemented.
Want to learn how you can reduce energy consumption and costs?
Visit nyserda.ny.gov/lrnc or call 1-866-NYSERDA.