Farruggia Case Study
A BPI-Certified Technician Oversees His Own Residential Cold-Climate Air Source Heat Pump Installation
Herkimer County
"With the cost of delivered fuels on the rise, we needed to try other options to heat our home and stay comfortable."
– John Farruggia, homeowner
When John Farruggia and his wife, Victoria, finally decided to install a cold-climate air source heat pump (ASHP) in their home, it was the summer of 2022. The two had been talking about replacing their current system - a ducted, electric ASHP, with a dual-fuel, two-stage propane furnace back up - it was only a few years old but the ASHP portion wasn't designed to work in cold climates and the propane was expensive.
Then, in June, as fuel costs destabilized, the two became more serious. They wanted an efficient system that could handle cold upstate winters, plus incentives from NYS Clean Heat

and NYSERDA Comfort Home prompted them to jump in and make the change.
As the program director for Standard Insulating Company of Marcy, NY, and a BPI-certified (Building Performance Institute) technician, John had expertise in energy assessments, air leakage, insulation, and HVAC installations. He knew that a properly weatherized system would increase comfort and reduce future energy bills.
So, as a first step, he conducted an energy assessment on their home, developed a project plan, and had an estimate drawn up.
Designing the System
According to John, designing the system was both fun and a challenge. The house, a 1500-foot ranch-style, was built in 1984 with lumber salvaged from an old home in his region. Their existing ASHP for heating-cooling was located in the basement, was in good working order, and was connected to ductwork that forced warm and cool air throughout the home. Being able to use this existing ductwork saved them money and time on installation.
The underlying principle of a heat pump is transference. A heat pump doesn't generate heat like a traditional fossil fuel furnace or boiler. Instead, it uses electricity and basic refrigeration principles to extract, compress, and transfer heat, moving warm air inside during winter or outside during summer.
The four primary components of the system the Farruggia's installed include the outdoor condenser unit, the refrigerant lines, air handler, and ducts. Together, they work in a highly efficient contained system.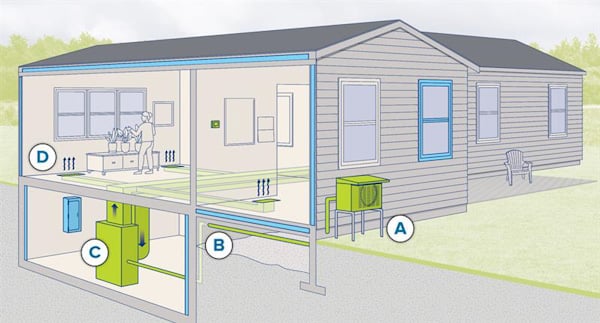 Customizing the Build
Because geography and local weather influence choices, John used online calculators and tools available from NEEP (Northeast Energy Efficiency Partnership)

to select the right condenser. He went with a 5-ton because it would "hold better capacity and efficiency at lower temperatures." He also chose a 3-ton air handler for the basement.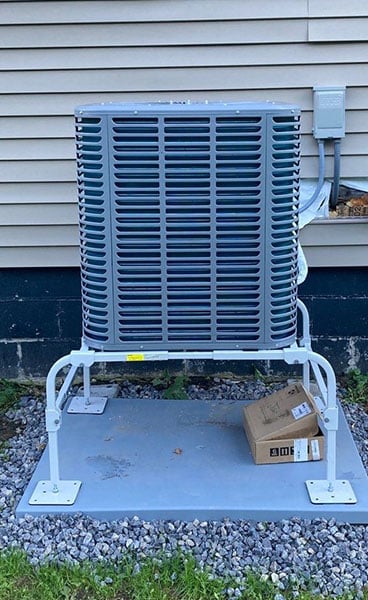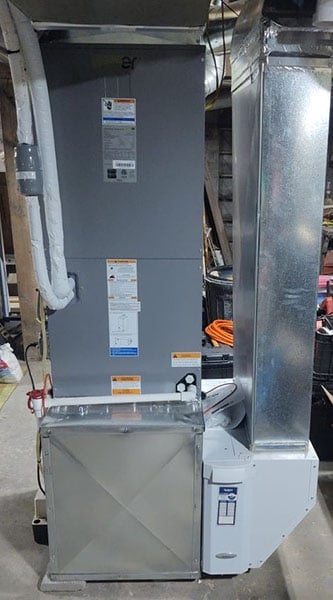 The cold-climate ASHP system meant they'd now have a single, efficient system (no more dual-fuel, 2-stage furnace); could use their existing ductwork (saving both money and time on the installation); increase their energy independence; and reduce monthly energy expenses.
Working Out a Timeline
John and Victoria made a significant but valuable investment in their home and have already noticed savings on their monthly heating bill.
Normally—for optimal efficiency—sealing and insulating is the first step. But, because John had some foundation work to do before completing a full seal (and because he wanted the install done before cold weather set in), he chose September to remove the old system and hook up the new one.
The insulation followed in October. A dense packing cellulose was blown into exterior wall cavities through bore holes.
As of December 2022, the install is done.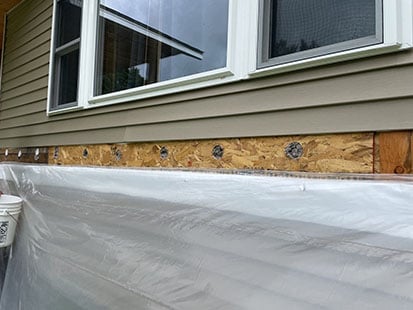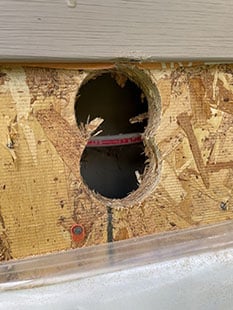 Going the Extra Mile: Heat Pump Water Heater
Taking an extra step, John decided to install a heat pump water heater (HPWH)

. Installing a heat pump water heater is not required when doing an ASHP install, but John chose this route because the old water heater was nearing end-of-life and because they wanted to stop using propane all together.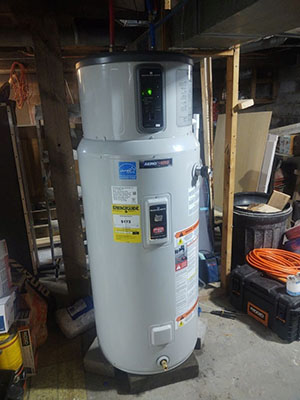 Lessons Learned
Four insights John shared about the install:
1.
Upgrade your thermostat.
Most thermostats will work but the newer smart thermostats available today are a better choice.
2.
Heat pumps are a different feeling heat.
They offer consistent heat, not blasts of heat followed by a cool down period, so be prepared to change the way you use your thermostat. You should determine where you are comfortable and then set the thermostat and forget it.
3.
Don't be surprised that the system runs more.
That's OK. It's more efficient and keeps your space at a constant temperature.
4.
Be patient.
Beyond the time to design the system, you'll need some patience because of the different steps in the process.
Wrapping Up
Deciding to upgrade to a heat pump is a big decision. During your own discovery phase, when deciding if a heat pump is the right option, it's important to account for variables such as local weather, your home's square footage, and the number of floors that need to be heated and/or cooled.
An energy assessment is the first step. It examines and evaluates the condition of the foundation, insulation, and windows, and provides a plan to create an energy-efficient environment before investing in new mechanicals.
Heat pumps work differently than boilers or furnaces. You can download maintenance and best practice tips from NYSERDA or sign-up to receive period emails to help you stay comfortable and maximize your savings year-round. Visit nyserda.ny.gov/heatpumptips.
Heat pump systems are adaptable. They are customized based on a site's features and a home's characteristics. Take a look at the different types of heat pumps (there are 3.)
When you're ready for an estimate, find 1-2 reputable contractors

so you can comparison shop. If the estimates and recommendations differ, find out why.
Get a Free Energy Assessment
Taking control of your energy bill and living more comfortably in your home starts with a free energy assessment. Learn the root cause of any drafts, inconsistent temperatures, heating and cooling system failures, or other problems you may be experiencing.
Schedule a Free Home Energy Assessment